College Football 2023 Week 12 Picks And Top 25 Matchups
The college football 2023 Week 12 schedule includes four Top 25 matchups on Sat., Nov. 18. I cover the Top 25 action tee-to-green in my college football 2023 Week 12 betting report at Forbes with the College Football Playoff rankings and big games including analysis on Georgia at Tennessee and Washington at Oregon State CFP impacting contests.
I add my Top 25 matchup picks and other Top 25 picks of interest in my weekly coverage at Off Shore Gaming Association. Check there for game analysis and additional information you can bet on. That includes a College Football Playoff update with odds, biggest games ahead and other NCAAF information you can bet on.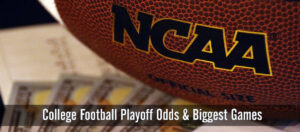 Check out the Week 11 picks and game analysis at OSGA before I post more here each week.
We (were) very having a solid season on our 2023 college football point spread prognosis and Picks/Opinons until recent weeks. Last week our Top 25 Bonus Pick winner moved the Bonus Picks to 6-0 ATS this season. Our Opinions last week were 2-3.
All college football 2023 Picks and Opinions through Week 11 are 26-24, including 20-16 ATS on sides.
Top 25 Matchup Picks: 3-6
Top 25 Matchup Opinions: 8-11
Top 25 Game Picks: 3-1
Bonus Picks: 6-0
Bonus Opinions: 1-1
Top 25 Games Opinions: 4-2
Top 25 Totals Opinions: 1-3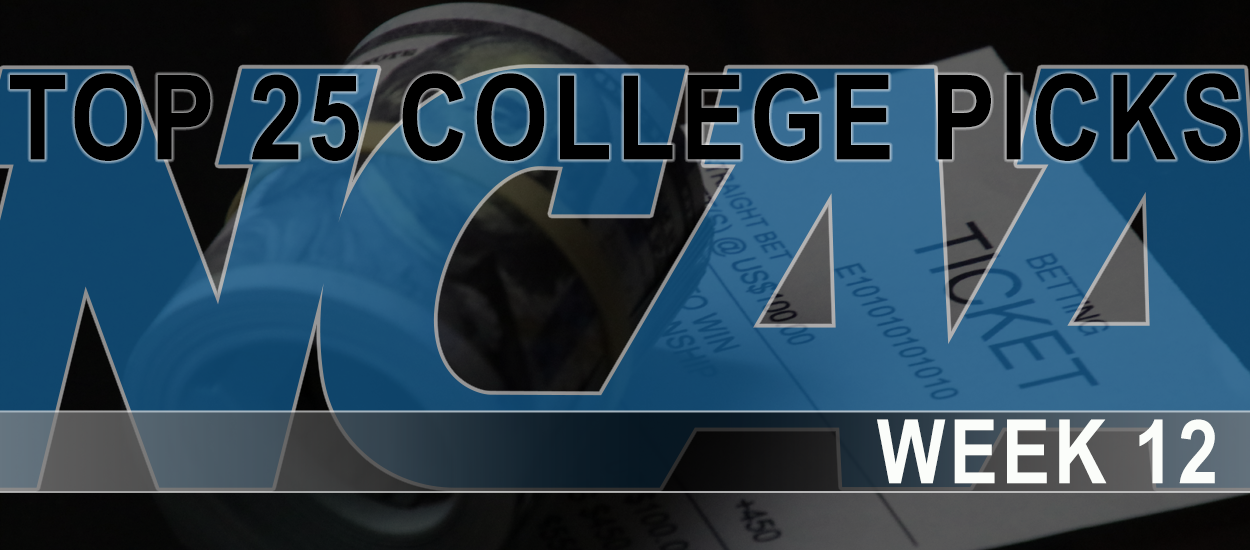 I like to dig into stats and have provided information and insight for years looking for match-up edges, along with stats and situational plays that can often be overlooked when evaluating the games and match-ups. See my additional Top 25 picks this week beyond the Top 25 matchup picks at OSGA. Understand too that there is more games each week that we evaluate and bet while monitoring the adjusted betting lines.
You can also see OSGA for my college football '200 Club' offenses that are more balanced and efficient. I also added college football's top defensive teams and defensive dominators and hope to update those stats and teams again next week.
College Football 2023 Week 12 Top 25 Games, Odds and TV Schedule
College football odds from FanDuel refresh periodically and are subject to change, including on props and live betting. All times Eastern (ET).
Saturday, Nov. 18
No. 1 Georgia (-10) at. No. 18 Tennessee | 3:30 p.m. | CBS
No. 2 Ohio State (-27.5) vs. Minnesota | 4 p.m. | Big Ten Network
No. 3 Michigan (-19) at Maryland | 12 p.m. | FOX
No. 4 Florida State (NL) vs. North Alabama
No. 5 Washington at. No. 11 Oregon State (-1) | 7:30 p.m. | ABC
No. 6 Oregon (-24) at Arizona State | 4 p.m. | FOX
No. 7 Texas (-7.5) at Iowa State | 8 p.m. | FOX
No. 8 Alabama (NL) vs. Chattanooga
No. 9 Missouri (-11) vs. Florida | 7:30 p.m. | ESPN
No. 10 Louisville (pk) at Miami (FL) | 12 p.m. | ABC
No. 12 Penn State (-20.5) vs. Rutgers | 12 p.m. | FS1
No. 13 Ole Miss (-37) vs. UL Monroe | 12 p.m. | SEC Network
No. 14 Oklahoma (-24) at BYU | 12 p.m. | ESPN
No. 15 LSU (-31.5) vs. Georgia State | 12 p.m. | ABC
No. 16 Iowa (-3) vs. Illinois | 3:30 p.m. | FS1
No. 17 Arizona (-1) vs. No. 22 Utah | 2:30 p.m. | Pac 12 Network
No. 19 Notre Dame (-24.5) vs. Wake Forest | 3:30 p.m. | NBC
No. 20 North Carolina at Clemson (-7.5) | 3:30 p.m. | ESPN
No. 21 Kansas State (-9.5) at No. 25 Kansas | 7 p.m. | FS1
No. 23 Oklahoma State (-6) at Houston | 4 p.m. | ESPN2
No. 24 Tulane (-9) at Florida Atlantic | 12 p.m. | ESPN+
USC (7-4) has fallen out of the Top 25, but the Trojans (-6.5) have a big rivalry game Saturday at home vs. the UCLA Bruins (6-4) in their final matchup as Pac 12 rivals before both move to the Big Ten next season, along with top-ranked teams Oregon and Washington.
Mountain West Conference Tight at the Top
The Mountain West Conference has five teams in contention to play in the MWC Championship Game on Dec. 2. Two of those teams tied at the top heading into Saturday's Week 11 action are UNLV and Air Force (-3), and the Rebels and Falcons battle in Colorado Springs with both teams 5-1. The advance line last week before the Falcons last at Hawaii was Air Force (-9.5) vs. UNLV. Now, the winner likely produces the Mountain West Coach of the Year, although UNLV's Barry Odom could still get it in defeat with the outstaning job he and his staff have done in their first year in Las Vegas and leading UNLV to a bowl game for the first time since 2013.
Air Force was upset at Hawaii last week as a 20′ point favorite. Meanwhile, I was at the UNLV vs. Wyoming game at Allegiant Stadium in Las Vegas last Friday night, and the Rebels 34-14 win moves them to 8-2 SU and a nation-best 9-1 ATS!
Scenes from Las Vegas & College Football #WYOvsUNLV. Pregame & kickoff from Press Row pic.twitter.com/HEAXeg5Wuv

— Fairway Jay (@FairwayJay) November 11, 2023
Week 12 Top 25 Picks And Matchups 
Read all the Top 25 game analysis at OSGA.
No. 1 Georgia at No. 18 Tennessee | 3:30 p.m. on CBS
Line: Georgia -10 and Total 58
Pick: Tennessee
No. 22 Utah at No. 17 Arizona | 2:30 p.m. on Pac 12 Network
Line: Arizona -1 and Total 58
Lean: Lean Arizona
No. 21 Kansas State at No. 25 Kansas | 7 p.m on FS1
Line: Kansas State -9.5 and Total 57.5
Lean: Kansas State
No. 5 Washington at No. 11 Oregon State | 7:30 p.m. on ABC
Line: Oregon State -1 and Total 62.5
Pick: Oregon State
Top 25 Picks 
No. 3 Michigan at Maryland
Line: Michigan -19
Pick: Maryland
Check back for more updates, analysis and information you can bet on by Saturday morning, along with any additional picks.
Author: FairwayJay
is a leading national sports betting analyst, writer, handicapper and sports betting insider providing insight and information you can bet on for nearly two decades from Las Vegas. He chips in additional sports betting coverage and reporting on industry news and events for leading media and sports betting sites and companies. Follow him on X (Twitter): @FairwayJay