College Football 2023 Week 3 Picks And Top 25 Matchups
The college football schedule is slowly working in Top 25 matchups, and unfortunately there are none in Week 3. But I chip-in some other Week 3 Picks and Opinions on Top 25 games including the most watched and wagered game of the weekend between SEC rivals Tennessee and Florida.
You can follow along each week as I provide my Picks, Opinions and Leans on Top 25 matchups and games, along with any bonus picks, in my college football coverage at Off Shore Gaming Association – Week 3. Those picks, insight and analysis are posted earlier each week.
In addition, I provide a college football Top 25 betting report each week in my coverage in Forbes. The Top 25 Week 3 update includes Top 25 odds, matchups, TV times, line moves and additional information you can bet on.
We're off to a strong start in our 2023 college football point spread prognosis.
Fairway's Forecast Picks and Opinions through Week 2 are 7-2, including 6-0 ATS on sides.
Top 25 Matchup Picks: 0-1 (total)
Bonus Picks: 1-0
Top 25 Matchup Opinions: 3-0
Top 25 Games Opinions: 2-0
Top 25 Totals Opinions: 1-1
College Football Week 3 Odds
Notable Line moves opening hour
AF -7 > -9
FSU -25 > -29
WF -17 < -14
LSU -7 > -9
EMU -12 < -10
MICH -38 > -40
RUTG -3 > -5
NC -5 > -6.5
OKL -23 > -26
WASH -13 > -15
TEN -4 > -7
NEB -10 > -13
VAN -2 > -4
MISS -17 > -20
ARK -8 > -10
OR -35 > -37
COL -19 > -23
KU -24 > -28 https://t.co/mUIn1KxENk

— Fairway Jay (@FairwayJay) September 10, 2023
There were additional significant over/under totals moves that I posted on X in part 1 and part 2. Professional bettors and respected handicapping services can cause market moves, along with sportsbook adjustments for key injuries, weather and additional news.
Please recognize the betting lines move and adjust, and I provide this information for news and entertainment purposes only. While my past documented success and top of the leaderboard results in point spread prognosis included selling picks more than a decade ago, I no longer tout or sell picks for companies despite offers to do so. I also bet more games that the selected picks below.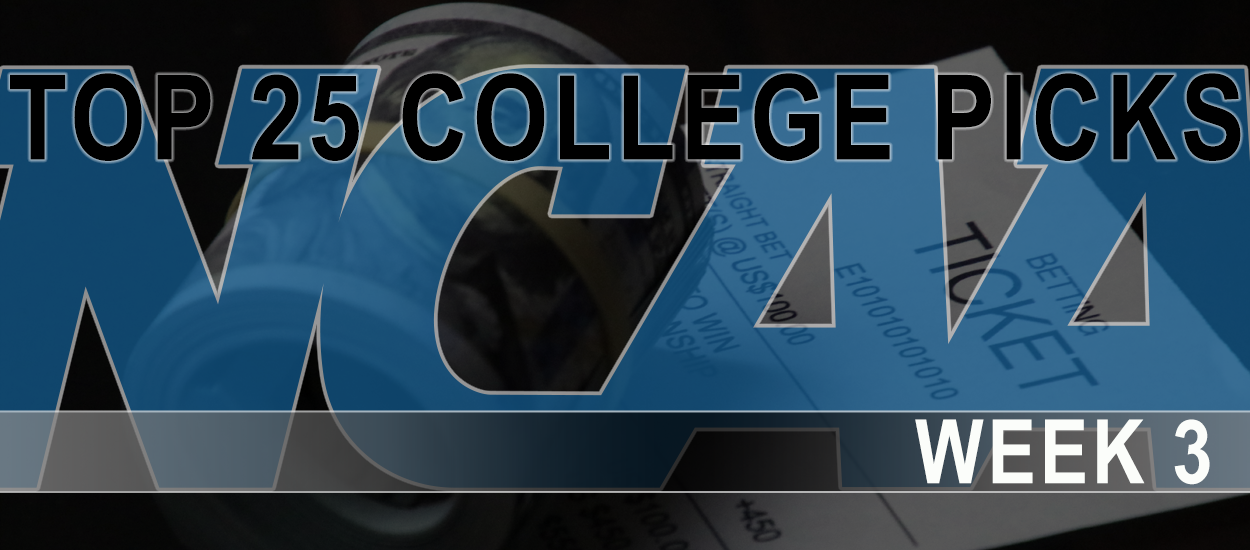 College Football 2023 Week 3 Picks
Sat., Sept. 16
No. 9 Tennessee at Florida – 7:00 p.m. ET on ESPN
Line: Tennessee -6.5 and Total 58.5
Lean: Florida
No. 14 LSU at Mississippi State – 12:00 p.m. ET on ESPN 53.
Line: LSU -9.5 and Total 54.5
Opinion: Mississippi State
Wyoming at No. 4 Texas – 7:00 p.m. ET
Line: Texas -30 and Total 48.5
Opinion: Wyoming
Tennessee hasn't won at "The Swamp" in Gainesville since 2003, and is 0-9 since. Advantage at the line of scrimmage goes to Tennessee, and especially on defense where the Volunteers have 25 tackles for loss and 11 sacks through two games. Of course, they've played a soft schedule so far, and Florida plays one of the most difficult schedules in the country with a second game already vs. the Vols. With two quarterback transfers, slightly prefer Florida QB Graham Mertz, who passed for 333 yards in a Week 1 loss at Utah. Volunteers QB Joe Milton makes his first road start since transferring to Tennessee in 2021, when he was hurt. He has just two passes beyond 20 yards this season, and we're not as trusting of him with mistakes and misfires more likely in this environment.
More game analysis in my college football Week 3 coverage at OSGA, along with a full list of Top 25 matchups and odds plus TV times at OSGA and Forbes.
Author: FairwayJay
is a leading national sports betting analyst, writer, handicapper and sports betting insider providing insight and information you can bet on for nearly two decades from Las Vegas. He chips in additional sports betting coverage and reporting on industry news and events for leading media and sports betting sites and companies. Follow him on X (Twitter): @FairwayJay