College Football 2023 Week 11 Picks And Top 25 Matchups
The college football 2023 Week 11 schedule includes four Top 25 matchups on Sat., Nov. 11. I cover the Top 25 action tee-to-green in my college football 2023 Week 11 betting report at Forbes with the College Football Playoff rankings and big games including analysis on Michigan at Penn State.
Speaking of Michigan, I add an update in Forbes in head coach Jim Harbaugh's suspension, storylines and odds with information you can bet on. I chip-in and add my Week 11 Top 25 Picks and Opinions in my updates at Off Shore Gaming Association, along with a College Football Playoff update with odds, biggest games ahead and other NCAAF information you can bet on.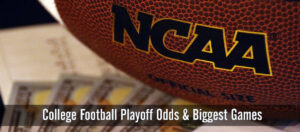 Check out the Week 11 picks and game analysis at OSGA before I post more here each week.
We (were) having a solid season on our 2023 college football point spread prognosis and Picks/Opinons until last week's 1-5 ATS results with more very bad breaks for the second week in a row.
All college football 2023 Picks and Opinions through Week 10 are 23-21, including 20-16 ATS on sides.
Top 25 Matchup Picks: 3-6
Top 25 Matchup Opinions: 7-8
Top 25 Game Picks: 3-1
Bonus Picks: 5-0
Bonus Opinions: 1-1
Top 25 Games Opinions: 3-2
Top 25 Totals Opinions: 1-3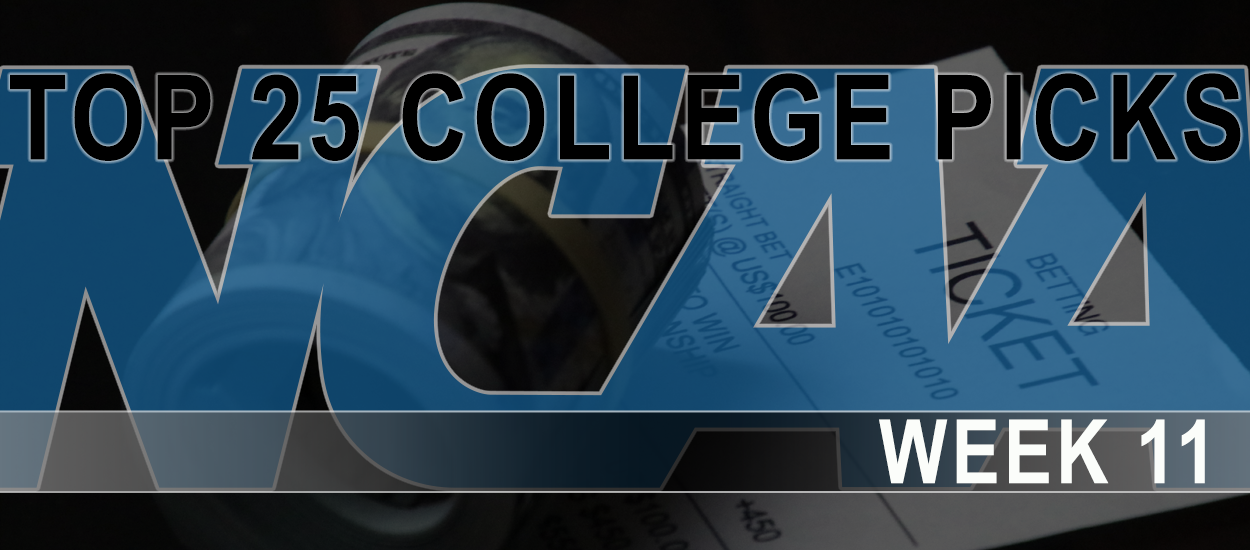 I like to dig into stats and have provided information and insight for years looking for match-up edges, along with stats and situational plays that can often be overlooked when evaluating the games and match-ups. See my additional Top 25 picks this week beyond the Top 25 matchup picks at OSGA. That includes another Bonus Pick, which are 5-0 ATS this season. Understand too that there is more games each week that we evaluate and bet while monitoring the adjusted betting lines.
You can also see OSGA for my college football '200 Club' offenses that are more balanced and efficient. I also added college football's top defensive teams and defensive dominators and hope to update those stats and teams again next week.
College Football 2023 Week 11 Top 25 Games, Odds and TV Schedule
College football odds from BetMGM refresh periodically and are subject to change, including on props and live betting. All times Eastern (ET).
Saturday, Nov. 11
No. 1 Ohio State (-31.5) vs. Michigan State | 7:30 p.m. | NBC
No. 2 Georgia (-11) vs. No. 9 Ole Miss | 7:00 p.m. | ESPN
No. 3 Michigan (-4.5) at No. 10 Penn State | 12 p.m. | FOX
No. 4 Florida State (-14.5) vs. Miami | 3:30 p.m. | ABC
No. 5 Washington (-8.5) vs. No. 18 Utah | 3:30 p.m. | FOX
No. 6 Oregon (-15.5) vs. USC | 10:30 p.m. | FOX
No. 7 Texas (-11.5) at TCU | 7:30 p.m. | ABC
No. 8 Alabama (-10.5) at Kentucky | 12 p.m. | ESPN
No. 11 Louisville (-20.5) vs. Virginia | 7:30 p.m. | ESPN (Thursday)
No. 12 Oregon State (-21) vs. Stanford | 5:30 p.m. | ESPN
No. 13 Tennessee (-1.5) at No. 14 Missouri | 3:30 p.m. | CBS
No. 15 Oklahoma State (-2.5) at Central Florida | 3:30 p.m. | ESPN
No. 16 Kansas (-3.5) vs. Texas Tech | 12 p.m. | FS1
No. 17 Oklahoma (-12.5) vs. West Virginia | 7 p.m. | FOX
No. 19 LSU (-14.5) vs. Florida | 7:30 p.m. | SEC Network
No. 20 Notre Dame | Bye
No. 21 Arizona (-10.5) at Colorado | 2 p.m. | Pac 12 Network
No. 22 Iowa (NL) vs. Rutgers | 3:30 p.m. | Big Ten Network
No. 23 Tulane (-22.5) vs. Tulsa | 12 p.m. | ESPN2
No. 24 North Carolina (-14) vs. Duke | 8 p.m. | ACC Network
No. 25 Kansas State (-21) vs. Baylor | 3 p.m. | ESPN+
I'll also be at the key Mountain West game Friday night in Las Vegas as Wyoming battles vs. UNLV (-5.5) at Allegian Stadium and TV coverage on FS1 starting at 10:45 p.m. ET. The Rebels (7-2) are 4-1 in conference play while Wyoming (6-3) is 3-2 with both teams chasing Air Force (8-1, 5-0), who UNLV plays next week. UNLV is also 8-1 against the spread (ATS) this season – tied with Oregon for best in the country.
Week 11 Top 25 Picks And Matchups 
Read all the Top 25 game analysis at OSGA.
No. 3 Michigan at No. 10 Penn State | 12 p.m. on FOX
Line: Michigan -5.5 and Total 45.5
Opinion: Penn State
No. 18 Utah at No. 5 Washington | 3:30 p.m. on FOX
Line: Washington -9.5 and Total 49.5
Opinion: Utah
No. 13 Tennessee at No. 14 Missouri | 3:30 p.m. on CBS
Line: Tennessee -1.5 and Total 57.5
Opinion: Tennessee
No. 9 Ole Miss at No. 3 Georgia | 7 p.m. on ESPN
Line: Georgia -11 and Total 58
Opinion: Ole Miss
Top 25 Picks
Stanford at No. 12 Oregon State
Line: Oregon State -20.5
Opinion: Oregon State
Big chalk eaters will love piling on Oregon State in this matchup. The Beavers may well steamroll the Cardinal with a balanced offense that I project will both rush and pass for more than 200 yards. Teams that do that this season are covering the spread just over 75% ATS with a sample size of more than 100 games. The Beavers (7-2) have lost just two games, and both in conference by 3 points on the road. At home at Reser Stadium in Corvallis, Oregon State has been the most dominant team in college football going 17-1 SU/ATS the past three years. Stanford (3-6) has seen a slight uptick in play while also catching a few teams in good spots. Stanford won at Washington State last week 10-7 with just 217 yards offense. Beavers bury another opponent at home.
Bonus Picks
Washington State at California
Line: Pick 'em
Pick: California
Our college football bonus picks are 5-0 this season, and this is just pick overall on these pages that hasn't included a Top 25 team. We add it knowing that Cal (3-6) is going to both run and pass for at least 200 yards against a deficient Washington State (4-5) defense. Both teams are 1-5 in Pac 12 play, and the one dimensional Wazzu offense passes for 317 yards per game and runs for 59 yards per game – worst in the nation. The Golden Bears gave it their all two weeks ago with more than 500 yards balanced offense and a missed 2-point conversion in a 50-49 defeat to USC. Then the letdown, emotion and no energy blowout loss to top team Oregon last week while WSU was losing to Stanford at home 10-7. That's fives straight losses for the Cougars, including two straight vs. Pac 12 bottom feeders Stanford and Arizona State. The Bears are a much better candidate to bounce back from last week's loss and we like the offensive balance profile and matchups despite some defensive deficiencies on both teams. Let's put the spotlight on the Pac 12 with our two additional picks outside of Top 25 matchups, as the Pac 12 is enjoying a superb sendoff season before the conference collapses with more realignment.
The other big game in the Pac 12 is worth noting with USC (+15.5) taking back huge points at Oregon. The dominating Ducks are 8-1 SU and 8-1 ATS – best in the country with UNLV. The Trojans are 2-8 ATS and just fired their defensive coordinator. If you're in the buy low, sell high business of sports betting, then you get bonus points as this is the time to get USC at it's lowest point and Oregon at its peak.
Check back for more updates, analysis and information you can bet on by Saturday morning, along with any additional picks.
Author: FairwayJay
is a leading national sports betting analyst, writer, handicapper and sports betting insider providing insight and information you can bet on for nearly two decades from Las Vegas. He chips in additional sports betting coverage and reporting on industry news and events for leading media and sports betting sites and companies. Follow him on X (Twitter): @FairwayJay