College Football 2023 Week 8 Picks And Top 25 Matchups
The college football 2023 Week 8 schedule includes four Top 25 matchups on Sat., Oct. 21. I cover the Top 25 action tee-to-green in my college football 2023 Week 8  betting report at Forbes. I chip-in and add my weekly Top 25 Picks and Opinions in my updates at Off Shore Gaming Association. Check out the game analysis before I post more here each week with added picks and information you can bet on.
Our Top 25 picks, matchups, games and bonus picks are producing profit through the first half of the season.
I like to dig into stats and have provided information and insight for years looking for match-up edges, along with stats and situational plays that can often be overlooked when evaluating the games and match-ups. See my bonus pick this week below, and I'll add the Top 25 matchups and picks Saturday morning. But you can see the college football Week 8 picks and Opinions now at OSGA. Understand too that there is more games each week that we evaluate and bet while monitoring the adjusted betting lines.
You can also see OSGA for my college football '200 Club' offenses that are more balanced and efficient.
We're off to a strong start in our 2023 college football point spread prognosis and picks.
All college football 2023 Picks and Opinions through Week 7 are 18-11, including 15-8 ATS on sides.
Top 25 Matchup Picks: 2-2
Top 25 Matchup Opinions: 7-4
Top 25 Game Picks: 1-1
Bonus Picks: 3-0
Bonus Opinions: 1-1
Top 25 Games Opinions: 3-1
Top 25 Totals Opinions: 1-2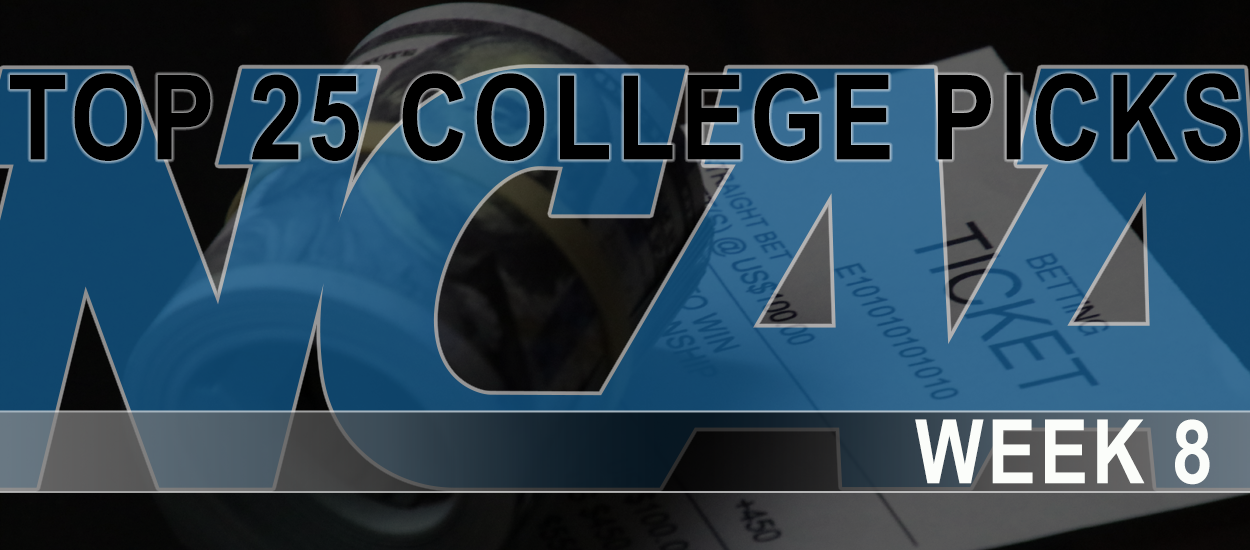 College Football 2023 Week 8 Top 25 Games, Odds and TV Schedule
College football odds from BetMGM refresh periodically and are subject to change, including on props and live betting. All times Eastern (ET).
Saturday, Oct. 21
No. 1 Georgia | Bye
No. 2 Michigan (-24.5) at Michigan State | 7:30 p.m. | NBC
No. 3 Ohio State (-4.5) vs. No. 7 Penn State | 12 p.m. | FOX
No. 4 Florida State (-14.5) vs. No. 16 Duke | 7:30 p.m. | ABC
No. 5 Washington (-26.5) vs. Arizona State | 10:30 p.m. | FS1
No. 6 Oklahoma (-17.5) vs. Central Florida (UCF) | 12 p.m. | ABC
No. 8 Texas (-22.5) at Houston | 4 p.m. | FOX
No. 9 Oregon (-20.5) vs. Washington State | 3:30 p.m. | ABC
No. 10 North Carolina (-23.5) vs. Virginia | 6:30 p.m. | CW Network
No. 11 Alabama (-8.5) vs. No. 17 Tennessee | 3:30 p.m. | CBS
No. 12 Oregon State | Bye
No. 13 Ole Miss (-6.5) at Auburn | 7 p.m. | ESPN
No. 14 Utah at No. 18 USC (-6.5) | 8 p.m. | FOX
No. 15 Notre Dame | Bye
No. 19 LSU -32.5 vs. Army | 7:30 p.m. | SEC Network
No. 20 Missouri (-6.5) vs. South Carolina | 3:30 p.m. | SEC Network
No. 21 Louisville | Bye
No. 22 Air Force (-10.5) at Navy | 12 p.m. | CBS
No. 23 Tulane (-20.5) vs North Texas
No. 24 Iowa (-3.5) vs. Minnesota | 3:30 p.m. | NBC
No. 25 UCLA (-17) at Stanford | 10:30 p.m. | ESPN
Others receiving votes: James Madison 70, Clemson 35, Florida 12, Washington St. 11, Fresno St. 6, Liberty 5, Kentucky 4, Wyoming 4, Kansas 2, West Virginia 1, Oklahoma St. 1, Miami 1.
Week 8 Top 25 Picks And Matchups
No. 7 Penn State at No. 3 Ohio State | 12:00 p.m. on FOX
Line: Ohio State -4.5 and Total 45.5
Pick: See OSGA for picks and analysis 
More updates and analysis posted here Saturday.
No. 17 Tennessee at No. 11 Alabama | 3:30 p.m. on CBS
Line: Alabama -8.5 and Total 47.5
Pick: Tennessee
Tennessee (232/game) is the top team in FBS rushing and No. 6 in the country vs FBS opponents. Combined with a 210 YPG passing attack and we have a balanced and efficient offense that is certainly worthy of a bet as underdog. 
The Volunteers (5-1/2-1 SEC) were victories for us as 'Dog in this matchup last year when Tennessee beat Alabama 52-49 in a thriller. Alabama (6-1/4-0) is off the close call last week over Arkansas as a big favorite and a game I bet the 'Dog, and the 'Tide have top talent but not as dominant on defense as projected. Alabama is allowing 16 points per game vs FBS opponents (TEN 18 PPG), and Tennessee coach Josh Heupel is going to speed up play and put more pressure on the Alabama defense to adjust. The Crimson Tide are outside the top 60 in the country in expected points added (EPA) per play on offense with QB Jalen Milroe building confidence but not enough of mine to support in this big game.
No. 16 Duke at No. 4 Florida State | 7:30 p.m. on ABC
Line: Florida State -14.5 and Total 49
Pick: See Duke QB status
No. 14 Utah at No. 18 USC | 8:00 p.m. on FOX
Line: USC -6.5/7 and Total 53.5
Opinion: USC
Bonus Picks
Central Florida at No. 6 Oklahoma (-17.5).
Pick: UCF Knights
Our bonus picks are 3-0 following last week's outright winner on the Pitt Panthers (+7.5) over Louisville, 38-21. The Panthers outscored the Cardinals 24-0 in the second half. It was a misleading final as Louisville outgained Pitt 444-288 and had a 28-13 first down advantage. But a 3-0 turnover advantage favoring Pitt was the big stat that Louisville couldn't overcome. Now we may need a similar turnover edge for UCF to pull off the upset at Oklahoma, but no denying the UCF Knights have one of the most balanced and efficient offenses in the country. I outlined those teams in my featured '200 Club' offenses article this week, and UCF is rushing for 245 yards and passing for 255 yards vs. FBS opponents this season. That makes them a nearly automatic play and bet taking these huge points, which have dropped from +19.5 to +17.5. Sure, the Knights defense is sub-par, and but still only 35 yards per game worst than Oklahoma vs. FBS foes (65 yards per game overall). Oklahoma (6-0) is tops in offense in the Big 12 with UCF and led by QB Dillon Gabriel, who started for UCF for three seasons before transfering to Oklahoma. Central Florida is 3-3 but 0-3 in Big 12 play after getting blown out at Kansas Oct. 7. I bet on the Knights and lost, bad. The week prior, I bet on Baylor and the Bears scored 26 unanswered points in the second half to stun UCF, 36-35. Central Florida had a perfectly balanced offensive attack (235 rush and 234 pass) in defeat. So clearly the Knights were in shock and not ready to go the next week at Kansas, when they took tons of money and were bet down from +5.5 to +1.5. Now we're getting huge points against undefeated Oklahoma (6-0), who is very good, but we're taking plenty of value with a Knights team that boasts an elite offensive profile and plenty capable of moving the ball and scoring in an expected shootout.
Check back later and Saturday morning for more updates and analysis with information you can bet on.
Author: FairwayJay
is a leading national sports betting analyst, writer, handicapper and sports betting insider providing insight and information you can bet on for nearly two decades from Las Vegas. He chips in additional sports betting coverage and reporting on industry news and events for leading media and sports betting sites and companies. Follow him on X (Twitter): @FairwayJay