College Football 2023 Week 9 Picks And Top 25 Matchups
The college football 2023 Week 9 schedule includes just two Top 25 matchups on Sat., Oct. 28. I cover the Top 25 action tee-to-green in my college football 2023 Week 9  betting report at Forbes. I chip-in and add my weekly Top 25 Picks and Opinions in my updates at Off Shore Gaming Association. Check out the game analysis before I post more here each week with added picks and information you can bet on.
Our Top 25 picks, matchups, games and bonus picks are producing profit through eight weeks this season.
I like to dig into stats and have provided information and insight for years looking for match-up edges, along with stats and situational plays that can often be overlooked when evaluating the games and match-ups. See my additional Top 25 picks this week beyond the Top 25 matchup picks at OSGA. Understand too that there is more games each week that we evaluate and bet while monitoring the adjusted betting lines.
You can also see OSGA for my college football '200 Club' offenses that are more balanced and efficient. This week I also added college football's top defensive teams and defensive dominators.
We're off to a strong start in our 2023 college football point spread prognosis and picks.
All college football 2023 Picks and Opinions through Week 8 are 19-15, including 16-12 ATS on sides. Some unfortunate losers in Week 8 along with our bonus pick winner on UCF (+17.5) in a 2-point loss at Oklahoma.
Top 25 Matchup Picks: 2-5
Top 25 Matchup Opinions: 7-5
Top 25 Game Picks: 1-1
Bonus Picks: 4-0
Bonus Opinions: 1-1
Top 25 Games Opinions: 3-1
Top 25 Totals Opinions: 1-2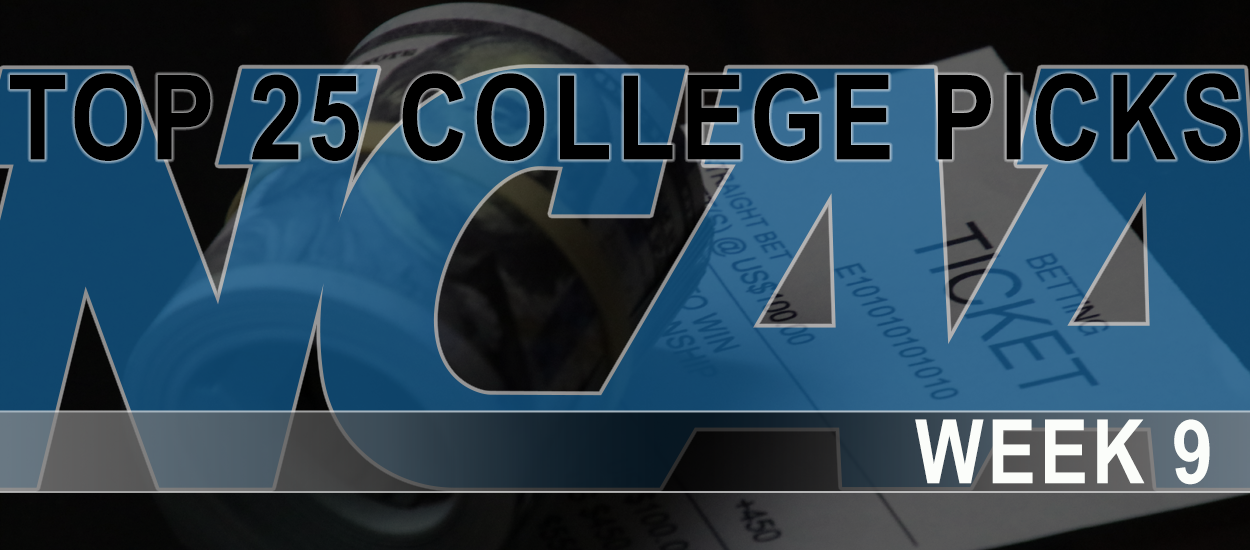 College Football 2023 Week 9 Top 25 Games, Odds and TV Schedule
College football odds from BetMGM refresh periodically and are subject to change, including on props and live betting. All times Eastern (ET).
Saturday, Oct. 28
No. 1 Georgia (-14.5) vs. Florida (in Jacksonville, Fla.) | 3:30 p.m. | CBS
No. 2 Michigan | Bye
No. 3 Ohio State (-14.5) at Wisconsin | 7:30 p.m. | NBC
No. 4 Florida State (-20.5) at Wake Forest | 12 p.m. | ABC
No. 5 Washington (-27.5) at Stanford | 7 p.m. | FS1
No. 6 Oklahoma (-10) at Kansas | 12 p.m. | FOX
No. 7 Texas (-19.5) vs. BYU | 3:30 p.m. | ABC
No. 8 Oregon (-6.5) at No. 13 Utah | 3:30 p.m. | FOX
No. 9 Alabama | Bye
No. 10 Penn State (-31.5) vs. Indiana | 12 p.m. | CBS
No. 11 Oregon State (-3.5) at Arizona | 10:30 p.m. | ESPN
No. 12 Ole Miss (-24.5) vs. Vanderbilt | 7:30 p.m. | SEC Network
No. 14 Notre Dame (-20.5) vs. Pitt | 3:30 p.m. | NBC
No. 15 LSU | Bye
No. 16 Missouri | Bye
No. 17 North Carolina (-11.5) at Georgia Tech | 8 p.m. | ACC Network
No. 18 Louisville (-4.5) vs. No. 20 Duke | 3:30 p.m. | ESPN
No. 19 Air Force (-12.5) at Colorado State | 7 p.m. | CBSSN
No. 21 Tennessee (-3.5) at Kentucky | 7 p.m. | ESPN
No. 22 Tulane (-10.5) at Rice | 4 p.m. | ESPN2
No. 23 UCLA (-16.5) vs. Colorado | 7:30 p.m. | ABC
No. 24 USC (-10.5) at Cal | 4 p.m. | Pac-12 Network
No. 25 James Madison (-19.5) vs. Old Dominion | 8 p.m. | ESPNU
Others Receiving Votes: Florida 34, Liberty 17, Kansas State 16, Miami 12, Fresno State 8, Oklahoma State 5, Toledo 3, Kentucky 2, Rutgers 2, UNLV 1, Wisconsin 1.
The top-6 teams remain undefeated – Georgia, Michigan, Ohio State, Florida State, Washington and Oklahoma, along with No. 19 Air Force, No. 25 James Madison and Liberty.
Week 9 Top 25 Picks And Matchups
No. 8 Oregon at No. 13 Utah | 3:30 p.m. on FOX
Line: Oregon -6 and Total 47.5
Pick: Oregon and Opinion Over game total – see game analysis at OSGA
No. 18 Duke at No. 20 Louisville | 3:30 p.m. on ESPN
Line: Louisville -4.5 and Total 46
Lean: Louisville
Top 25 Picks
No. 6 Oklahoma at Kansas 
Line: Oklahoma -10
Pick: Kansas
No. 3 Ohio State at Wisconsin
Line: Ohio State -14.5
Pick: Wisconsin
Updated game analysis from OSGA:
Oregon at Utah – Oregon is a 200 Club explosive offense that runs for 206 yards and passes for 317 yards per game vs. FBS foes led by Heisman contender QB Bo Nix. Utah is passing for just 156 yards per game – among the worst in the nation. 
The Ducks have scored 42 TD's and average nearly 8 yards per play to Utah's 18 TD's and 5.1 yards per play. Overall, Oregon's offense averages greater than 200 yards per game more than Utah. The defensive stats profiles are similar for these two teams and among the best in the Pac 12. Utah's offense has come to life the last two games including last week's nearly perfectly balanced offensive stats and 482 yards in a 34-32 win over USC. Still, Oregon holds a huge +2.8 net yards per play differential edge over Utah in this matchup as a top defensive team. While the home team is on a 4-0 SU/ATS run in this series, this is a stronger Oregon team that can score 30+ points again for the eighth straight game in a tougher venue with Utah facing their toughest test of the season.
Oklahoma at Kansas – This line went from OKL -10 to -9.5 to -9 to a sharp move Sat. morning -7.5 with money on Kansas. Jayhawks head coach Lance Leipold is 29-10-1 ATS at home in FBS play, including 13-1-1 ATS versus greater than .700 opponents and 12-1-1 ATS when his team is .700 or better. 
Kansas (5-2) enters this game off a bye week, and the Jayhawks have scored at least 31 points in all games except vs. Texas. The Jayhawks have a solid 200 Club balanced offense rushing for an average of 207 yards and passing for 223 yards. Oklahoma is top-6 in the country passing for 328 yards per game and rush for 168 YPG. The Sooners do sport the No. 1 scoring offense (43 PPG) and No. 1 scoring defense (16 PPG) in the Big 12. But Central Florida's strong, balanced offense was able to run for 149 and pass for 248 at Oklahoma for a bonus pick winner as a big 'Dog. Kansas rolled over UCF 51-22 early this month with 400 rushing yards. The Jayhawks are the least penalized team in the Big 12 and have the best Red Zone defensive stats and should make this a competitive contest. Final: Kansas 38, Oklahoma 33
Check back later and Saturday morning for more updates and analysis with information you can bet on.
Author: FairwayJay
is a leading national sports betting analyst, writer, handicapper and sports betting insider providing insight and information you can bet on for nearly two decades from Las Vegas. He chips in additional sports betting coverage and reporting on industry news and events for leading media and sports betting sites and companies. Follow him on X (Twitter): @FairwayJay