NFL Handicapping Success, Strategies and Sports Betting Stories
NFL Handicapping and Picks – 8 Straight Winning Seasons 57.3%. Underdog only Picks last 6 years 58.1% ATS.
Updated from 2022 and original publish in 2018.
I cover the Global Gaming Expo annually in October from Las Vegas, and also the World Series of Poker. Meeting industry insiders, technology and sportsbook providers along with related gaming and media companies helps me keep a pulse on the sports betting business. I've been handicapping and betting sports and playing poker while living in Las Vegas for two decades.
On site for Huge turnout opening Monday @G2Eshows in Las Vegas. Presented by @AmericanGaming. #SportsBetting interest continues to shine & soar. Video on Sunday pic.twitter.com/Ydj2xJNUvx

— Fairway Jay (@FairwayJay) October 10, 2022
Here is an update from a story I provided as legalized sports betting in the U. S. was just beginning in 2018. It provides a little background on me, my history as a sports handicapper who has continued to provide unparalleled success in NFL picks and point spread prognosis. I made some changes in my personal and professional life in 2011, and was not providing document picks through 2016. I now provide sports betting content and report on the industry for media outlets and companies, and contract other services and consultation.
I began posting NFL underdog picks in 2017 at OSGA and those picks are added to Vegas Sports Zone usually within 24-48 hours. Update: The last 6 years underdog picks are 162-117 (58.1%) with 92 outright winners, which included a 70% season in 2021 going 28-12 ATS.
Originally published Sept. 9, 2018
In 2003 I was living in Las Vegas pursuing my career in real estate over the past decade. I was working for home builders in what would become one of the biggest booming housing and home building markets in the country. I was also pursuing my passions in poker and sports, as I had been a self-handicapper and bettor since my college days at the University of Minnesota.
After spending a few season posting my own plays and analysis in various sports forums and a blog, I received an offer to become a professional handicapper. I was interviewed to also be part of a radio team of analysts and handicappers, and I became a regular contributor on a popular daily radio show in Las Vegas that was also heard throughout the U.S. in more than 50 markets. I was starting to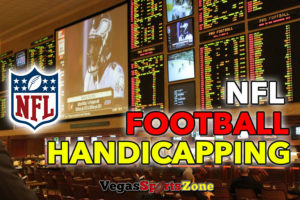 live the dream in Las Vegas, combining my passions of poker and sports while getting paid to do something I really enjoyed.
I'm one of the less than 10% of adult American's that are analyzers. I approach the world around me in an open-ended and exploratory manner. I like to solve problems, explore new ideas and I'm constantly guided and focused on logical thinking. I prefer flexibility, independence and control over my work. Analyzers have a need to understand how and why things work. An insightful analyzer, like myself, understands that logical conclusions are based on principals, experience and knowledge. I examine and critique, and do not accept information or direction at face value. I'm not a fan of protocol, and I can get impatient with policies and procedures that get in the way of progression.

Analyzers often make good prognosticators, and that's a large part of the reason why I enjoy sports handicapping. I like time and space to think things through and figure out the process of point spread prognosis. That includes researching and analyzing data, news and information to be better informed to make decisions and provide insightful feedback and explanations. Analyzers usually set and hold high standards, but I can also tend to be hard on myself, and find it difficult to deal with people and environments where others are incompetent.
As I was figuring out my way in Las Vegas in the early 2000's, I turned that sports hobby into a business. I broke onto the scene in a big way in 2003, my rookie season handicapping and doing daily radio in Las Vegas as FairwayJay. I guess if there was a Rookie of the Year award in NFL handicapping, I would have won. My selections were documented at the Sports Monitor of Oklahoma City, and in the 2003 regular season, I provided picks that went 52-28 ATS (65%), and led the nation in net wins and net profit for those willing to have their selections independently monitored. I also went 6-2 in the 2003 playoffs. All my selections were released to a building client base late each week of the NFL season.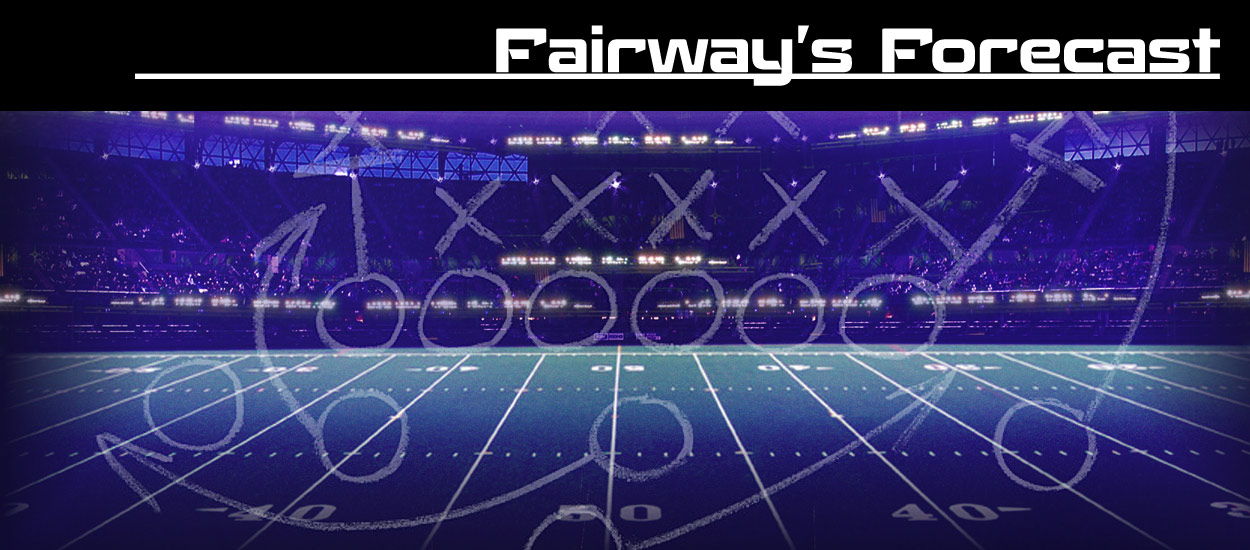 For 8 consecutive seasons starting in 2003 through 2010, I won every year in the NFL. On nearly 650 regular season plays, I posted a record of 371-277 = 57.3% ATS. If you're uncertain of those top of the leader board results, ask a real professional bettor or handicapper what winning more than 57% Against the Spread over hundreds of plays means, and then try it and track results yourself.
2003 – 52-28                 2007 – 36-32
2004 – 44-32                 2008 – 54-42
2005 – 47-42                 2009 – 50-41
2006 – 44-38                 2010 – 44-22
I was proud that I had strong sustained success, and achieved top of the leaderboard results over a period of time. My results, stats and insight was also well-received and proven profitable over time in college basketball, college football, PGA events and match-ups, and also the NBA. Results were independently documented, and added insight and analysis provided throughout each seasons online, in writing and on radio and podcasts. I felt good about the information and service I was providing and that others who put their confidence in me to make them money were rewarded. I was making money while handicapping and betting on sports.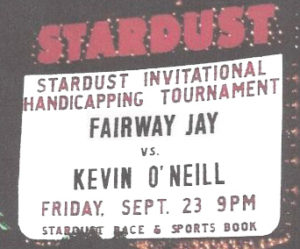 The tout and pick selling industry is an ugly business filled with fabricated and false information often used to manipulate less-than-informed consumers. I never considered myself a tout, as I was not involved in or worked for any hard sell company those years. For the most part, business was done the right way considering the lack of trust and integrity that filters through the filth of many in the business. I've also never felt comfortable with the idea of having to sell or promote myself, but at times it was part of the business to generate clients and sales, and I preferred to have others do that for me and let my work and results speak for themselves.
All that said, I've met and know many solid people and professionals in the sports handicapping, reporting and related sports betting business that are kind, reasonable and work hard to provide information and services to others.
As the housing market crashed starting the end of 2007, it hit especially hard in Las Vegas, and the great recession caused many other industries turmoil. That included the sports betting and advisory businesses, and a few years later, I moved on from the business on a full-time basis for both personal and professional reasons. Our company founder ran into some serious gambling and financial issues that hurt all of us on the team, and I was going through a high conflict divorce that included our three children. It was extremely time consuming and an emotional and stressful part of my life, and I had to cut back from my passions and work. I've seen and been a victim of extreme corruption and abuse of power, and have a Supreme Court ruling in my favor that shows the disgraceful and disgusting acts of attorneys, judges, and other professionals and people in power, and the cruel, destructive and evil acts and intentions of people including those with power, influence and money.
I've since turned down a number of offers to 'sell' selections for other companies and provide my expertise and insight. I've pursued other passions and another path in sports and gaming providing information, insight and analysis while working on my chosen schedule. I've also become a part of the media and covered other sports and gaming events. That includes college and pro sports, World Series of Poker and Global Gaming Expo, which will have a Sports Betting Symposium this year covering the growth and expansion of sports betting in the U.S. and legislative issues.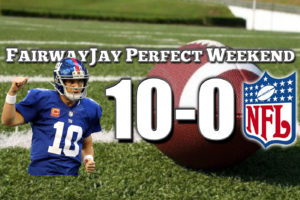 The Supreme Court decision on sports betting (PASPA) was another example of too much power and New Jersey's fight for millions of other American's became a reality this year. The NFL is a big gorilla, and the power and money is enormous. Now that the states have the ability to pass legislation to include sports betting, the professional leagues and NCAA will figure out ways to partner with other companies and businesses and get their piece of the pie.
Fan engagement and inclusion of gambling and related products and services is part of the focus. Many companies are trying to expand and partner with other connected businesses including technology companies knowing that sports betting in the U.S. is on the cusp of becoming a huge part of the college and pro sports landscape.
College and pro football followed by college and pro basketball are the busiest time for handicappers, bettors, sportsbooks and directors, and those involved in the sports, betting and reporting businesses. Pro football is the most popular sport to bet on, and the NFL is king of them all with fan interest, fantasy sports, contests and pools and sports betting. But as the NFL changes the rules and adjusts to the new ways we watch, gamble and consume football, I'll too evaluate, analyze and adapt to change on the playing field.
It's great to have had success handicapping and betting on football, basketball, golf and even baseball as time allows. Now I chip-in even more coverage of the sports betting industry that is recently legalized in the U.S. beyond Las Vegas and Nevada. The ability to learn and adjust is crucial to growth and preparation for future success. I hope to profit from the experience in a more up-tempo and faster-paced game. But I'll still have a fundamental focus and analyze the changes and games using a logical approach.
You can bet on it.
Updated 2018 NFL season 35-19 ATS (64.8%) posting weekly plays publicly. Also, a 7-1 ATS finish in the Wise Guys NFL contest to win the final four weeks prize with a NCAA National Championship outright winner on Clemson (+6).
2015 and 2016 NFL Super Contest: 60% ATS and top-6% of 1700+ entries
2021 NFL underdog picks: 28-12 ATS (70%) with 21 outright winners.
2022 NFL underdog picks: started 14-7 ATS (67%) with 13 outright winners and finished 32-26 ATS with 24 outright winners including 9-0 ATS Weeks 12-15.
2017-2023 posting NFL underdog only picks: 162-117 ATS (58.1%) with 92 outright winners.
Author: FairwayJay
is a leading national sports betting analyst, writer, handicapper and sports betting insider providing insight and information you can bet on for nearly two decades from Las Vegas. He chips in additional sports betting coverage and reporting on industry news and events for leading media and sports betting sites and companies. Follow him on X (Twitter): @FairwayJay