Top Picks And Odds For 2022 Open Championship At St. Andrews
The 150th Open Championship at St. Andrews begins Thursday, July 14, and the final major of the year is expected to produce low scores at the Old Course – similar to 2010 and 2015 when -16 and -15 under par won the British Open at St. Andrews. And in 2000, Tiger Woods captured the Claret Jug with a score of -19 under par.
Firm and fast conditions with baked fairways are what the players are practicing on leading into The Open. More than 110 bunkers and windy conditions are the courses defense, along with pin placements. But the 7,536 yard par 72 Old Course is going to yield plenty of birdies.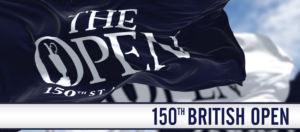 I've chipped-in tee-to-green coverage of the British Open including player profiles, golfers to watch, longshots with odds and information you can bet on in The Open coverage for FanDuel and The Duel Sports. I add more Open Championship coverage at Offshore Gaming Association along with added tournament match-ups below.
Added coverage in my British Open update for Forbes and some of the sportsbook betting data on players taking the most bets and money – no surprise of course it's the tournament favorites, along with Tiger Woods (no chance to win).
Compare odds at leading online sportsbooks, and consider betting top finishing position as well. The Circa Sportsbook in Las Vegas often has the best outright win odds on golfers, and I've added their odds and finishing position odds as well for the Open Championship at St. Andrews.
Open Championship 2022 Odds
https://twitter.com/CircaSports/status/1545104294348718081
Open Championship Top 10, 20 and Make or Miss the Cut Odds
https://twitter.com/CircaSports/status/1546921281618149376
What it takes to play well at The Open
I played St. Andrews, Old and New Course in the 1990s. It's the holy grail of golf. The Old Course is not even close to the most difficult test on the Open Rota, and it's on a smaller piece of property. The outward nine likely yields more low scores, but the inward back nine features the road hole at No. 17 – among the toughest on the Rota while No. 18 is the easiest and a drivable par 4.
Check out the player-by-player guide for the open from Sporting Life, and you'll gain a better understanding of how some of the players have or may fare on links style courses. I also use past performance charts from golfstats.com.
Golf is not a fair game, and even more troubling on links style courses. Golfers can hit a decent shot and find themselves scrambling much more than imagined. Fescue, heather, burns, bad bounces and pot bunkers get in the way of an otherwise properly played shot. The Open Championship is most exposed to luck's influence, and the players will have to thrive, survive and play a very different form of golf to end up on the weekend leaderboard in pursuit of the Claret Jug.
The absence of any historical ShotLink/Strokes Gained data will compound the problems for model-reliant handicappers. But looking towards golfers in better current form and overall strokes gained strength is a starting point. Playing in the British Open requires a more strategic and creative approach, and golfers who excel in those areas will have more success than the bombers and gougers who try to overpower the course. That said, power players will be driving some of the par 4s at St. Andrews, which also has seven shared greens of the 11 putting surfaces on the course. Putting from 40-60 feet is common, and you'll see putts of much longer range including from off the greens.
But make no mistake, playing links golf is different. And if the wind blows, you'll see player struggle more with distance control as flighting the ball and playing proper angles, bump and runs and scrambling will determine a players fate at the Old Course.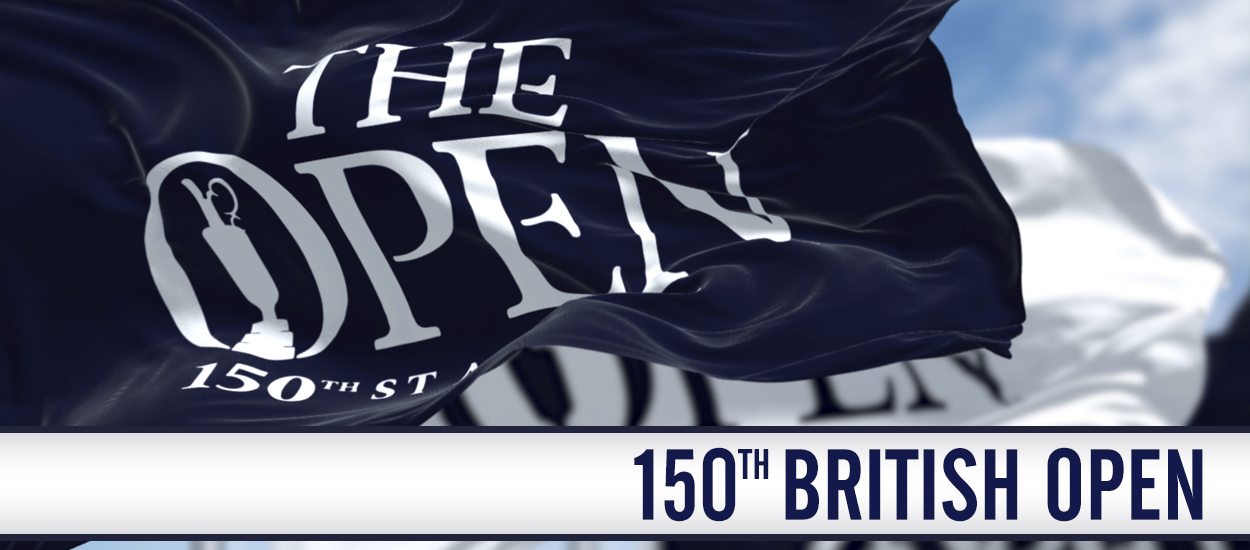 St. Andrews, Scotland Daily Weather Report
From BetSided and an editor I work with, here is the weather report in Fife, Scotland at St. Andrews as of Tuesday.
Thursday, July 14: Partly cloudy with minimal chance of rain. Temperatures between 54-67 Fahrenheit with winds between 10-15 MPH and gusts up to 25 MPH.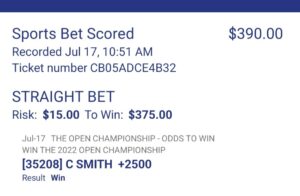 Friday, July 15: Mostly cloudy with 20-60% chance of rain between 5 AM-4 PM local time. Temperatures between 55-67 Fahrenheit with winds between 10-15 MPH and gusts up to 25 MPH.
Saturday, July 16: Partly cloudy with minimal chance of rain. Temperatures between 55-70 Fahrenheit with winds between 10-15 MPH.
Friday, July 15: Mostly cloudy with minimal chance of rain. Temperatures between 60-72 Fahrenheit with winds between 10-15 MPH.
With that in mind, I'd expect to see a low score win this championship, something in the 18-under-par area.
Open Championship 2022 Picks and Profiles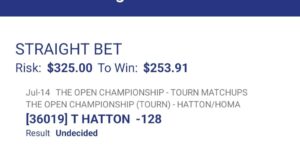 Tournament match-up posted picks are 15-9 this year. Last year we were 19-8 entering the Open Championship, but made more bogeys than birdies moving towards the FedEx Cup Playoffs.
Fairway's Favorites: Rory McIlroy, Jordan Spieth, Cameron Smith, Dustin Johnson
Fairway's Longshots: Tyrrell Hatton, Tommy Fleetwood, Tony Finau, Dylan Frittelli
Tournament Match-ups: Cameron Smith (-105) over Will Zalatoris (BetMGM), Tyrrell Hatton (-128) over Max Homa (Circa)
Not included in our posted tournament match-ups on this site, but available for review in my added Open Championship coverage at OSGA are these four with three laying strokes (not available at all sportsbooks).
Cameron Smith (-103) over Will Zalatoris
Dustin Johnson -1.5 (-108) over Collin Morikawa
Jordan Spieth -1.5 (+113) over Will Zalatoris
Tony Finau -1.5 (-107) over Louis Oosthuizen
Cameron Smith is a very capable threat, and a top-10 finish is well within reach with his creative shot making and short game. Pairing his talents, recent performances and potential, Smith looks like a worthy bet, and anything outside a top-20 or top-30 (-130) finish would be a major disappointment.
Tommy Fleetwood – Fleetwood should be a win challenger, and top-10 is realistic with top-20 definitely in play to bet and a top-30 finish a must bet at -105 odds.
Tyrrell Hatton – Hatton's short game and putting remain strong ranking top-5 on Tour over his last 50 rounds. The combination of links golf, proven performance at St. Andrews and a short game that can compete with the best makes him a threat. Hatton is a golfer to target in the win market and a top-10 finish at +700 provides a solid return as well with top-20 in play to bet.
Dustin Johnson – Taking a plus price on Dustin Johnson to finish top-30 (+115) seems like a very worthy wager considering his strong history of making the cut and solid finishes in The Open. A win is not out of the question, and a top-10 finish (+390) is within range if the 38-year-old is on his game.
Next week it's the 3M Open at TPC Twin Cities North of Minneapolis.
Post tournament update: We picked and bet the Open Championship winner outright, Cameron Smith 25/1. He tied a major championship record with a final -20 under par score. Posted Tournament match-ups went 2-0 and now 17-9 this year. Tournament match-ups included Cam Smith as underdog over Will Zalators (-8), and Tyrrell Hatton (-11) over Max Homa (cut).
Additional 4-0 tournament match-ups posted at OSGA and above not included in YTD record. All four 'Fairway Favorites' to win finished top-10 including the outright winner on Cam Smith, along the McIlroy, Spieth and Dustin Johnson. Also, longshots Fleetwood (T-4) and Hatton (T-11) cashed on top finishing position as well.
Author: FairwayJay
is a leading national sports betting analyst, writer, handicapper and sports betting insider providing insight and information you can bet on for nearly two decades from Las Vegas. He chips in additional sports betting coverage and reporting on industry news and events for leading media and sports betting sites and companies. Follow him on X (Twitter): @FairwayJay