Sports Betting Podcast: News You Can Bet On Including NFL, NBA, World Series And G2E
Sports Betting Podcast #76: Insights On Sports Betting Industry, Global Gaming Expo (G2E), NFL Week 8 And Other Sports You Can Bet On
Weekly sports betting podcast posted at TheLines – an excellent online resource for sports betting news and information.  I add Episode #76 here along with NFL articles and updates plus other industry news you can bet on.
The mission of TheLines is to provide our readers with sharp analysis and opinion from our team of sports betting industry experts. And that's exactly what we do on The Lines Sports Betting Podcast covering the biggest, most important, and often the most ridiculous stories from the past week.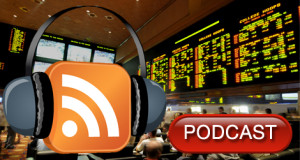 Listen in as Matt Brown, Brett Collson and FairwayJay cut through the crap and tackle the topics you need to know about.
The Lines Episode #73 Podcast continues with discussion of the NBA as the season starts in less than two weeks along with some MLB playoff coverage and some of the big college football games in Week 7 including Top 25 teams. We cover the NFL with some takeaways and betting insights into Week 6.
I chip in with additional NFL coverage including Week 8 NFL lines and market moves and Week 9 look ahead lines. More information with some (meaningless) Week 8 trends to avoid.
Sports Betting Equinox Is Here
Intro Episode #76 Podcast @TheLines available on SoundCloud, Apple podcasts, Spotify, Stitcher, Google.
1:00: Brief recap NFL Week 7
4:05: Global Gaming Expo recap and discussion of new innovations related to sports betting. 9:00 In-game golf betting, app. I attended a number of education sessions and industry updates and provided an article at Forbes on Sports and Gaming Partnerships with NHL Commissioner and CEO's at William Hill, FanDuel and Rush Street Gaming.
17:10: Crossover sports equinox potential all 4 major sports on Sunday, Oct. 28 – NFL, NHL, NBA and MLB World Series.
18:40 – How to handicap and bet all the sports when so many sports going at the same time – NFL, CFB, NHL, NBA
23:00 – World Series
30:00 – NFL MVP and Super Bowl odds adjustments.
40:15 – Heisman adjusted odds and Tua injury on Alabama
45:30 – NBA Rookie Zion Williamson injury & Rookie of the Year odds, Sportsbook offers 76ers
51:00 – NFL Week 8 games and analysis
Check out TheLines and PlayPicks for weekly sports betting and industry news, picks, odds, lines, sportsbooks news, promo's, updates and more.
Author: FairwayJay
is a leading national sports betting analyst, writer, handicapper and sports betting insider providing insight and information you can bet on for nearly two decades from Las Vegas. He chips in additional sports betting coverage and reporting on industry news and events for leading media and sports betting sites and companies. Follow him on X (Twitter): @FairwayJay