College Football Top 25: Week 7 Report, Betting Lines And Red River Rivalry
College Football Week 7 Betting Lines With Top 25 Match-ups And News
College football continues into Week 7 and No. 1 Alabama and No. 2 Clemson are back in conference action following a bye week. Four Top 25 match-ups highlight the Week 7 card headlined by the Red River Rivalry between No. 6 Oklahoma versus No. 11 Texas at the Cotton Bowl in Dallas.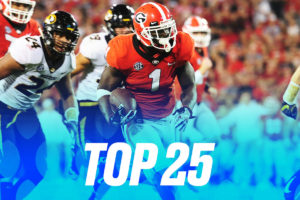 I've got you covered with a Top 25 report in my update at Forbes, along with highlights and news you can bet on. That includes the four Top 25 match-ups in Week 7.
No. 6 Oklahoma (-11) vs. No. 11 Texas – 12:00 ET on FOX
No.7 Florida at No. 5 LSU (-13.5) – 8:00 ET on ESPN
 No. 1 Alabama (-17) at No. 24 Texas A&M – 3:30 ET on CBS
No. 10 Penn State (-4.5) at No. 17 Iowa – 7:30 ET on ABC
Brief profiles, capsules and ATS information on these marquee matchups in my Top 25 report at Forbes.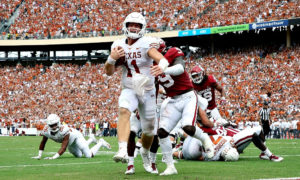 Since 1932, Big 12 rivals Oklahoma and Texas have played the Red River Rivalry at the Cotton Bowl in Dallas.
"There isn't anything that compares to it in college or professional sports. There's no setting like it. It's unique. It's iconic," Oklahoma athletic director Joe Castiglione said. "I guess you could say (OU-Texas is) a place where the combination of the passion of the two fanbases (collide) with the pure joy of being in the middle of the state fair."
LSU (52 PPG), Alabama (52), Ohio State (49) and Oklahoma (49) are the four highest scoring teams through six weeks, but only Ohio State and Oklahoma make the '200 club' list for offenses that both run and pass for at least 200 yards per game. See my latest report on these efficient and balanced offensive teams.
Check out the latest lines from all Las Vegas sportsbooks, and the top-25 games and betting lines below. Live odds with percentage of bets on teams spreads, money lines and totals from Sports Insights with consensus from seven leading online sportsbooks.

Lines from William Hill Sportsbooks. Odds subject to change. Compare lines and odds from Las Vegas sportsbooks.
| | | | | |
| --- | --- | --- | --- | --- |
| Rank | Teams | Line | Total | Opponent |
| 1 | Alabama (5-0) | -16.5 | 61.5 | at Texas A&M |
| 2 | Clemson (5-0) | -27 | 60 | Florida State |
| 3 | Georgia (6-0) | -24.5 | 52.5 | South Carolina |
| 3 | Ohio State (6-0) | NL | NL | Bye |
| 5 | LSU (5-0) | -13.5 | 55 | Florida |
| 6 | Oklahoma  (5-0) | -11 | 76 | vs Texas  (Cotton Bowl) |
| 7 | Florida (6-0) | +13.5 | 55 | at LSU |
| 8 | Wisconsin (5-0) | -10.5 | 40 | Michigan State |
| 9 | Notre Dame (4-1) | -11.5 | 59 | USC |
| 10 | Penn State (5-0) | -3.5 | 41.5 | at Iowa |
| 11 | Texas (4-1) | +11 | 76 | vs Oklahoma (Cotton Bowl) |
| 12 | Auburn (5-1) | NL | NL | Bye |
| 13 | Oregon (4-1) | -21 | 58.5 | Colorado  (Friday) |
| 14 | Boise State (5-0) | -12 | 60 | Hawaii |
| 15 | Utah (4-1) | -14 | 59.5 | at Oregon State |
| 16 | Michigan (4-1) | -22.5 | 49 | at Illinois |
| 17 | Iowa (4-1) | +3.5 | 41.5 | Penn State |
| 18 | Arizona State (4-1) | PK | 59 | Washington State |
| 19 | Wake Forest (5-0) | -6.5 | 65 | Louisville |
| 20 | Virginia (4-1) | +2.5 | 43.5 | at Miami, FL (Friday) |
| 21 | SMU (6-0) | NL | NL | Bye |
| 22 | Baylor (5-0) | -10 | 58 | Texas Tech |
| 23 | Memphis (5-0) | -6 | 50 | at Temple |
| 24 | Texas A&M (3-2) | +16.5 | 61.5 | Alabama |
| 25 | Cincinnati (4-1) | -7.5 | 51.5 | at Houston |
Author: FairwayJay
is a leading national sports betting analyst, writer, handicapper and sports betting insider providing insight and information you can bet on for nearly two decades from Las Vegas. He chips in additional sports betting coverage and reporting on industry news and events for leading media and sports betting sites and companies. Follow him on X (Twitter): @FairwayJay