Western Conference Finals Betting Preview: Game 2 Portland At Golden State
Portland Trailblazers Ready to Bounce Back in Game 2 of Western Conference Finals
One of the mis-calculated situations by many bettors in Game 1 of the Western Conference finals was Portland's energy level coming off not only a Game 7 road win at Denver, but traveling from the Mile High and altitude. The Blazers were never in sync and couldn't recover against the champs in the fourth quarter after trailing by 6 points. The Warriors blew out the Blazers in the final frame to win 116-94. Three point shooting was one-sided as well with Golden State hitting 17-of-33 (51%) from the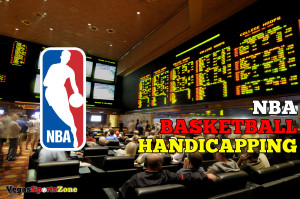 rc and Portland sinking just 7-of-28 three-point shots.
Despite playing without the playoffs leading scorer Kevin Durant, the Warriors rolled in Game 1 as the splash brothers Steph Curry (36 points) and Klay Thompson (26 points) were the dominant backcourt with Curry hitting 9-of-15 shots from the 3-point line. Damian Lillard (19 points) and CJ McCollum (17 points) were no match in Game 1 playing in their first-ever Western Conference Finals, but Enus Kanter's 16 rebounds were a positive for Portland as they out-rebounded Golden State. Of course the Warriors made 20 more FG than the Blazers, and Portland will need a much better effort and stronger shooting to have a shot to win Game 2.
Thurs., May 16
Portland at Golden State (-7.5), Total 219
Moneyline: Warriors -315, Trailblazers +260
Situational Handicapping
The Trailblazers shot just 35.1% from the floor in Game 1. In 94 other games this season including the playoffs, Portland had only four games where they shot worse. The Blazers also had a season-high 21 points in the Game 1 defeat. When the Trailblazers lost a game in which they out-rebounded an opponent this season, they bounced back big the next game going 18-2 SU and 15-4-1 ATS. In fact, since Dec. 12, the Blazers are 12-0 SU and 10-1-1 ATS in that situations. Golden State went 2-7 ATS the game after win in which they had fewer rebounds and fewer turnovers than their opponent, including 2-3 SU and 0-5 ATS off a home win with those stats.
Many bettors are expecting another Warriors blowout, as 59% of the spread bets are on Golden State at a consensus of seven leading online sportsbooks which includes BookMaker and top reduced-just shop 5Dimes.  Also, 73% of the over/under bets are OVER the total according to Sports Insights, which tracks the betting activity and patterns.
Will the absence of Kevin Durant again in Game 2 impact the results?
How 'bout Games 3 and 4 (updated and edited with tweet)
Warriors' F Kevin Durant will not travel to Portland for Games 3 and 4.

Blazers must take advantage.

— John Canzano (@johncanzanobft) May 17, 2019
3-Point Shooting
The Warriors are a difficult team to bet against for most bettors, as their star-studded lineup and sharp-shooting 3-point marksmen make them a money team for many bettors. But memories can be short, as Golden State lost in Round 1 twice to the Clippers at home in high-scoring shootouts and also lost a pair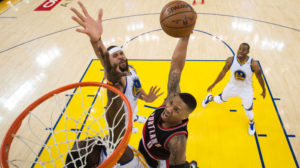 of road games at Houston in Round 2. The Warriors are 6-7 ATS in the playoffs and all but one of those games included Kevin Durant in the lineup.
The Bucks (-6.5) beat the Raptors in Game 1 and covered with a 10-0 run to finish the game in a 108-100 win. But Milwaukee hit just 11-of-44 (25%) three point shots while the Raptors hit 15-of-42 (35.7% in a 3-point shooting blitz.
The Warriors won with strong 3-point shooting, but the Raptors couldn't do the same despite out-shooting the Bucks from the 3-point line.
Teams that make a higher-percentage of 3-point shots are now 52-15-1 ATS (77.6%) during the 2019 playoffs. Since the start of the 2002 season a playoff team making a higher percentage of 3's covers the point spread 70% of the time with a sample size of more than 1,380 games.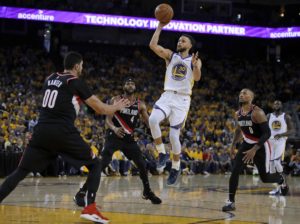 Damian Lillard seemed a bit baffled by the Warriors blitzing strategy in Game 1, as he struggled with his shooting hitting 4-of-12 shots and committed 7 turnovers. Lillard is now just 21-for-67 (.313) from the field and averaging 16.5 PPG over his last four road playoff games. He's also nursing a hamstring injury he aggravated in the second half of Game 1.
The Plays
Portland beat Golden State at Oracle Arena in late December 110-109 in OT with Durant in the lineup for Golden State. But Portland had their 7-foot center Jusuf Nurkik, who led the team with 27 points. He's since out for the season with a leg injury. The 3-point shooting difference in Game 1 and strength of the Warriors marksmen Curry and Thompson make it tough to make a strong case against Golden State. Still, the Blazers and coach Stotts should make adjustments and bring a better effort and stronger shooting in Game 2 making Portland worth of a wager. We'll likely see more 3-point shooting from both teams, as Lillard, McCollum along with Rodney Hood and Seth Curry battle the brother Stephen Curry and Klay Thompson in what should be a higher-scoring Game 2.
Portland (+7.5) and OVER 219
Article posted at osga.com.
Author: FairwayJay
is a leading national sports betting analyst, writer, handicapper and sports betting insider providing insight and information you can bet on for nearly two decades from Las Vegas. He chips in additional sports betting coverage and reporting on industry news and events for leading media and sports betting sites and companies. Follow him on X (Twitter): @FairwayJay