Sports Betting Podcast: NFL Thanksgiving And Ravens New Super Bowl Favorite
Sports Betting Podcast #85: NFL Week 13 Preview Includes Thanksgiving Day Games Plus Ravens Super Bowl Favorite And In-Game Betting Strategy
Weekly sports betting podcast posted at TheLines – an excellent online resource for sports betting news and information.  I add Episode #85 here along with NFL articles and updates plus other industry news you can bet on.
The mission of TheLines is to provide our readers with sharp analysis and opinion from our team of sports betting industry experts. And that's exactly what we do on The Lines Sports Betting Podcast covering the biggest, most important, and often the most ridiculous stories from the past week.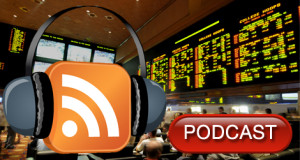 Listen in as Matt Brown, Brett Collson and FairwayJay cut through the crap and tackle the topics you need.
The Lines Episode #85 Podcast kicks off with a recap of the Impact And Lessons From The Monday Night Massacre with takeaways from the Ravens romp over Rams, 45-6. Baltimore (3-1) is now the Super Bowl favorite at the Westgate SuperBook in Las Vegas, and 2nd choice behind New England at FanDuel and DraftKings Sportsbooks. In-play strategy thoughts, Thanksgiving Day promos and thoughts on NFL games along with some highlights on Week 13.
I chip in with additional NFL coverage including Week 13 NFL lines and market moves plus Week 14 look ahead lines (available end of week).
Intro Episode #85 Podcast @TheLines available on SoundCloud, Apple podcasts, Spotify, Stitcher, Google.
1:00: Into and lessons learned from the Monday night massacre in Ravens romp over the Rams, 45-6. Props and thoughts on Ravens move forward,
9:00: Ravens (3-1) now Super Bowl favorite at Westgate SuperBowl line Las Vegas. Baltimore is second choice at FanDuel (+340) and DraftKings (+280) behind Patriots.
12:00: Other Super Bowl odds and teams to consider greater than 10-1 odds. Vikings, and long shots on Bills or Browns?
19:00: NFL Draft Odds – DraftKings. No. 1 overall pick. Quarterback Joe Burrow (+100).
25:00: NFL In-play betting strategy. 31:00 injuries impact and in-game betting. Weather. Middles.
33:45: Thanksgiving Day NFL games. Insight and analysis. Promotions from sportsbooks. Free money. Match bets.
48:00: Week 13 NFL most bet games – San Francisco at Baltimore, Minnesota at Seattle.
Enjoy Thanksgiving, and check out TheLines and PlayPicks for weekly sports betting and industry news, picks, odds, lines, sportsbooks news, promo's, updates and more.
Author: FairwayJay
is a leading national sports betting analyst, writer, handicapper and sports betting insider providing insight and information you can bet on for nearly two decades from Las Vegas. He chips in additional sports betting coverage and reporting on industry news and events for leading media and sports betting sites and companies. Follow him on X (Twitter): @FairwayJay