Sports Betting Podcast: LSU Tops Alabama And Week 11 NFL Preview
Sports Betting Podcast #82: Insights On Sports Betting, LSU vs. Alabama Reaction and Impact, Sports Betting Apps and NFL Week 11 Preview
Weekly sports betting podcast posted at TheLines – an excellent online resource for sports betting news and information.  I add Episode #82 here along with NFL articles and updates plus other industry news you can bet on.
The mission of TheLines is to provide our readers with sharp analysis and opinion from our team of sports betting industry experts. And that's exactly what we do on The Lines Sports Betting Podcast covering the biggest, most important, and often the most ridiculous stories from the past week.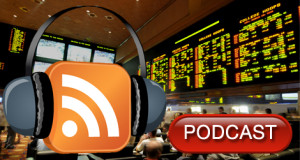 Listen in as Matt Brown, Brett Collson and FairwayJay cut through the crap and tackle the topics you need to know about.
The Lines Episode #82 Podcast continues with NFL Week 10 recap, Colorado discussion of legalizing sports betting, college football playoff rankings and reaction to LSU at Alabama, sports betting apps and rotation number pros/cons and NFL Week 11 preview.
I chip in with additional NFL coverage including Week 11 NFL lines and market moves and Week 12 look ahead lines
Intro Episode #82 Podcast @TheLines available on SoundCloud, Apple podcasts, Spotify, Stitcher, Google.
1:00: Brief recap NFL Week 10
6:30: Colorado votes to legalize sports betting, California tribal gaming measure, Georgia looking to legalize sports betting with Georgia Professional Sports Integrity Alliance
16:20: LSU at Alabama reaction and impact on CFP. LSU moves to No. 1 in College Football Playoff poll and QB Joe Burrow now heavy favorite to win Heisman Trophy.
32:30: Sports Betting App discussion and gambling twitter reaction to easiest way to display games – rotation order, scheduled time, team, conferences, alphabetical order.
43:00: NFL MVP odds and reaction to Russell Wilson, Lamar Jackson
49:15: NFL Week 11 preview and discussion
Check out TheLines and PlayPicks for weekly sports betting and industry news, picks, odds, lines, sportsbooks news, promo's, updates and more
Author: FairwayJay
is a leading national sports betting analyst, writer, handicapper and sports betting insider providing insight and information you can bet on for nearly two decades from Las Vegas. He chips in additional sports betting coverage and reporting on industry news and events for leading media and sports betting sites and companies. Follow him on X (Twitter): @FairwayJay