Sports Betting Podcast: Bookmaker William Hill Expands Las Vegas Presence And NFL Week 12
Sports Betting Podcast #83: NFL Week 12 Preview Plus William Hill Expands, Parlays and more Sports Betting News and Insights
Weekly sports betting podcast posted at TheLines – an excellent online resource for sports betting news and information.  I add Episode #83 here along with NFL articles and updates plus other industry news you can bet on.
The mission of TheLines is to provide our readers with sharp analysis and opinion from our team of sports betting industry experts. And that's exactly what we do on The Lines Sports Betting Podcast covering the biggest, most important, and often the most ridiculous stories from the past week.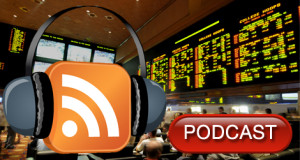 Listen in as Matt Brown, Brett Collson and FairwayJay cut through the crap and tackle the topics you need.
The Lines Episode #83 Podcast continues with news on bookmaker William Hill's expansion and growth in Las Vegas taking over the leases of CG Technology properties including Venetian, Cosmopolitan and Palms. The record betting month in Mississippi with 'Mattress Macks' World Series bets. Parlay news and reporting, popular niche betting events, Lamar Jackson for NFL MVP and analyzing betting – right side or wrong side?
I chip in with additional NFL coverage including Week 12 NFL lines and market moves and Week 13 look ahead lines.
Intro Episode #83 Podcast @TheLines available on SoundCloud, Apple podcasts, Spotify, Stitcher, Google.
1:00: Into and Bookmaker William Hill expands in Las Vegas. Purchases CG Technoloty and takes over leases in desired sportsbooks – The Venetian, Palazzo, Cosmopolitan, Tropicana on the Las Vegas Strip plus the Palms, Silverton and one-off operation at Atlantis Resort on Paradise Island is also part of the sale.  7:00 – William Hill
11:00: Mattress Mack impact on Mississippi Sports Betting and Record Handle and Revenue.
18:00: Mobile betting impact, Tribes, impact, other states sports betting and handle
23:30: Parlay bettor hits 4 parlays for $672,000. Responsible reporting?
32:00: Popular niche betting – politics, Jeopardy, limits
37:30: Lamar Jackson MVP payouts early. PointsBet and other bookmaker marketing, tactics
44:15: 'Right' side vs 'Wrong' side and sports betting discussion. 55:00 I discuss changing opinion on teams and evaluating all aspects of sports betting and NFL
60:00: NFL Week 12 preview and betting. Who I mention and like, stats and analysis.
Check out TheLines and PlayPicks for weekly sports betting and industry news, picks, odds, lines, sportsbooks news, promo's, updates and more.
Author: FairwayJay
is a leading national sports betting analyst, writer, handicapper and sports betting insider providing insight and information you can bet on for nearly two decades from Las Vegas. He chips in additional sports betting coverage and reporting on industry news and events for leading media and sports betting sites and companies. Follow him on X (Twitter): @FairwayJay