Record Betting Handle for Masters
FairwayJay's Perfect Match-ups and Las Vegas Sportsbook's Record Handle for Masters
While defending Masters champion Sergio Garcia was shooting himself out of the Masters Thursday and setting a record with an octuple-bogey 13 on the 15th hole, Las Vegas sportsbooks were already setting records with a record betting handle on the 2018 Masters.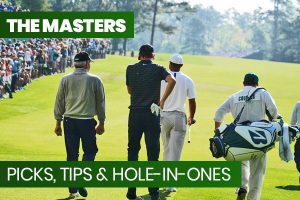 The Las Vegas Superbook, recognized as the leader in Las Vegas for offering the biggest betting menu for golf and other sports, more than doubled the previous record handle set during he 2017 Masters tournament. Tigers Woods return to the Masters fueled the gambling interest in this year's Masters, and for many sharp bettors who faded Woods in match-ups and props, they were glad he was back in the field. That included Vegas' own FairwayJay, a professional sports handicapper, analyst and bettor who had his biggest bet against Woods in a match-up with Rory McIllroy.
"I didn't expect Woods to make a big impression in his return to Augusta," said FairwayJay. "At least not on the golf course. Clearly he would with fans, TV ratings, golf coverage and interest at the sports books.
"So I lined up with McIllroy, and found him at -125 at CG Technology in Las Vegas. I have the App, but was at one of their casino sports books comparing match-ups and other props to other sports books. When I saw Rory was -125, I planned to make multiple bets on McIllroy but less than a nickle at a time. However, after my first two bets, they moved the line to -135."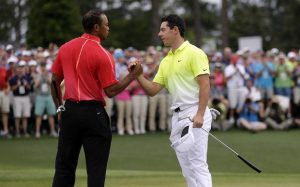 It seems strange that a sports book would move a line 10 cents with even $500 wagered when there is a record amount being bet on the Masters event and match-ups. But it's no secret that CG Technology, formerly Cantor Gaming, has had issues in the past in screwing the customers and being fined by the Nevada Gaming Control Board for their corruption.
"I've been a victim of far worse corruption in Las Vegas than a sports book managing their business to generate more profit at the expense of alienating a customer," said FairwayJay. "As a bettor and customer, you have options to shop the lines and odds, and to also take your business elsewhere."
FairwayJay provided a Masters betting preview and some keys to contending and winning at the Masters, including betting insight with player profiles, props and predictions.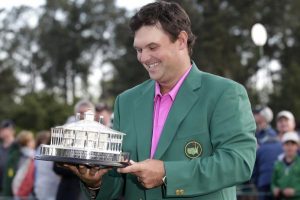 "Over the years since I started handicapping professionally in 2003, the Masters has been my best major for betting. This year was sensational, as I provided five key match-ups to members that went 4-0 with a push, and five additional match-ups that went 5-0. We had some prop winners including finishing position, and I received some positive comments and emails. I enjoy doing the research and work, and especially when it pays off to produce profit. When you share in others success, it's always more gratifying."
Patrick Reed won his first major and closed at 40-1 odds. He took a 3-stroke lead over McIllroy into the final round, and held off a number of late challengers to become the fourth-straight winner to make the Masters their first major victory.
"I didn't have Reed winning, but took a piece of him into the final round since I had a solid payday coming if McIllroy was to win the Masters. Unfortunately, McIllroy's final round was a major disappointment to say the least," said FairwayJay. "I would have lost more if Spieth or Fowler won the tournament."
Live betting had to be big on the Masters as well, and the swings and changing lines on odds to win, props and match-ups during the final round as Spieth, Fowler and Rahm moved closer on the back 9 increased the interest and handle
FairwayJay's Masters tournament match-ups are listed below. Follow FairwayJay on Twitter and send him a Tweet with questions or interest.
McIllroy (-135) over Woods – Won                                              Rahm (+125) over Day – Won
Casey (-120) over Matsuyama – Won                                          Fitzpatrick (+125) over Chappell (cut) – Won
Rahm (-105) over Matsuyama – Won                                         Stenson (+120) over Matsuyama – Won
Hadwin (-105) over Woodland (cut) – Won                              DeChambeau (-110) over Hatton – Won
McIllroy (+110) over Rose – Won
Author: Vegas Sports Media
Vegas Sports Media is an affiliate of Vegas Sports Zone and provides articles, info and insight with analysis to educate, inform and entertain sports and gaming fans.