Pete Rose Turns Tout To Sell Sports Betting Picks
I reported on Pete Rose's new endeavor last week in Forbes. Part of the article is below, and you can read more about Pete Rose Turns Tout.
"Charlie Hustle" has a new gig. Pete Rose, the MLB all-time hits leader and 17-time All-Star, is now selling sports betting picks. At age 80 as of yesterday, the controversial Rose can still hustle.
Or maybe he's being hustled by UpickTrade.com, a site based in Guadalajara, Mexico who signed Rose to become an official sports pick service partner.
For $89 per month, you can get daily MLB picks from the legend himself.
A Swing and Miss Touting Sports Betting Picks
Pete Rose is entering another controversial field by aligning with an unproven and suspect organization that was already shunned by one pro franchise. The Vegas Golden Knights partnership with UpickTrade just over a month ago was ended by the team just one day later following backlash from its fans and sports betting industry consumers.
The sports advisory business and paid pick service industry is controversial, and unregulated. Despite plenty of hard-working handicappers trying to create a space for more insightful information, there are many more scammers serving as "touts" rather than proven or informed "sports information consultants."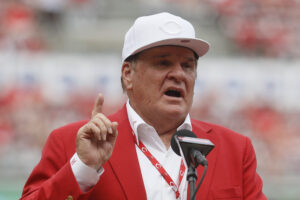 Increased social media and the exponential growth of the U.S. sports betting industry has only raised the interest in betting on sports. Unfortunately, more fans and customers fall prey to misinformation, and especially sports gambling hustlers and touts like Vegas Dave. He's considered a sports betting loser and fraud to many proven professionals in the industry, and others including newbie sports gamblers who have fallen prey to his misinformation and scams.
Pete Rose has had quite a turbulent time with MLB since his playing days ended. His history includes acceping a lifetime ban from baseball in 1989. A true Hall of Famer, Rose has never been enshrined into Cooperstown, and cannot work in Major League Baseball. He's been ridiculed for decades for his behavior and gambling problems. Rose explained more in his 2004 book My Prison Without Bars.
People don't need to criticize Pete Rose for his new endeavor. He's been signing autographs through companies and shows for nearly two decades while living in Las Vegas. The pandemic heavily impacted tourism, and many industries and companies have been hit hard by a loss of business and customers. Currently living a mile from Allegiant Stadium and the Las Vegas Strip, Rose just wants to take another swing and make some money doing something he enjoys related to sports and betting.
"I'm trying to make a living like everyone else. I'm not making a bet on the baseball game; I'm picking a baseball game. I'm using my knowledge to pick a game for whoever is working with Upick."
Rest assured, Pete's picks will find their way into sports betting forums and social media for free. So understand that paying for picks is a bad idea most the time. There are exceptions, and learning from proven professionals and paying for services or subscriptions to get information can help consumers become better informed. But paying for picks made by someone whose self-promoted success isn't verifyed or independently monitored is irresponsible and stupid. Consider it a sucker bet.
You can bet on it.
Author: FairwayJay
is a leading national sports betting analyst, writer, handicapper and sports betting insider providing insight and information you can bet on for nearly two decades from Las Vegas. He chips in additional sports betting coverage and reporting on industry news and events for leading media and sports betting sites and companies. Follow him on X (Twitter): @FairwayJay