NFL Week 12 Lookahead Lines And 2023 Market Moves
The 2023 NFL Week 12 lookahead lines provide us an advance look at the following week's NFL lines before the current week's games are played. I provide an explanation and tools for using lookahead lines below, and more information at OSGA. As you review my Week 11 underdog picks, which are now losing this season but nearly 57% the past six years posting weekly (175-135 ATS), take a glance at the Week 11 matchups and lookahead lines before they are posted for next week's games. Then compare them to the actual lines following the Week 11 games.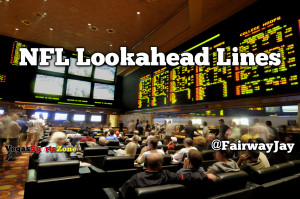 These NFL Lookahead Lines or advance lines can be useful in not only projecting ahead to next week's games and lines, but also to keep you from over-reacting to one game or the upcoming games results. That's especially the case with game totals that are averaging just over 43 points per game and still hitting better than 60% 'unders' this season.
The 2023 NFL Week 12 lookahead lines are drawing interest with three Thanksgiving Day games and 10 division games for the week. More playoff implication matchups and 13 games have competitive point spreads of 6 points or less. The projected betting lines are worth monitoring as you watch and wager on the games and your Week 11 picks.
Prime Time NFL Totals
But prime time NFL football fans are not over-reacting to the lack of scoring in the night games on Thursday, Sunday and Monday night. Leading online sportsbooks and bookmakers are taking a hit as bettors continue to bet 'unders' and win. Thurs-Sun-Mon night prime time unders had another 3-0 week for the third straight week, and UNDERS are now 25-7, including 11-1 on Monday Night Football, with those MNF games averaging just 37.1 points per game.
Week 11 Market Moves and Adjustments
Some of the key Week 11 spreads with notable adjustments from the Week 10 lookahead lines include:
– Baltimore -3 to -4 vs. Cincinnati and total 44 to 46
– Washington -8 to -10 vs. New York Giants
– Detroit -8.5 to -10 vs. Chicago
– Miami -10 to -13 vs. Las Vegas and total 48.5 to 46
– San Francisco -10.5 to -11.5
– Seattle -2.5 to -1 vs. Los Angeles Rams and total 44.5 to 46
– Kansas City total 48 to 45.5
Week 12 Lookahead Lines
Week 12 look ahead lines include three division games on Thanksgiving and another on Friday, Nov. 24. A total of 10 division games make Week 12 one of the biggest of the season as teams push towards the playoffs.
| | | |
| --- | --- | --- |
| NFL Week 12 Games | | SuperBook |
| Green Bay at Detroit (Thurs) | | DET -7.5 and 44.5 |
| Washington at Dallas (Thurs) | | DAL -10 and 46 |
| San Francisco at Seattle (Thurs) | | SF -5.5 and 43.5 |
| Miami at New York Jets (Fri) | | MIA -6 and 43 |
| Jacksonville at Houston | | JAX -1 and 45.5 |
| Tampa Bay at Indianapolis | | IND -1 and 42.5 |
| New England at New York Giants | | NE -5 and 35 |
| Carolina at Tennessee | | TEN -4.5 and 38.5 |
| Pittsburgh at Cincinnati | | CIN -5 and 41 |
| New Orleans at Atlanta | | ATL Pk 'em and 40.5 |
| Los Angeles Rams at Arizona | | LAR -2.5 and 46.5 |
| Cleveland at Denver | | CLE -2.5 and 40 |
| Buffalo at Philadelphia | | PHI -3.5 and 47.5 |
| Kansas City at Las Vegas | | KC -9 and 45 |
| Baltimore at Los Angeles Chargers (SNF) | | BAL -3.5 and 46 |
| Chicago at Minnesota (MNF) | | MIN -4 and 44.5 |
As you evaluate, watch and wager and live bet on the Week 11 games, be sure you review box scores, impactful injuries, misleading stats and meaningful data from each week's results. From there you can see where the leading online sportsbooks and bookmaker posts the following week's lines on Sunday and Monday, and compare them to the lookahead lines and market moves during the week.
Quarterback Changes
With so many backup quarterbacks and rookies playing, we've seen more line adjustments and a decrease in scoring with the QB carousel impacting games, scoring and quality of play. There's been 42 different starting QBs this year into Week 9, and more into Week 10 with Giants QB Daniel Jones (torn ACL) out for the season and another rookie Tommy DeVito perhaps making his first NFL start. Josh Dobbs will be the new starter for the Vikings in Week 10. The former Cardinals starter this year came into the Week 9 game and win at Atlanta replacing rookie Jaren Hall (concussion), who had replaced Kirk Cousins (torn ACL).
Now into Week 11, Deshaun Watson of the Browns is finished for the season, and Joe Burrow of the Bengals tore a ligament in his wrist in the Bengals-Ravens Thursday Night Football game I covered in Forbes (and picked/bet Ravens – favorite). Burrow is finished for the 2023 season.
There was an NFL-record 68 different starting quarterbacks last season.
How to use Lookahead Lines
Advance NFL lookahead lines provide a sneak peak at the projected lines for the following week's games. This advance information from top sportsbooks like the SuperBook provides lessons in understanding lines and projections before the current week's games are played.
The tendencies for many bettors is to over-react to previous weeks' scores and results. The lookahead lines provide a sense of stability from the linemaker, who is unbiased in setting the lines in advance without the information from the current week's contests.
Bettors can also gain an edge or find value in the lines once the current week's lines are released. They do this based on not only a potential over-reaction to the recent week's results, but by using information they have on teams including power rankings. Making adjustments is part of the process, along with formulating an opinion on certain teams. This can be based on personnel, injuries, situations and stats that come to light as the season progresses.
As you become more astute in your evaluations, betting and handicapping, you'll be able to use your skills to project and time the market better and make more +EV bets ahead of market moves.
s
Author: FairwayJay
is a leading national sports betting analyst, writer, handicapper and sports betting insider providing insight and information you can bet on for nearly two decades from Las Vegas. He chips in additional sports betting coverage and reporting on industry news and events for leading media and sports betting sites and companies. Follow him on X (Twitter): @FairwayJay