NBA Playoffs – Betting On The Rockets And Bucks In Game 2 Conference Semi's
Rockets and Bucks try to bounce back in Game 2 vs. Warriors and Celtics
Trailing the series 1-0, the Rockets and Bucks are looking for more offense and stronger shooting in their Game 2 match-ups against the Warriors and Celtics. The conference semifinals features the NBA's top teams, and more competitive series and odds are playing out.
Here is the insight and analysis I provided on those conference semifinal match-ups at Off Shore Gaming Association.
Tues., April 30
#4 Boston at #1 Milwaukee (-7.5) Total 219.5
#4 Houston at #1 Golden State (-5.5) Total 221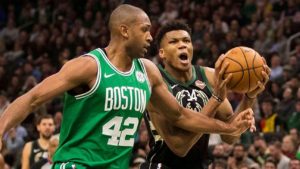 Can the Rockets win the West? Golden State was a prohibitive favorite to win their third straight NBA championship at the start of the playoffs, and the Warriors were bet down to a -250 series favorite over the Rockets (+200). But after the Warriors 104-100 Game 1 win (no cover), Golden State was up to a -410 series favorite with the Rockets taking back +325 at many sportsbooks.
Milwaukee has been remarkable all season and especially off a loss. Trailing the series 1-0, the Bucks are now -135 to win the series and the Celtics are +115. Milwaukee was bet up to -310 prior to their Game 1 loss, 112-90.
The Bucks went 21-1 SU and 18-4 ATS off a loss this season. Average winning margin off a loss of 15 points per game.
The Bucks were held to less than 100 points just 6 times this season. The next game they averaged nearly 116 points per game.
The Bucks were the No. 1 offensive efficiency team in the East, and the top pace team in the playoffs.
Round 2 teams in the NBA playoffs that lost Game 1 by 7 points or more are on a 9-1 ATS run.
Round 1 higher-seeded teams went 27-13-1 ATS. Read more insight and analysis here along with betting percentages on these games, and see if those stronger results continue in the conference semifinals.
Author: FairwayJay
is a leading national sports betting analyst, writer, handicapper and sports betting insider providing insight and information you can bet on for nearly two decades from Las Vegas. He chips in additional sports betting coverage and reporting on industry news and events for leading media and sports betting sites and companies. Follow him on X (Twitter): @FairwayJay