NBA Free Agency, Summer League And 2020 Championship Odds
Adjusted 2020 Championship Odds and NBA Free Agency News
Following the NBA draft and free agency, we've seen more movement in the market and on the futures board. The SuperBook in Las Vegas has also hedged on the LA Lakers with the potential signing of Kawhi Leonard, who is meeting with both the LA Lakers and Clippers early this week before talking with the Nets. Brooklyn is where Kevin Durant and Kyrie Irving ended up, and there will be more monitoring and updates as NBA news continues.
NBA Free Agency, Draft Recap And 2020 Championship Odds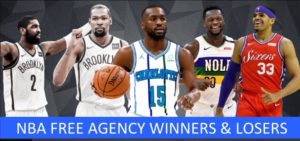 My latest NBA news and article at Forbes.
My contributions at TheLines includes sports betting coverage and the NBA Betting Guide.
NBA Free Agency – Winners and Losers following chaotic first day.
NBA news and headlines from the NBA.
Adjusted odds to win 2020 NBA Championship in mid-June following trade of Pelicans forward Anthony Davis to the LA Lakers.
2019-20 NBA Championship winner updated

LAL 3/1
Mil 6/1
LAC 7/1
Hou 8/1
Tor 10/1
GS, Phi 12/1
Bos, Den 16/1
OKC 20/1
Bkn 25/1
Utah, Por 30/1
Dal 40/1
NY 50/1
SA, Ind, NO 60/1
Orl, Atl 80/1
Mem, Chi, Sac, Phx 100/1
Det, Cha, Mia, Wsh, Cle, Min 200/1

— Jeff Sherman (@golfodds) June 15, 2019
The Lakers were 5-1 just prior to the trade for Anthony Davis, and 20-1 to win the 2020 championship in May after missing the 2019 playoffs with a 37-45 regular season record. The Warriors opened as the +175 favorite in May, but injuries to Klay Thompson and Kevin Durant derailed the Warriors hopes and Golden State's 2020 championship odds rose to 12-1.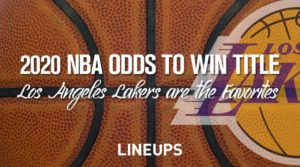 The SuperBook moved LA's 2020 championship odds to +250 on June 27 with the news that the Lakers had cleared enough cap space to sign another max free agent. Now with even more hype surrounding the Lakers and a potential signing of Kawhi Leonard during free agency, Sherman and the SuperBook moved the Lakers championship odds to +120 on June 28, not because of big bets, but to protect itself against the chance that Kawhi joins the Lakers.
"If Kawhi goes there, we'd have what we've seen out of the Warriors recently," Sherman said Saturday. "If that becomes official, the Lakers would be minus (money) to win the title."
NBA Summer League in Las Vegas
The NBA Summer League continues this week in Las Vegas, as the offseason fireworks continue into and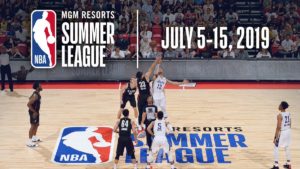 beyond the Fourth of July. More watchful eyes on New Orleans Pelicans No. 1 overall pick Zion Williamson, as he and former Duke teammate RJ Barrett (No. 3 overall to the NY Knicks) join other rookies and players during the NBA summer league schedule with games running from July 5-15.
Every MGM Resorts NBA Summer League game in Las Vegas will air live on television for the second straight year, with ESPN networks and NBA TV combining to televise a record number of games.
Upon Zion Williamson being selected No. 1 overall in the NBA draft by the New Orleans Pelicans, FanDuel sportsbook made the one-and-done Duke star the prohibitive favorite to win Rookie of the Year.
| | | | |
| --- | --- | --- | --- |
| Player | Team | Draft # | Odds |
| Zion Williamson | New Orleans | 1 | -150 |
|  Ja Morant | Memphis | 2 | +400 |
|  RJ Barrett | New York | 3 | +550 |
|  Darius Garland | Cleveland | 5 | +1400 |
|  DeAndre Hunter | Atlanta | 4 | +2000 |
|  Jarrett Culver | Minnesota | 6 | +2000 |
|  Coby White | Chicago | 7 | +2000 |
|  Cam Reddish | Atlanta | 10 | +3300 |
|  Nassir Little | Portland |  25 | +3300 |
Check out NBA summer league match-ups and betting odds at FanDuel Sportsbook, including 2020 championship futures odds with the Lakers down to +125 to win the 2020 NBA championship. Overreaction? Of course, but other ways to bet include season win totals, which are also posted and adjusted leading into the 2019-20 season.
Author: FairwayJay
is a leading national sports betting analyst, writer, handicapper and sports betting insider providing insight and information you can bet on for nearly two decades from Las Vegas. He chips in additional sports betting coverage and reporting on industry news and events for leading media and sports betting sites and companies. Follow him on X (Twitter): @FairwayJay