March Madness: Sweet Sixteen Best Bets
For the first time in NCAA Tournament history, all 16 favorites won in the round of 32 to advance to the Sweet 16. That includes No. 1 seed Duke, which avoided a disaster when a last second tip-in by 13.5-point underdog Central Florida rolled off the rim to allow Duke to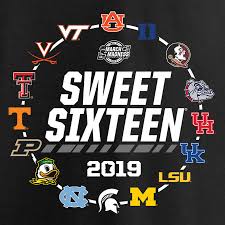 escape with a 77-76 victory. That was the closest call in the Round of 32.
That leaves all four No. 1, No. 2 and No. 3 seeds plus two No. 4 and one No. 5 seed in the Sweet 16. No. 12 Oregon is the only surprise among those teams remaining.
If you're betting the Sweet Sixteen, you may want to check out my recent article with updated odds, betting activity, stats and history of No. 1 seeds.
I've chipped-in some Sweet Sixteen best bets and picks below, and addition picks, insight and analysis can be viewed at PlayPicks, where I also provide thoughts on a future bet.
 Purdue (+1) over Tennessee
Did you watch that near collapse by Tennessee against Iowa? The Volunteers blew a 25-point lead before escaping in overtime 83-77. Now, it's a much tougher matchup and opponent in Purdue. The Boilermakers rank top 5 in adjusted offensive efficiency and are a solid defensive team.
Tennessee struggled with turnovers (16) to allow Iowa back in the game, and in the Vols' 77-70 opening round victory over Colgate, Tennessee allowed 3-pointers in droves — 15 to be exact. Purdue is peaking and just hit 16 three-pointers in their rout of defending national champion Villanova, 87-61.
Tennessee's offense is electric and ranks No. 3 in the country in adjusted offensive efficiency with multiple threats. They have shown Final Four potential, and PG Jordan Bone has more than 200 assists this season to feed the inside, outside attack of Grant Williams and Admiral Schofield.
But Purdue has its own outstanding point guard in Carsen Edwards (23.6 PPG), who poured in 42 points against Villanova. Purdue was co-Big Ten regular season champs, and while they have not faced an offensive team as dynamic as Tennessee over the past nine games, the Boilermakers have still held those opponents to 60 PPG on 36% FG and 28% from the arc. We trust Purdue HC Matt Painter to plan accordingly and make better adjustments than Vols HC Rick Barnes.
Texas Tech (+2) over Michigan
Since we like Texas Tech to win this game, a moneyline play is also in order at +115. This West Region semifinal in Anaheim should be a defensive dandy, as Texas Tech and Michigan rank No. 1 and No. 2 in KenPom's adjusted defensive rankings. Both teams made a run to the Elite Eight last year with Michigan advancing to the NCAA championship game. Both of these  teams are capable of knocking off any No. 1 seed, and I provided insight on all the No. 2 and No. 3 seeds prior to the NCAA Tournament.
Michigan held Montana and Florida to 0.8 points per possession in a pair of dominant defensive performances to reach the Sweet 16, and PG Zavier Simpson had 19 assists. Neither of those two opponents has much offense, and Tech has held their two opponents to near 41 percent FG and 30 percent from the arc while also facing offensive juggernaut Buffalo.
The Red Raiders have a defensive turnover percentage of 23.1 this season, which is terrific, and are a top shot-blocking team led by 6-foot 10 Tariq Evans. Guard Davide Moretti is an outstanding 3-point shooter (46%), and the Red Raiders have a star offensive performer in sophomore swingman Jarrett Culver. He leads the team in scoring (18.8 PPG) and assists and will be playing in the NBA when he decides to turn pro. Culver's player efficiency rating this season is through the roof, and his 45 points, 18 rebounds, and 12 assists in the NCAA Tournament equate to champion-level performance.
Texas Tech is so tough and an elite defensive dominator that can send Michigan back to Ann Arbor without an Elite Eight appearance.
You can bet on it.
Author: FairwayJay
is a leading national sports betting analyst, writer, handicapper and sports betting insider providing insight and information you can bet on for nearly two decades from Las Vegas. He chips in additional sports betting coverage and reporting on industry news and events for leading media and sports betting sites and companies. Follow him on X (Twitter): @FairwayJay