Favorites Dominating Early NBA Playoff Betting Led by Strong 3-Point Shooting
NBA Opening Round Playoffs Continue with the Pacers, Pistons, Thunder and Jazz looking to Dig out of 2-0 Hole
Here is a link to my article at Offshore Gaming Association (OSGA) on early NBA playoff action and strong 3-point shooting.
Some key 3-point highlights related to betting through 19 playoff games include:
Teams that made more 3-point shots are 15-4 SU/ATS
Teams that made a higher percentage of 3-point shots are 17-2 SU/ATS
The Warriors (43%), Trailblazers (42.1%), Rockets (38.6%) and Nuggets (38.3%) lead all NBA teams in 3-point shooting percentage early in the playoffs. Warriors guard Stephen Curry and Trailblazers guard Damian Lillard have taken and made the most three pointers thus far in the playoffs. Rockets guard James Harden joins those two to complete the trio with the most made three pointers through the opening 2-3 playoff games.
I preview some of the weekend playoff action in the article at OSGA including Game 3 of the Trailblazers and Thunder series which Portland leads 2-0 heading into Game 3 at Oklahoma City. The Thunder are a surprising 7.5-point favorite with a huge moneyline price of -350. Oklahoma City was the only lower seed in the playoffs to be favored in their opening round series. But now the Thunder are +180 to win the series trailing 2-0, and friend/colleague and professional bettor Fezzik looks like he believes the Thunder will bounce back and win the series.
One fan and bettor had a funny reply and disagreement to the Thunder series bet.
— Aaron Landon (@Doubledown_A) April 19, 2019
Sportsbooks have been taking a beating on the NBA playoff favorites, as they are 14-4 ATS in the early Round 1 games (13-4-1 if grading Boston as a push 2 nights ago). There has been one game lined at pick 'em. Indiana (+7.5) bettors suffered one very bad beat if they bet early at most sportsbooks as the Pacers led by 2-points with less than a minute remaining and lost by 8 in regulation. In fact, the Pacers only trailed by 3 points with 12 seconds remaining with possession of the ball following a timeout and Boston leading 94-91.
If you bet Indiana tonight + 7.5 you will not get a bad beat like that again for another 25 years

— sherwood (@sportswagers3) April 18, 2019
Play-by-play of final minutes of Pacers Game 2 loss vs. Celtics.
Pacers lead by 2 with :52 left.

They lose by 8, and they do not cover the +7.5.

I am not sure how that is even possible…….

— Steve Fezzik (@FezzikSports) April 18, 2019
Other news I noted included the historic comeback in from 31-points down in the 3rd quarter by the LA Clippers, which was covered across media platforms as the biggest story of the NBA playoffs thus far. Los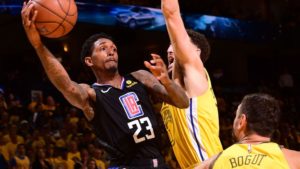 Angeles took down the defending champs Golden State Warriors 135-131 in that historic Game 2. The in-game betting saw odds as high as 1,000-1 on the Clippers to recover and win trailing by 31 points. Golden State (-9.5) bounced back in Game 3 with a crushing of the Clippers in Los Angeles, 132-105 to extend the strong ATS run of playoff favorites.
A review of Sports Insights consensus betting from seven leading online sportsbooks including BookMaker and 5Dimes show favorites taking a majority of the betting action in this weekends games, including the Raptors (75%), 76ers (91%), Bucks (87%) and Warriors (86%) as of Friday afternoon.
There will be plenty more scoring, 3-pointers, big scoring and momentum swings and unfortunate bad beats for bettors as the NBA playoffs continue.
You can bet on it.
Author: FairwayJay
is a leading national sports betting analyst, writer, handicapper and sports betting insider providing insight and information you can bet on for nearly two decades from Las Vegas. He chips in additional sports betting coverage and reporting on industry news and events for leading media and sports betting sites and companies. Follow him on X (Twitter): @FairwayJay