Fairway's Football Forecast – Week 11 NFL Picks and Predictions
Identifying Underdogs and Parlays for Profit – Week 11 NFL Picks
We continue with our NFL picks, predictions and parlays with a focus on underdogs. A winning season got better the last two weeks going 6-2 ATS with six more outright winners. Now 20-14 ATS (59%) this season with 17 outright underdog winners, we fire for more green looking to fatten up before the Thanksgiving feast next week.
Do your best throughout each week to anticipate line moves and bet the best numbers, including with your NFL Week 11 picks. With so many offshore options and leading online sportsbooks to choose from and compare, it should be reasonable to expect using due diligence in your search for the best numbers. We did that early in the week with the Vikings (+3), and even used Minnesota in a contest at +3.5. The Vikings are taking money and down to +2.5 in places, but we're still piling on the purple at Soldier Field in Chicago for the first place showdown with the Bears.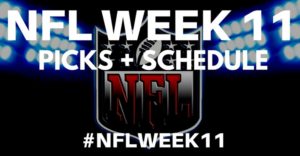 Since we release these players later in the week, we take the numbers as available. We can't always get the best numbers, but provide analysis for you to make more informed decisions and see how many underdogs still win games outright.
Risk vs. reward and searching for value is something bettors should shoot for in their pursuit of profit. Competitively-priced underdogs are always worth consideration, as many of these barking 'Dogs can not only have your wager secured in the later stages of a football game, but some will also have a solid shot to win outright. Thus, money line wagers should also be part of your betting portfolio.
In the NFL, competitively-priced underdogs are 6-points or less. Since the point spread comes into play less than 15% of the time on games lined at 6-points or less, you should consider money line 'Dogs along with your straight wagers which should be the focus. I'll provide the parlay payoffs as I know many bettors like to risk less and win more, despite the odds against hitting a 3 or 4-team parlay.
Fairway's Football Forecast provides the picks and these leading online sports books offer the best experience and security to ensure you're getting paid. Shop the best lines for NFL Week 11 games including leading reduced juice shops.
Inflated favorites were the theme last week and we cashed in on more underdogs. The previous week 10 however was a blood bath for the sportsbooks with the worst week of the season for the house. The six biggest favorites all won and covered. Yet we still went 3-1 on these pages.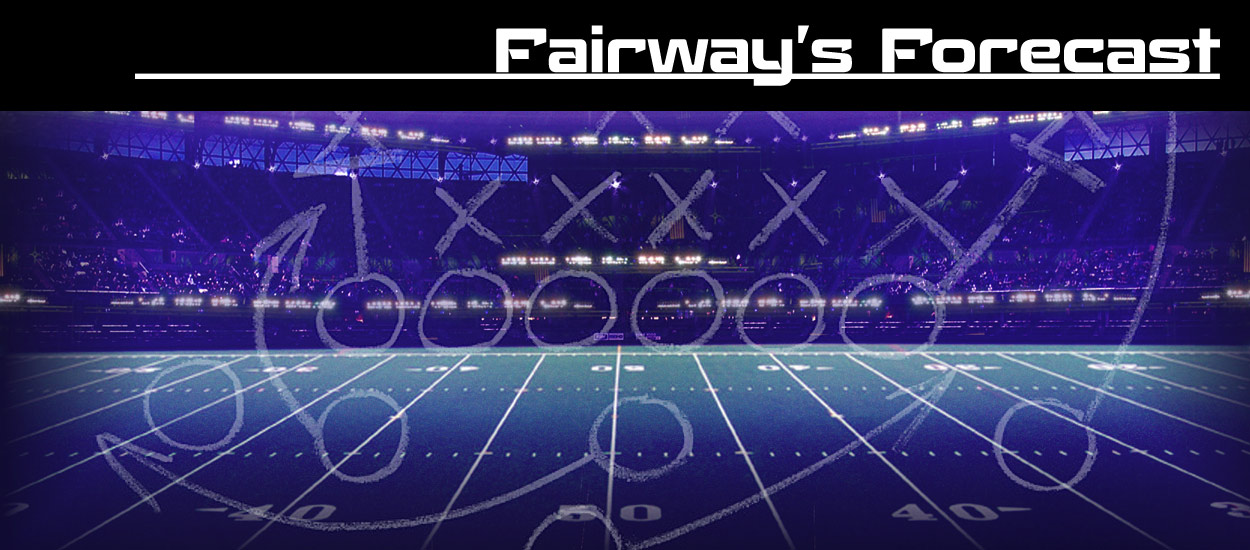 Let's see if we can hit some more solid shots and get the green in Week 11 with these underdogs in Fairway's Football Forecast. 
453 Dallas (+3) at Atlanta – Cowboys Money Line +155
457 Minnesota (+3) at Chicago – Vikings Money Line +125
469 Oakland (+5.5) a Arizona –  Raiders Money Line +215
$20 3-Team Money Line Parlay = $341
$20 3-Team Parlay = $120
Dallas at Atlanta – The Cowboys are +3 (+105) and also +3.5 (-120). I have Cowboys rated slightly better team, and they definitely have the stronger running game and defense as 'Dog. Dallas (4-5) came to life last week winning at Philadelphia 27-20 rushing for 171 yards and totaling 410 yards at 6.0 yards per play. They should be able to move the ball well on the Falcons defense that was decimated with injuries and allowed the bottom-feeding Browns to roll up 427 yards and a week-high 8.5 yards per play last week. The Falcons defense now ranks No. 30 in the league in yards allowed (414), and they have allowed more than 400 yards per game over the last three contests to sub-par offenses Browns, Redskins and Giants. If you read my recent Rush to the Window and Running to Profits handicapping article, we should have a solid shot for the rushing profiles and guidelines to play out in this match-up. The Cowboys are top-5 in rushing at 133 YPG and 5.0 YPR. They will stay committed to the run and RB Ezekiel Elliott will shine against a Falcons defense that is dead last in the league allowing 5.2 yards per rush. Atlanta only averages 22 rushing yards per game, and they may have to abandon it with limited success expected against a Cowboys run defense that allows a league-low 3.6 yards per rush. Falcons QB Matt Ryan and his talented receiving core are clearly capable of passing success, but the Cowboys pass defense is also solid and top-5 in the league in opponent yards per completions. Lets play the Fairway fundamentals to point of attack profit and rush to the window with the Cowboys.
Minnesota at Chicago – Huge game in the NFC North where the division-leading Bears (6-3) can separate a bit from last year's division champion Vikings 5-3-1 with a victory. Situational edge to the Vikings off their bye week and getting players healthy for return. A Vikings beat writer podcast provided some more insight into the players and preparations, and the big game experience and quarterback position favors the Vikings. Minnesota's dominant defense from last season is getting healthier, and while wining four of their last five games, the Vikings have allowed less than 19 points per game. Running back Dalvin Cook returned the game before the bye to add more speed and strength to the running game moving forward. Quarterback Kirk Cousins and WR Adam Thielen have been a dynamic hookup, and while the Bears defense has been a top-tier unit thus far and rank top-3 in opponent yards per pass attempt, we note that the Bears have also played one of the softest schedules in the league. Chicago is 4-0 ATS at home and QB Mitchell Trubisky is playing better, and he comes off his highest passing total (355 yards) of the season in last week's win over the Lions. I used the Vikings early week in a contest, and Minnesota is becoming a popular play as 'Dog this week. Let's hope the the betting public gets this one right.
Oakland at Arizona – Here's a team I know most the public will not be betting. The mess in Oakland (1-8) and the Raiders play along the lines leaves little to like. Oakland's defense is deficient allowing 400 YPG and a league worst 6.7 yards per play. It's even worse against the pass with a league-worse 8.9 yards per pass play and the Raiders have registered a league-low 8 sacks. But the Raiders offense is more than 100 yards per game better than the Cardinals (236 YPG) league-worst offense averaging just 4.2 yards per play and Arizona's running game is last in the league at 3.4 yards per rush. Will rookie QB Josh Rosen take advantage of a dreadful Raiders pass defense? Raiders have scored just 3 and 6 points in their two recent losses and have failed to score a touchdown in three of their last four games. But that sets up some strong contrary indicators and proven profiles, which the public is unaware. Resent scoring results sets up this contrary call and ATS situation, as teams that scored less than 10 points in each of their last two games are 39-13 ATS since 2002 and and bounce back to score an average of 24 points per game. Some additional line parameters make this an even stronger ATS situation when this troubled team is an underdog. No hurry to rush to the window on the Raiders, as this line has been rising with the Cardinals taking the cash and we'll see if +6 pops.The Raiders could bite us as an ugly 'Dog, but the Cardinals could be the one laying the egg as an unworthy favorite at this price.
Best wishes in your pursuit of profit and both underdog and money line winners in Week 11.
Article posted at osga.com.
Author: FairwayJay
is a leading national sports betting analyst, writer, handicapper and sports betting insider providing insight and information you can bet on for nearly two decades from Las Vegas. He chips in additional sports betting coverage and reporting on industry news and events for leading media and sports betting sites and companies. Follow him on X (Twitter): @FairwayJay