Fairway's Football Forecast – NFL Week 9 Underdog Picks And Preview
Near the halfway point of the 2021 NFL season and our Week 9 underdog picks include 2 more picks looking to add to our season mark of 12-5 ATS after our first losing record and week in Week 8. An ugly 'Dog it was on Detroit, but we're often on against the public sides on our underdog picks, and you still see the positive and profitable results this year and now 114-84 (57.6%) ATS with 57 outright winners over the past 4-plus seasons posting only underdog picks on these pages.
That also adds to our proven point spread history in NFL handicapping following 8 straight winning seasons when I sold selections and was documented more than a decade ago going 371-277 (57.3%) over an 8-year span picking mostly NFL sides and some totals.
For more NFL analysis, insights and Week 9 picks, visit osga.com where I post picks and added information you can bet on prior to posting here each week.
Here are the opening lines from the Las Vegas SuperBook for NFL Week 9 underdog picks.
NFL – Week 9 @SuperBookSports

Ind -10.5 vs NYJ
Mia -7 vs Hou
Dal -8 vs Den
Bal -5.5 vs Min
NE -3 at Car
Buf -13 at Jax
Cin -2.5 vs Cle
LV -3 EV at NYG
NO -4.5 vs Atl
LAC -2.5 at Phi
KC -2.5 vs GB
Ari -2.5 at SF
LAR -6.5 vs Ten
Pit -6.5 vs Chi

Bye Week: Det, Sea, TB, Wsh

— Jeff Sherman (@golfodds) October 31, 2021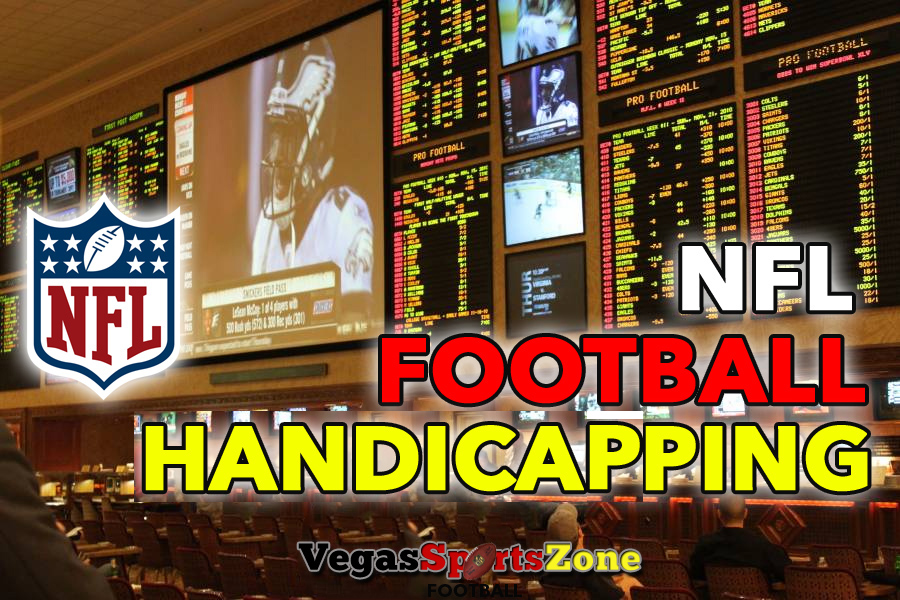 Notable line movement includes the Chiefs up to -7 or 7.5 due to Packers QB Aaron Rodgers missing the game due to COVID. The 49ers went from underdog to favorite against the Cardinals early week, and are now up to -4 with Arizona QB Kyler Murray and WR DeAndre Hopkins game-time decisions. Other line moves and current odds at Caesars Sportsbook includes:
Bengals down to -1.5 vs Browns
Saints up to -6.5 vs Falcons
Dolphins down to -4.5 vs Texans
Cowboys up to -10 vs Broncos
Ravens up to -6.5 or 7 vs Vikings
Chargers down to -1 vs Eagles
Rams up to -7.5 vs Titans
Also, review the most impactful and key injuries provided by Pro Football Focus for Week 9.
NFL Week 9 Underdog Picks
Minnesota (+6, to +7 game day) at Baltimore – Vikings moneyline +245 at FanDuel
Cleveland (+3 to +1.5 game day) at Cincinnati – Browns moneyline +125 at Caesars
Cleveland at  Cincinnati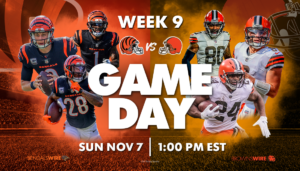 Both teams are off very disappointing losses last week, but the Bengals (5-3) are still in front of the Browns (4-4) in the AFC North. Cincinnati has played better and been a surprise this season, and Cleveland for some reason was flat and not ready off their bye in a 15-10 home loss to the Steelers last week. But the Browns still have edges at the point of attack and in the running game, and I project Cleveland to outrush Cincinnati by at least 30 yards. Cleveland is also one of just seven teams that runs the ball an average of 30 or more times per game, which is another very positive ATS profile if a team reaches that rushing count in a game. That sets up a positive ATS situations with the Browns strength along the line of scrimmage on both sides of the ball. The Bengals run defense has been solid, but the Browns is even better and top=3 in the league allowing 84 rushing yards per game. The Browns were a 4.5-point favorite in this game on the preseason lines, and we're still betting on the Browns (moneyline) as 'Dog and buying the half point to +3 for grading.
Vikings at Ravens…read more. Let's get behind the Vikings again, who have been the most snake bitten team in finding ways to lose close games or let teams recover this season. Minnesota never trailed last week against Dallas until the closing minute in a 20-16 loss. A 1-for-13 mark on third down was disturbing, but the Vikings will move the ball on a Ravens defense allowing 6.3 yards per play – right at the bottom of the league with the Lions, Texans and Chiefs. Of course the Vikings will have to contain the running of QB Lamar Jackson, and play better on special teams to avoid more troubling turnabouts. But the Ravens and their defense were embarrassed by the Bengals prior to last week's bye, and we cashed in on Cincinnati in Week 7 and believe the Vikings will do the same with their talented offensive players. Another outright underdog winner should be no surprise even taking a touchdown on the point spread.
I won't include the Falcons this week, but will find ways to bet on Atlanta despite their crappy performance last week at home versus Carolina and now playing without WR Calvin Ridley (personal). But the Saints are without QB Jameis Winston (ACL) for the rest of the season, and New Orleans is getting too much credit by the oddsmakers this week off their big win over the Buccaneers. Still, while the Saints did outrush Tampa by margin, the defense allowed more than 420 yards and 7.3 yards per play while benefitting from a plus-3 turnover margin. The Saints are not really worthy of laying 6.5 points with backup quarterbacks and a likely letdown this week, but they do have edges in the running game and we need to review the quarterback plans and monitor injuries and more before flying pre-flop on the Falcons.
Check out Week 10 lookahead lines as I also provide a snapshot of some of the games for Week 10 at TheLines, including the Chiefs at Raiders game on Sunday Night Football in Las Vegas.
FairwayJay is a proven sports handicapper and is recognized as one of the sports industry's most insightful analysts. Reach him as interested with comments, suggestions or chip-ins along with inquiries for contract work and media inquiries at [email protected].
Author: FairwayJay
is a leading national sports betting analyst, writer, handicapper and sports betting insider providing insight and information you can bet on for nearly two decades from Las Vegas. He chips in additional sports betting coverage and reporting on industry news and events for leading media and sports betting sites and companies. Follow him on X (Twitter): @FairwayJay