Fairway's Football Forecast – NFL Week 14 Underdog Picks And Preview
NFL Week 14 Underdog Picks and Information You Can Bet On
December started with a 2-2 result on our underdog picks after the Vikings (+3) couldn't hold a 17-10 halftime lead in a 37-30 loss at Seattle. Now 20-21 ATS on these pages this season selecting only underdogs and 71-48 ATS (60%) the past three seasons.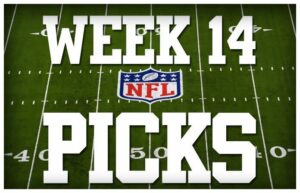 Week 14 has some major match-ups between top teams including and we'll take a shot on selected games. Here are the contests that are drawing the most wagering interest.
– Baltimore (-6) at Buffalo – Ravens 10-2 and Bills 9-3
– San Francisco at New Orleans (-2.5) – 49ers 10-2 and Saints 10-2
– Kansas City at New England (-3) – Patriots 10-2 and Chiefs 8-4
– Seattle at Los Angeles Rams (PK) – Seahawks 10-2 and Rams 7-5
All these games have major playoff implications and positioning at stake including for the top-2 seeds and first round bye in each conference. Seven of the eight teams will likely make the playoffs with fivethirtyeight.com reporting each teams chances of making the playoffs, winning division and advancing to or winning the Super Bowl.
I also provide Week 14 market moves information and betting lines along with selected game analysis and info plus Week 15 look ahead lines.
I have a small interest in big 'Dogs Washington (+13 at Green Bay) and Detroit (+13 at Minnesota). But caution as a pair of rookie quarterbacks start with highly-touted first-round pick Dwayne Haskins of the Redskins looking like he doesn't belong yet while undrafted rookie David Blough looked comfortable and better in his debut last week against the Bears. Underdogs of more than 6 points are 35-28-1 ATS this season despite winning just 11 of 64 games straight up.
Along with the Redskins and Lions starting rookie quarterbacks late in the season, here are other teams with rookie starting QB's in Week 14:
– Denver (Drew Lock) at Houston (-9)
– Carolina (Kyle Allen) at Atlanta (-3)
– LA Chargers (-3) at Jacksonville (Garner Minshew)
– Pittsburgh (-2 with Delvin Hodges) at Arizona
Bengals rookie QB Ryan Finley was back on the bench last week and Cincinnati (1-11) won their first game with Andy Dalton back at quarterback. By the way, Giants rookie first round pick QB Daniel Jones is back on the bench this week and replaced by Eli Manning with the Eagles (-9.5) favored Monday night in Philadelphia. This prime time trend is meaningless, but the UNDER is 25-16 this season in prime time games.
Of the 51 NFL quarterbacks who have started a game this season, only one is making less than Kyle Allen (Delvin Hodges of the Steelers, $436,765, one start), according to Over The Cap.
On to this week's underdog picks on these pages. We have others that we're betting and including in teasers, but let's go with these two high-profile games that will get some of the most betting action with lines provided by Las Vegas sportsbooks.
NFL Week 14 – Sunday, Dec. 8
132 Buffalo (+6) vs. Baltimore – Bills Moneyline +225
158 LA Rams (PK) vs. Seattle – Rams Moneyline -110
Game analysis of these two contests provided at osga.com.
The Rams defense held the Cardinals offense to a season-low 198 yards last week, and LA's defense has now held six of its last seven opponents to 20 points or less. We'll be adding the Cardinals to our card again this week as 'Dog in teasers as Steeler's rookie QB Hodges hits the road and Pittsburgh comes off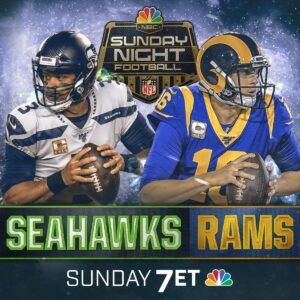 some high-profile prime time games including last week's emotional win over the Browns in a revenging game. Seattle also comes off a high-profile emotional Monday night win against the Vikings and we'll bet on a definite letdown for Seattle this week. While the defending NFC champs LA Rams (7-5) are likely going to miss the playoffs this season, we note that the Rams have out-gained 10-of-12 opponents this season. Seattle (10-2) is on a 5-game winning streak and tied with the 49er's on top of the NFC West with four games remaining.
Could Seattle really be a top-2 seeded team? The Seahawks (10-2) have just a +36 point differential and continue to pull out close wins thanks to QB Russell Wilson, who is having an MVP-type season. That's because the Seahawk's defense is almost a sieve in the bottom quartile of the league allowing allowing 24.4 points per game and 369 yards per game. Extra motivation for the Rams, who lost one of those close games to Seattle in Week 5 on a prime time Thursday broadcast when the Seahawks came from behind to win in the final minutes thanks to a missed 44-yard field goal in the closing seconds by normally reliable Rams kicker Greg Zurlein. The Rams rolled up 477 yards offense at 7.1 yards per play that night at Seattle (league average 5.6). You think the Seahawks are going to slow the Rams back at home? I think not. Seahawks LB Mychal Kendricks (hamstring) is now also out this week as the teams third-leading tackler. Don't buy into the many meaningless trends you hear about each week, including the Seahawks being 8-2 in its last 10 games on Sunday night football. The Seahawks good fortune and gas runs out this week at the LA Coliseum against the Rams.
You can bet on it.
Author: FairwayJay
is a leading national sports betting analyst, writer, handicapper and sports betting insider providing insight and information you can bet on for nearly two decades from Las Vegas. He chips in additional sports betting coverage and reporting on industry news and events for leading media and sports betting sites and companies. Follow him on X (Twitter): @FairwayJay