Fairway's Football Forecast – NFL Week 1 Underdog Picks And Preview
Identifying NFL Underdog Picks and Bets
We kick off the 2022 NFL season shooting for more touchdowns, birdies and green with our weekly NFL underdog picks. We're feeling confident off a record-breaking 70% season going 28-12 ATS posting underdog only picks on these pages. That won't be duplicated here, and a slow start on the Thursday kickoff with the Buffalo Bills burying the home underdog Los Angeles Rams. The Bills were one of a record 10 road favorites on the Week 1 card as we fire away with many plays in our our Week 1 underdog picks.
My labor of love continues for a sixth straight NFL season providing Fairway's Football Forecast with no tout talk or selling plays through companies which I have turned down numerous times since producing top of the leaderboard results over a decade ago with 8 straight winning NFL seasons. I accept chip-in donations and other contributions for VIP's who have been following Fairway's Forecasts for years.
Our 5-year NFL run on these pages is now 130-91 ATS (58.8%) That's selecting exclusively underdogs (line moves can flip from 'Dog to favorite and a few selections of PK to -2 priced like underdog).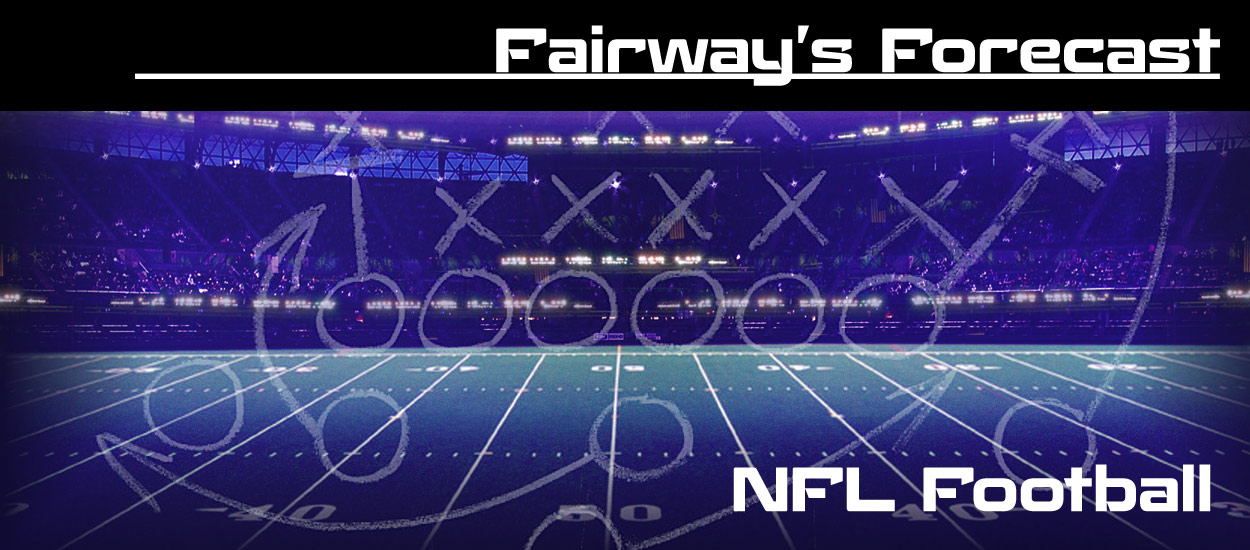 I add more insight and information you can bet on with the initial underdog picks each week at Offshore Gaming Association. Check out the Week 1 picks and analysis ahead of posting here. I have been contributing to OSGA for years prior to sports betting becoming legal in 2018 in states beyond Las Vegas.
I add more Week 1 updates, insight and sportsbook betting data in my chip-in coverage at Forbes.
Also, I'll be adding some Prime Time NFL coverage and game insight and analysis with additional information you can bet on for Thursday and Monday Night Football contests at TheLines. That includes Week 1 Bills vs Rams Thursday and Broncos vs Seahawks Monday.
For those wondering about my history and experience handicapping and betting on football and the NFL, you can read my journey and story of profits and production. I had a run of 8 straight winning and profitable NFL seasons while hitting better than 57% ATS on nearly 650 plays – all independently documented by a third party company for professional handicappers.
NFL Week 1 Odds 2022
Lines for Week 1 of the 2022 NFL season 🏈

What game(s) are you looking to wager on? pic.twitter.com/nkfscZILx4

— SuperBook Sports (@SuperBookSports) September 8, 2022
NFL Week 1 Underdog Picks
I'll provide weekly underdog picks and selected analysis, and chip-in more insight and information you can bet on. For more analysis, check out my weekly NFL report and picks at OSGA. Hopefully you'll gain more insight into NFL handicapping and betting, and add additional arsenal to your game to learn as you earn.

There may be times during the season when I add to the list and underdog picks over the weekend prior to kickoff. And with later weekly posts and market moves, do your best to bet the best lines and numbers as the lines posted are from available lines when posted at OSGA.
Los Angeles (+2.5) vs Buffalo – Rams Moneyline +115 Thursday
Detroit (+4) vs Philadelphia – Lions Moneyline +170
Arizona (+6) vs Kansas City – Cardinals Moneyline +205
Minnesota (+2) vs Green Bay – Vikings Moneyline +100
New York (+5.5) at Tennessee – Giants Moneyline +200
Dallas (+2.5) vs Tampa Bay – Cowboys Moneyline +120 Sunday Night
Seattle (+6.5) vs Denver – Seahawks Moneyline +225 Monday
Green Bay at Minnesota
The Vikings (and Falcons) fit a Week 1 division home 'Dog angle that is 19-4 ATS since 2009 with 16 outright winners. Minnesota could be money in a bounce back season as the offense ignites after the Vikings lead the league with 11 games 'over' the total last season. Minnesota also lost more games in unbelievable, excruciating fashion last year. The Vikings beat the Packers at home last season in a thriller 34-31 at this same home 'Dog price. New coaches and changes for the Vikings, but plenty of firepower on offense and defensive improvement and schemes expected. Quarterback Aaron Rodgers makes stars out of players while setting a high bar. But the departure of WR DaVante Adams to the Raiders and potential absence of WR Allen Lazard (ankle) will put the spotlight on new young receivers. Positive ATS profile – The Vikings are 11-1 ATS in its last 12 games as a home underdog.
Tampa Bay at Dallas
Sunday night in Big D, and recall the Cowboys almost (should have) beat the Bucs on Week 1 last season, but lost as a 10-point underdog 31-29 at Tampa. Both teams dealing with offensive line issues, and these teams appear evenly-matched by most metrics. Bucs and Tom Brady went 0-3 SU/ATS in August. That may not matter, but laying points on the road against a capable team that can pressure on defense and run the ball makes this another 'Dog to support and bet on the moneyline.
Author: FairwayJay
is a leading national sports betting analyst, writer, handicapper and sports betting insider providing insight and information you can bet on for nearly two decades from Las Vegas. He chips in additional sports betting coverage and reporting on industry news and events for leading media and sports betting sites and companies. Follow him on X (Twitter): @FairwayJay