Down The Stretch And Betting The 2022 Kentucky Derby
The 2022 Kentucky Derby has arrived for the first Saturday in May. The post position and odds were released Monday, and I've been chippin'-in coverage for a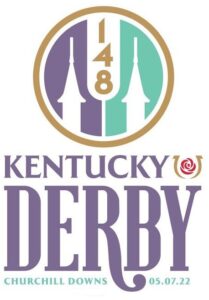 number of media outlets, companies and leading online sports betting platforms. That includes Forbes, Fanduel, numberFire, TVG and Catena Media platforms. I'll reference those articles in links throughout this 2022 Kentucky Derby Betting Guide, and update more as able and provided.
2022 Kentucky Derby Odds
The morning line odds were provided by the Churchill Downs oddsmaker Mike Battaglia Monday. The pari-mutuel odds will change on race day, which has a total of eight graded stakes on a huge day of horse racing and betting from Churchill Downs. On Friday, May 6, the Kentucky Oaks for 3-year-old fillies headlines another big day of racing with seven graded stakes at Churchill Downs.
I receive information and horse racing analysis from other leading sources and contacts, including Horse Racing Nation. You can read more in my Derby coverage for Off Shore Gaming Association, where I provide HRN's picks on all Derby Day stakes races.
Post Positions for the 2022 Kentucky Derby.#KyDerby pic.twitter.com/TCuaiHrhF1

— Kentucky Derby (@KentuckyDerby) May 2, 2022
As I mention in the OSGA article,  I make it clear that I am not a horse player, and I don't study past performance charts or videos. I'm not a regular horse bettor or handicapper, but truly a periodic recreational horse player. Yet, with a sports betting background and someone who seeks out value, my expertise in the sports betting field transfers my skills from the fields and courts to the race track.
Remember this. Horse racing is fun, exciting and tough to beat. When you consider the racing luck needed along with controversy, cheaters and characters of the game with the trainers that drug horses, like last year's Derby winner by suspended trainer Bob Baffert, it only adds the the already difficult hazards and rough in front of you when trying to beat the game and win at horse racing.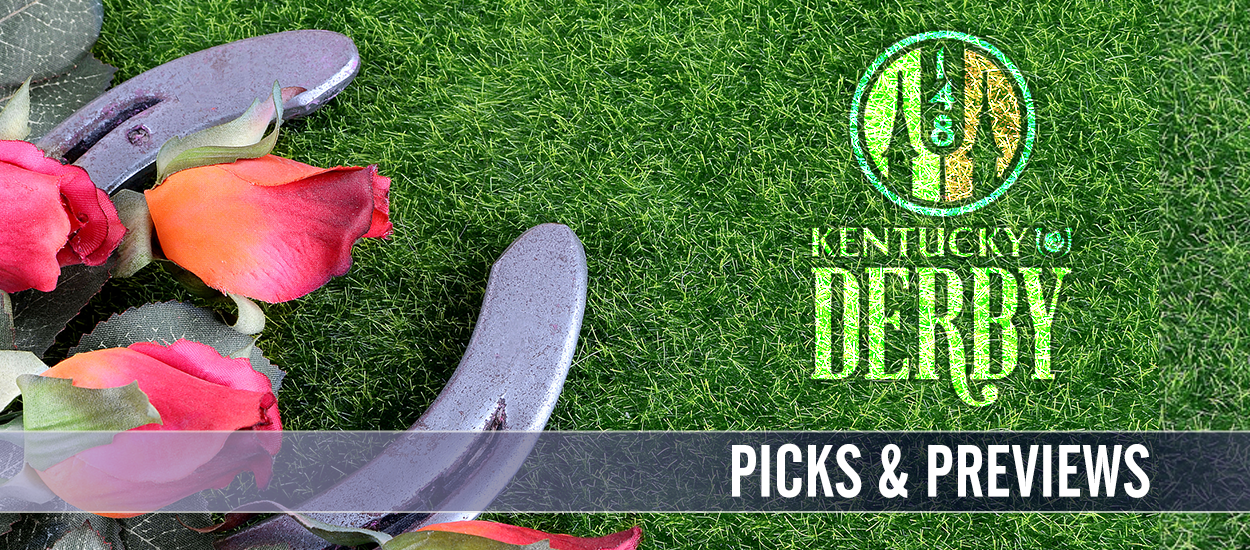 Kentucky Derby Picks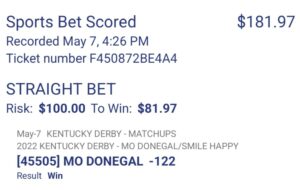 While I have advance fixed odds bets on Zandon (15/1) and White Abarrio (40/1), I'm picking Mo Donegal as my key win horse and tying him into other bets including exacta and trifecta. See my horse profile in numberFire and feature on Mo Donegal in Forbes, and you'll understand the speed and tremendous closing kick we're hoping comes through for Mo Donegal, who flew home in the Wood Memorial in 35.5 seconds over his final 3 furlongs, and 11.9 seconds in the final furlong to win. He should be closing hard if he gets through traffic as each of these 3-year-old colts races 10 furlongs and the classic 1 1/4 mile Derby distance for the first time.
Update: I bet 3 KY Derby horse match-ups and went 3-0 at Circa Sports, where I also bet the winner Rich Strike at 125/1 fixed odds and he went off at 80/1 pari-mutuel odds.
More Kentucky Derby race profiles and picks.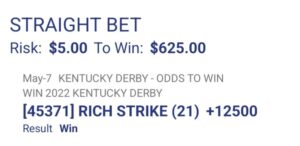 History shows that 27 of the last 30 Kentucky Derby winners have entered the race with a career-best Beyer Speed Figure of at least 95. Also, 18 of the past 22 Kentucky Derby winners had a BRIS Speed Rating of at least 100 prior to the race.
The Beyer Speed Figure qualifiers are: Messier, Taiba, Epicenter, Zaddon, Zozos, White Abarrio, Mo Donegal and Simplification.
The BRIS Speed Rating qualifiers are: Mo Donegal, Taiba, Messier, Zandon, Epicenter, Smile Happy and Tiz the Bomb.
See you in the winners circle.
You can bet on it.
Post Derby update: Second-biggest longshot in Kentucky Derby history wins, Rich Strike at 80/1 odds. I had a pizza-slice sized bet on Rich Strike to win at 125/1 closing fixed odds at Circa Sports. Also swept head-to-head horse match-ups including Mo Donegal (5th) over Smile Happy (8th). Lost on Mo Donegal & Charge It win bets and exacta/trifecta. Rich Strike drew into the race on Friday after articles posted. My Derby recap article in Forbes.
Author: FairwayJay
is a leading national sports betting analyst, writer, handicapper and sports betting insider providing insight and information you can bet on for nearly two decades from Las Vegas. He chips in additional sports betting coverage and reporting on industry news and events for leading media and sports betting sites and companies. Follow him on X (Twitter): @FairwayJay