College Football 2022 Week 6 Picks And Top 25 Matchups
The full schedule of College Football 20200 Week 6 kicks off with a pair of early Top 25 match-ups at 12:00 p.m. ET on Saturday, Oct. 8. I provide a preview with picks on those games, plus the other Top 25 match-up at 3:30 ET.
I obviously bet other games, and often with better value. The betting market continues to move quickly, and I provide weekly college football game analysis for FanDuel on affiliate sites like The Duel Sports. But I don't bet all the games, as these are assigned and I provide expertise based on proven knowledge, experience and ability in point spread prognosis and sports betting.
You can view my game analysis and 2022 Week 6 picks from the Top 25 games at Offshore Gaming Association. I add additional coverage and games at The Duel Sports college football picks and betting news.
I also chip-in more Top 25 coverage this week at Forbes with added insight including sports book odds and data.
The best college football game of the week is in Lawrence, Kansas, USC's Caleb Williams joins the Heisman race and there's a hot seat at Auburn.

The AP Top 25 What to Watch rundown, presented by @RegionsBank: https://t.co/7RIZtPFqpo pic.twitter.com/sd4xnlyOZ7

— AP Top 25 (@AP_Top25) October 6, 2022
Please recognize the betting lines move and adjust, and I provide this information for news and entertainment purposes with added info and betting data from leading online sportsbooks as a media contact. Readers, past clients and other Fairway followers do chip-in and donate along the way with select other VIP's in direct contact with me for NFL and CFB betting insight and advice.
My history as a proven sports handicapper has been documented in the past as a top of the leaderboard sports betting analyst.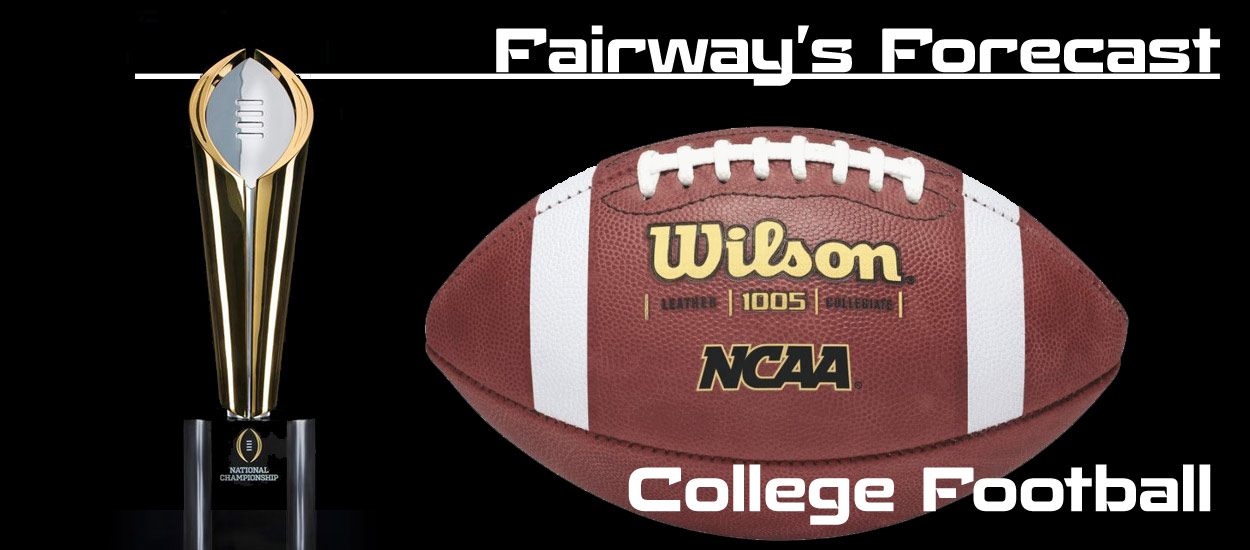 Week 6 Top 25 Matchups and Picks
See OSGA Top 25 report for full analysis and ATS picks.
Pick: Tennessee
Opinions: Kansas and Utah
Here's the full top-25 college football schedule, TV times and odds from FanDuel Sportsbook with favorites noted. Added links with some of my other coverage.
Types of bets and how to read the odds
Game odds refresh periodically and are subject to change. 
No. 1 Alabama (-24.5) vs. Texas A&M | 8 p.m. | CBS
No. 2 Georgia (-29.5) vs. Auburn | 3:30 p.m. | CBS
No. 3 Ohio State (-26.5) at Michigan State | 4 p.m. | ABC
No. 4 Michigan (-22.4) at Indiana | 12 p.m. | FOX
No. 5 Clemson (-20.5) at Boston College | 7:30 p.m. | ABC
No. 6 USC (-12.5) vs. Washington State | 7:30 p.m. | FOX
No. 7 Oklahoma State (-9) vs. Texas Tech | 3:30 p.m. | FS1
No. 8 Tennessee (-2.5) at No. 25 LSU | 12 p.m. | ESPN
No. 9 Ole Miss (-17) at Vanderbilt | 4 p.m. | SEC Network
No. 11 Utah (-3.5) at No. 18 UCLA | 3:30 p.m. | FOX
No. 12 Oregon (-13.5) at Arizona | 9 p.m. | Pac-12 Network
No. 13 Kentucky (-6.5) vs. South Carolina | 7:30 p.m. | SEC Network
No. 14 NC State (-3) vs. Florida State | 8 p.m. | ACC Network
No. 15 Wake Forest (-16.5) vs. Army | 7:30 p.m. | ESPN3
No. 16 BYU vs. Notre Dame (-3.5 – Las Vegas) | 7:30 p.m. | NBC/Peacock
No. 17 TCU (-7) at No. 19 Kansas | 12 p.m. | FS1
No. 20 Kansas State (-2) at Iowa State | 7:30 p.m. | ESPNU
No. 21 Washington (-13.5) at Arizona State | 4 p.m. | Pac-12 Network
No. 23 Mississippi State (-9.5) vs. Arkansas | 12 p.m. | SEC Network
No. 24 Cincinnati (-27.5) vs. South Florida | 2:30 p.m. | ESPN+
Watch for our Week 5 NFL Underdog Picks, which are 14-7 ATS this season with 13 outright winners following a fourth straight winning result in Week 4. That follows a record 70% season going 28-12 ATS in 2021 on NFL underdog picks posted on these pages.
Author: FairwayJay
is a leading national sports betting analyst, writer, handicapper and sports betting insider providing insight and information you can bet on for nearly two decades from Las Vegas. He chips in additional sports betting coverage and reporting on industry news and events for leading media and sports betting sites and companies. Follow him on X (Twitter): @FairwayJay