Breeders' Cup 2022 Betting Guide
Horse Racing News, Notes and Daily Tips for Breeders' Cup 2022 from Keeneland
The biggest days at the races are the weekends, where the top tracks in America host the biggest stakes races. The Triple Crown races draw tremendous interest from fans, media and horse handicappers and bettors. From the Kentucky Derby at Churchill Downs to the Belmont Stakes at Belmont Park, there is plenty of additional racing that draws interest and betting from many of the top tracks listed below. That includes for Breeders' Cup 2022 at Keeneland Racecourse in Lexington where the best race horses in the world compete for million dollar or more purses.
Each year culminates with the Breeders' Cup World Championships the first weekend in November. The $6 million Breeders' Cup Classic is the headline event, and the 2022 race features Flightline – an unreal horse of a lifetime.
Breeders' Cup 2022
My coverage in Forbes of 5 races on Future Stars Friday and Saturday's biggest day of racing with 9 races including the BC Classic.
I chip in other coverage of the 2022 Breeders' Cup for FanDuel and TheLines. Odds, entries and Exacta and Trifecta picks with horses to add on select races.
Program changes and scratches.
I'll update more along the way including schedule and results.
Breeders' Cup schedule for tomorrow and where to watch. All the races will be live on @fandueltv besides the Classic. Make sure you tune in and wager at https://t.co/nBYFHj6ufh. pic.twitter.com/oAFS1OsbUQ

— TVG (@TVG) November 5, 2022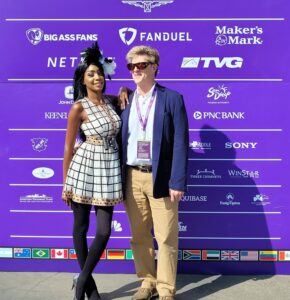 I don't handicap the races per say by studying past performance charts, video replays or monitoring all the workouts, events and coverage of the horses and races. But I do understand the game and Sports of Kings, and chip-in coverage and betting guides of the 2022 Breeders' Cup for Forbes, FanDuel, Catena Media and TheLines and have written and been paid previously by Churchill Downs, Twinspires, TVG and others.
I have connections to horse players and pros from Top Race Reports and the WCHR and ECHR to Horse Racing Nation, Guaranteed Tip Sheet and other inside the sport.
I've been to Breeders' Cup events in person as media at Santa Anita (2016), Churchill Downs (2018) and Del Mar (2021), where a record all-sources betting handle of $181.9 million was reached for the 2021 Breeders' Cup.
It was 'Cool as Ever' being at Del Mar for the 2021 Breeders' Cup with a fine filly to play in the Paddock with Fairway.
Updates…
Here are all the Breeders' Cup winners today at Keeneland. Did you have any of these horses? Congrats to all the connections of these horses! pic.twitter.com/YYVF383SAT

— TVG (@TVG) November 5, 2022
I'll save the bets and stories for another day.
You can bet on it.
Author: FairwayJay
is a leading national sports betting analyst, writer, handicapper and sports betting insider providing insight and information you can bet on for nearly two decades from Las Vegas. He chips in additional sports betting coverage and reporting on industry news and events for leading media and sports betting sites and companies. Follow him on X (Twitter): @FairwayJay