Astros And Nationals To Decide World Series In Game 7
Stephen Strasburg Improves To 5-0 In 2019 Post Season With Nationals Game 6 Win
The road team won for a record 6th time in the World Series Tuesday when the Nationals rode the right arm and prime pitching of Stephen Strasburg to a 7-2 victory. Anthony Rendon had a home run and 5 RBI's send the Nationals to Game 7 of the World Series in pursuit of the franchises first World Series title.
Nationals Bettors Holding Out Hope In Houston For World Series Title
That's the headline in my World Series article and update at Forbes, where big bets were in play again with William Hill US director of trading Nick Bogdanovich telling me the sportsbooks took a $860,000 moneyline bet on the Nationals at -172, and a $215,000 moneyline bet on the Nationals at +165 – which cashed in for approximately $355,000.
More sports betting stories in the World Series article including a William Hill Nevada mobile app bettor who bet $40 on the Nationals to win the NL Pennant, and used the $480 win to purchase a airline flight and ticket to Game 1 of the World Series to see one of his favorite D.C. sports teams in the postseason.
And the story that has captured much of the media attention and social media coverage is 'Mattress Mack', who will cash in approximately $22 million on his $12 million in World Series wagers if the Astros win the World Series. His customers that purchased mattress sets from his furniture stores are looking to cash in as well with a full refund of at least $3,000 should the Astros win Game 7 and capture their second World Series championship in the last three years.
Game 7 odds and lines at Las Vegas sportsbooks including William Hill:
Astros (-135) with Zack Greinke versus Nationals (+125) with Max Scherzer. The total is 7.5 (-120 under).
It may be tempting to look towards the 'under' when betting the Game 7 total with proven complete pitchers and veterans on the mound. But I will pass along with the side and consider the 'over' knowing that Max Scherzer is not fully healthy after being scratched for Game 5 even though he says he "feels really good"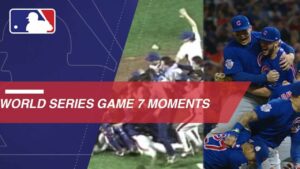 and is "ready to go," for Game 7.  That's following a cortisone shot on Sunday in which the ultra-competitive Scherzer told reporters "I can't even lift my arm right now." That was due to severe neck spasms with the cortisone shot relieving pressure on the nerve.
Greinke has been fairly inconsistent in the postseason with a 5.30 ERA and he allowed 10 base runners but just 1 run in 4.2 innings in the Astros 4-1 World Series Game 3 win to get Houston on the winning path in the series after losing the first two games at home.
We may tweet or pop a few props for Game 7 as released by sportsbooks and also with William Hill tweeting and sending out some props for Game 7. All nerves will be working in Game 7 of the World Series with much anxiety for the players, fans and bettors alike.
You can bet on it.
Author: FairwayJay
is a leading national sports betting analyst, writer, handicapper and sports betting insider providing insight and information you can bet on for nearly two decades from Las Vegas. He chips in additional sports betting coverage and reporting on industry news and events for leading media and sports betting sites and companies. Follow him on X (Twitter): @FairwayJay