Wild Card Betting Breakdown – LA Chargers at Baltimore
Chargers Road Record of 7-1 Provides Promise in Wild Card Weekend at Baltimore
The Baltimore Ravens (10-6) closed the season on a 6-1 run to win the AFC North on the final weekend of the regular season. Rookie quarterback Lamar Jackson has led the offense during that surge following the Ravens bye week, and Baltimore has led the league in rushing since his insertion as starter. He's carried the ball for 695 yards and 5 touchdowns, and is just 23 yards short of being the teams leading rusher this season. Yet despite a 296-50 yard rushing advantage in the 26-24 Week 17 win over Cleveland, the Ravens had to hold on for dear life late with a defensive stand near their own 40-yard line to prevent the Browns from shattering their playoff dreams for the second-straight season.
We were on the Browns in Week 17 and Cleveland delivered the cash despite money showing on the Ravens and taking the line to -7 on game day. If you read that analysis and others I provided during our 35-19 ATS 'Dog log this season (26 outright underdog winners), you know that I provide insight on the importance of running the ball, stopping the run and controlling the ball, clock and chains. That formula of out-rushing and running the ball more than your opponent has proven parameters and point spread results greater than 70% ATS for nearly two decades. .
But there is more to winning football games, and at playoff time, quarterbacks have to make plays in the passing game on critical downs and situations. The Ravens defense is a huge plus in their push to the playoffs and any potential run towards the Super Bowl. Unfortunately, Ravens rookie QB Jackson is not going to run them to the promised land, and mistakes, misreads, interceptions and fumbles will be turning points that playoff caliber opponents will capitalize on when Lamar loses the ball and his head.
And I'm not the only one that believes the Ravens will not win the Super Bowl with Jackson, as a former NFL quarterbacks chips in his similar thoughts and opinions. Same with Pro Football Focus with added edit info.
QB Jackson per @PFF – 9 turnover worthy plays vs 6 big time throws. 58.2% completions – #36 in NFL. Worst in ball location. Exceptional runner, 12 total fumbles. 131 designed QB runs most since tracked in 2006. 562 rush yards on those plays.
Huge risk, but credit coaches & scheme https://t.co/eW8f9dN0TV

— Fairway Jay (@FairwayJay) January 6, 2019
Sunday, Jan. 6, 2019.
LA Chargers at Baltimore (-3) – Total 41.5.
Kickoff at 1:05 ET from M&T Bank Stadium in Baltimore. Weather: mostly sunny near 50 degrees.
The 3's are now showing after the Ravens were a -2.5-point favorite most of the week. However, a playoff high 72% of the bets are on the LA Chargers according to Sports Insights, which tracks betting activity from seven of the biggest online sportsbooks, including BookMaker and reduced juice shop 5Dimes. Los Angeles is also taking 69% of the money line bets (+130).
The Ravens beat the Chargers in Los Angeles in Week 16 by the count of 22-10 with their AFC best rushing attack leading the way with 159 yards. That's the lowest rushing output by the Ravens since Jackson took over at quarterback. The Chargers had returned home from a huge Week 15 win at Kansas City in which they rallied for two fourth quarter touchdowns and a decisive 2-point conversion to win 29-28. The Chargers suffered a letdown against the Ravens in Week 16 off that huge, emotional win and rally that moved them into a tie with the Chiefs for the AFC West lead. The Chargers did bounce back in Week 17 against the Broncos in Denver, and QB Philip Rivers was back on track after his worst game of the season against the Ravens.
The human element of traveling from altitude back to Los Angeles and now cross country to Baltimore needs to be considered, and it's not usually favorable for the West coast team. But lets provide some 'Fairway facts' with assistance of data research from Bet Labs.
– Since 2003, West Coast teams have gone 80-133 (37.6%) straight up when playing on the East Coast. This seems significant, but against-the-spread (ATS) performance is a better indicator of how well a team performed compared to pregame expectations.
In that same time, West Coast teams are 102-105-6 (49.3%) ATS when playing on the road against an East Coast team. The losing ATS record suggests West Coast teams underperform, but there is a stark split in the data.
From 2003 to 2012, West Coast teams were 57-71-3 (44.5%) ATS when playing in the Eastern time zone, but since 2013 West Coast teams have had a winning ATS record in this situation. These teams have gone 45-34-3 (57.0%) ATS.
There are two reasons for the change. First, teams have become better at managing their travel. And second, as this trend became popular among bettors, the oddsmakers adjusted knowing gamblers would want to fade teams traveling west to east.
I understand any support of the Ravens, as coaching, defense, special teams and the proven, powerful running game favors Baltimore.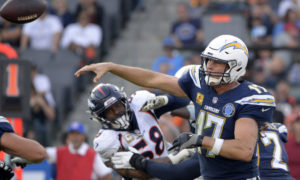 But the Chargers also have a top-10 defense with a strong defensive line and pass rush, along with two young Pro Bowl playmakers in the secondary. Los Angeles will be better prepared emotionally and in game plan to adjust to the Ravens on both offense and defense. Running back Melvin Gordon will be more involved in the running and passing game in this playoff match-up. And few quarterbacks are as competitive and driven as Philip Rivers, and he'll make the adjustments. Rivers had one of his best seasons in his 15th year, passing for 4,308 yards with 35 touchdowns and 12 interceptions. He passed for 8.5 yards per pass attempt and was sacked 32 times with just one lost fumble.
Rookie Lamar Jackson had six turnovers including three lost fumbles in seven starts and passed for 7.1 yards per pass. He replaced Joe Flacco, who led the Ravens to a Super Bowl title in 2013 also with a dominant defense. Flacco is the backup QB this Sunday against the Chargers. In his last 10 playoff games, Flacco has thrown 24 touchdowns and four interceptions with a 104.1 passer rating. He has thrown at least two touchdowns in eight straight postseason games, marking the longest streak in postseason history. Jackson may be the future in Baltimore and Flacco is on his way out, but time will tell if the right reads are made by all those involved in the decisions.
Since 2001, play on a playoff team that averages more yards per pass attempt than their opponent – 98-65 ATS. This 60% ATS angle improves to 58-25 ATS (71%) if the line is 6 or less (competitive contest).
This is just a simple parameter and utilizes one statistical category, but does show the power of passing and quarterbacks making plays in the playoffs.
The Chargers won 12 games this season with road wins at Kansas City, Pittsburgh and Seattle. Los Angeles was an NFL-best 7-1 SU/ATS on the road. Now in the playoffs, the Chargers are good enough to get redemption and win on the road when it counts at Baltimore.
You can bet on it.
Article posted at osga.com.
FairwayJay is a leading national sports analyst and is recognized as one of the sports industry's most insightful handicappers and professionals. Follow him on Twitter: @FairwayJay