Week 14 Marquee Matchup Analysis – Rams vs. Eagles
NFC Division Leaders Rams vs. Eagles Having Surprising Seasons
At the start of the season, who couldn't predicted this: the Rams and Eagles game in week 14 would be a meaningful playoff-impacting game. Of greater surprise is that it would involve two first place teams with each having a chance to secure a top-2 seed in the NFC playoffs and a first round bye. Last year's top-2 picks in the NFL draft have led the surprising resurgence, as QB's Jared Goff and Carson Wentz have both flourished in their 2nd season. Following their rookie years in which both started a majority of their team's games, neither was ranked in the top-20 at quarterback by Pro Football Focus, who grades all players at every position based on performance and various statistics and metrics.
What a difference a year makes. The Rams (9-3) are the surprising division leader in the NFC West and the most improved team in the NFL following 4 wins last season. The Eagles (10-2) can secure the NFC East this weekend and have clearly been one of the top teams in the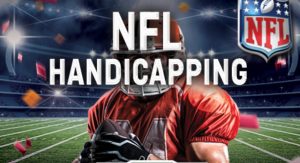 league with a top-ranked offensive line and elite level defense. A victory over the Rams would nearly secure a top-2 seed and first round by in the NFC playoffs with three games remaining and a 2-game lead over the NFC West and South teams.
The Eagles were an underdog at the sportsbooks in three of their first six games, and are now an underdog to the Rams for the first time in their last seven games. I made one conference future bet during the season betting the Eagles at 15-1 to win the NFC following their 2-1 start for a potential 4-digure payday. The Rams blew out the Colts in week 1 and had a soft early schedule before making their case in week 4 at Dallas with a 35-30 win as a TD underdog. I then bet them to win the NFC West at +280, and their key game to decide the division is next week when they travel to Seattle. The Rams are 4-2 at home this season with one of the weakest home field edges in the NFL. Reports are also that the invasion of Philadelphia fans this week could have Eagles fans potentially out-numbering LA Rams fans. The Rams beat one winning team at home (Saints, Nov. 26) in a game LA had a big time of possession edge but New Orleans still out-rushed the Rams by 35 yards averaging more than 7.0 yards per rush. The Rams lost to both Washington and Seattle at home, and now play their strongest opponent this season.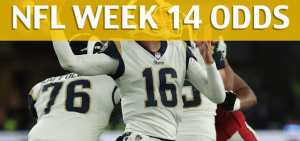 Sunday, Dec. 10
Philadelphia Eagles (+2.5)
Los Angeles Rams (-2.5)
Total: 48
These two teams have both scored 361 points this season and lead the league averaging 30 points per game. On offense, they are both top-4 in yards per game (385/372 PHI/LA) and top-7 in yards per play (5.7/5.9). Recall the Rams were dead last in yards per game last season and the Eagles were No. 20. The Eagles defense is elite, ranking No. 3 in the league in both yards per game (293) and yards per play (4.9) while the Rams, under a brand new coaching staff including young head coach Sean McVay and veteran defensive coordinator Wade Phillips, are seemingly improved on defense but statistically similar (333/5.3).
Match-ups and Betting
After analyzing the winless Browns vs. Packers game this week in a game featuring incompetent quarterbacks, and predicting the Browns would win their first game of the season, I'm sure readers are much more interested in betting on the Rams vs. Eagles marquee match-up and feeling a little more confident betting on capable QBs and quality teams. That's the nature of betting, as the losing teams take much less action at the sportsbooks.
But sticking to our strengths while searching for value and underdogs of interest, we'll make our case for the Eagles this week just as we did on Philly in their week 4 win as 'Dog and during our opening six week run of picking underdogs and going 16-8 ATS.
The Rams vs. Eagles match-up will again be one of the most bet games of the weekend after the Eagles took big betting action last week at the leading sportsbooks, only to let their betting backers down as the Eagles snapped an 8-0 SU/ATS run and cost teaser bettors too in their 24-10 loss at Seattle as a 5-6 point road favorite. But note Philadelphia out-gained Seattle 425-310 and had five more first downs, but a 2-0 turnover differential against the Eagles proved costly.
The Eagles stayed out west following that defeat, while the Rams were forced to alter their practice schedule this week because of wildfires near their training facility in Thousand Oaks, California. Diminished air quality also forced their practices indoors. LA's explosive, balanced offense will be put to the test this week by an elite-level Eagles defense that is No. 1 in rush defense, allowing just 68 rushing yards per game (3.5 YPR). The Eagles have also allowed just 4.4 yards per pass play since cornerback Ronald Darby returned to the lineup three weeks ago following an opening week ankle injury. Despite the presence of Aaron Donald on the Rams defensive front, the Rams allow 4.7 yards per rush to rank No. 30 in the league. That includes 5.5 YPR over their last three games against the Cardinals, Saints and Vikings. The Rams do lead the NFC in sacks with 38 with the Eagles close behind, while Philadelphia leads the NFC in interceptions with 16 and the Rams are right behind.
Underrated in analyzing games is special teams, and both teams feature elite units across the board with the Rams at the top while having elite-level kicker and punter.
Quarterbacks and Rushing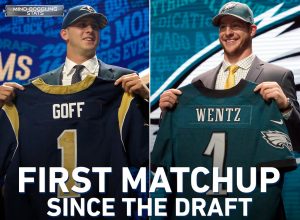 The QB's are in the spotlight this week as they were the top-2 picks in the draft in 2016. Wentz leads the league with 29 TD passes and is one of four current starting quarterbacks with a QB rating above 100. Goff is having a strong sophomore season passing for 265 YPG, 15 more than Wentz, with 20 passing TDs and a QB rating of 98.4. Few expected a breakout season for Goff after last year's disaster going 0-7 as a starter with a QB rating of 63.6.
If you've read my past articles and weekly stats recap where I also address rushing statistics and guidelines, perhaps you'll join me this week in supporting the Eagles as underdog with their elite offensive line, stronger running and defense, making their point of attack play key to this victory. Philadelphia averages 31 rushing attempts per game, another key ATS indicator, for a NFC-best 143 rushing yards per game at 4.6 yards per rush. The Rams do have an elite running back in Todd Gurley and he could eclipse 1,000 yards this week as he leads the NFC in rushing with 939 yards. But they are still in the middle of the pack in rushing (115/4.0), and the Eagles force teams to pass more often as they allow a league-low 19 rush attempts per game with their stone-wall defensive front. Combined with a quality QB in the running for league MVP (Wentz), the more balanced offense and an elite run defense allowing a league-low 68 rushing yards per game and capable of pressuring QB Goff, lets fly like an Eagle (to the sea, fly like an Eagle let my spirit carry me) and support Philadelphia as one of the best teams in the NFL as underdog to bounce back this week.
Fairway's Forecast
Play Philadelphia straight up, on the money line and add to your teasers at +8 or more.
Article posted at osga.com.
FairwayJay is a leading national sports analyst and is recognized as one of the sports industry's most insightful handicappers and professionals. Follow him on Twitter: @FairwayJay