Vegas Golden Knights Closing out Sensational Season before Playoffs Begin
Golden Knights Records Continue with Playoff Spot and More than 100 Point Season
During the Golden Knights remarkable run and history-making season, we provided some insight on the success Vegas was having as the Golden Knights skated into the New Year. But the success wasn't good for the Vegas sports books as the Golden Knights were ripping through the league and setting records not just as an expansion franchise, but in the betting activity and potential huge payouts for fans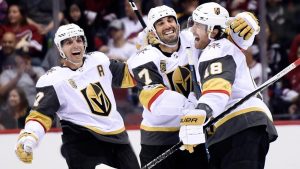 and bettors that bet on the Golden Knights to win the Stanley Cup. Whether fans were holding a Golden Knights future ticket at 100-1, 150-1, 200-1 or even 300-1 or greater, the chance to cash-in or even sell off some futures tickets provided an opportunity for a big return.
Las Vegas sports books have tremendous liability on the Golden Knights, who are 47-21-4 with 101 points as they play Colorado at home March 26. Vegas also has three shoot out losses including 2-1 on March 24 at Colorado. That loss followed a 2-1 overtime defeat at San Jose against a Sharks team that has 95 points and is in 2nd place behind Vegas in the Pacific division. The Avalanche now visit Vegas looking to get lucky again on the backend of the home-and-home series, and the Avs are in a fight for their playoff lives with 90 points as four teams battle for the final three playoff spots with each team within two points of each other. Anaheim (6), Colorado (7), St. Louis (7) and Los Angeles (6) have 6-7 games remaining in the regular season.
In case you're unfamiliar with the NHL playoff format, here is a link to explain. In the First Round, the division winner with the best record in each conference will be matched against the wild card with the lesser record; the wild card with the better record will play the other division winner. Vegas (101 points) and Nashville (107) currently lead the Pacific and Central divisions of the Western Conference.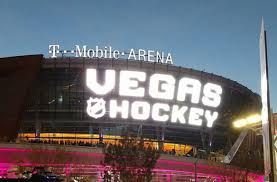 Colorado (90) is a likely Wild Card team unless they can catch Minnesota (93) for third place in the Central Division. So the Avs and Golden Knights could be a potential first round match-up.
The Golden Knights can clinch a playoff spot against Colorado, and you can be sure that the electricity at T-Mobile Arena will be flowing as the Knights shoot to light the lamp and lite-up the Las Vegas strip at an Arena where Vegas is 26-9-1 at home this season. Vegas' final regular season home is March 31 against San Jose before the Golden Knights finish the regular season with three road games in Western Canada.
Colorado is potential first-round playoff opponent, and one the Golden Knights would welcome. The Avs are a metrics mess with many luck-driven stats assisting them this season. Colorado ranks first in penalty killing percentage, yet they are deficient on defense and rank bottom five at both ends of the ice in 5-on-5 Score and Venue Adjusted Corsi Against/60. Corsi is the total shots at the net for and against at even strength. The higher the Corsi differential or ratio, the more dominant the team. For example, in a recent game against Chicago, Colorado was on the wrong end of a 72-52 Corsi score but beat the Black Hawks 5-1. Two nights later, the Avs and Kings Corsi was tied at 42-42 and the Kings won 7-1. In NHL games, you cannot predict how the puck will bounce, and final scores are more misleading than any other sport. Those scores influence the betting marketplace at the sports books. But with advanced stats, you can better predict which team will dictate pace, create more opportunities to score and ultimately have a better chance of winning providing there is no distinct advantage in goal.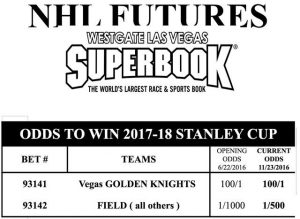 Vegas has an advantage in goal against Colorado and many other teams with top-tier net minder Marc-Andrew Fleury. The Golden Knights have been strong in all key metrics at both ends of the ice all season. With so little expected of them at the start of the season, Vegas bettors have kept hitting their pass line bet instead of crapping out on the Golden Knights. And Vegas futures bettors are looking to hit the jackpot on the Golden Knights, as Vegas' hockey team tries to rewrite the record books with a Stanley Cup title in its inaugural season.
The betting interest is huge when the Golden Knights are in action, as the SuperBook in Las Vegas reports they will write 10 times more handle on Vegas' games than other NHL game that night. Unfortunately, Las Vegas sports books don't offer a ½-puck line on hockey, which is available at the leading online sports books. While the ½-puck line is a preferred way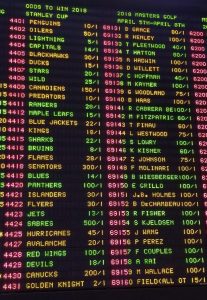 to profit instead of laying the 1 ½-puck line, it's still noteworthy that Vegas continues to lead the league in money-earned for their betting-backers this season with more than 17-units of plus profit on the money line. That despite a 6-8 record the past 30 days in which inflated prices cost Vegas bettors with losses at favorite prices of -160, -245, -180 and -170. The Knights have lost nearly 5-units of profit if you bet them every game during those 14 contests over 30 days, a streak which came a little late after we projected some struggles for the Golden Knights starting near the end of 2017. All Vegas did was win back-to-back road games at Anaheim and Los Angeles and then two more home games before having an 8-game winning streak snapped. Even through their toughest road trip of the season, Vegas went 4-2 and finished a tough 20 games stretch going 13-7.
Vegas is currently 8-1 to win the Stanley Cup at the popular Westgate SuperBook in Las Vegas. But a month ago, I was in a Boyd Gaming property at the Orleans just off the Las Vegas strip, and Vegas was 2-1 to win the Stanley Cup!  Clearly the liability on the Golden Knights is significant, and Boyd Gaming has had enough of the fanfare and action with all the Golden Knights tickets and interest on their home town team.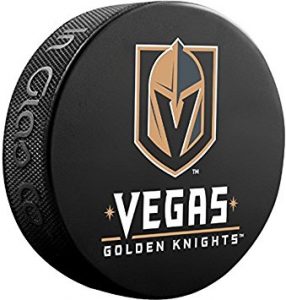 There is a company in Las Vegas called PropSwap which essentially brokers the sale of futures wagers and prop bets, a place where you can buy or sell futures tickets in the betting marketplace. There are no less than eight tickets currently for sale on the Golden Knights to win the Stanley Cup with at least half the payouts in excess of $10,000 and one offered for sale at $22,000 to win $120,400. So that person purchased the ticket for $400 at 300-1 odds, and is hoping to make $22,000 through a potential buyer.
Regardless of the Golden Knights playoff run and results, it's been a sensational season for Vegas and a remarkable run that few could have projected when owner Bill Foley forked over $500 million to join the NHL with his Golden Knights black and gold brand. The Knights have assembled a team with players deemed expendable by other NHL teams, and it's been Golden for bettors with plenty of green and cash for those that invested in Vegas this season. Many are hoping the jackpot is ready to hit on the Golden Knights in the upcoming playoffs, but there is one safe bet left. The Golden Knights George McPhee is going to be General Manager of the Year. You can bet on it.
Article posted at osga.com.
FairwayJay is a leading national sports analyst and is recognized as one of the sports industry's most insightful handicappers and professionals. Follow him on Twitter: @FairwayJay