Undefeated College Basketball Home Teams And The Impact Of Home Court
Undefeated Home Teams and the Push Towards Conference Titles and NCAA Tournament
Conference play continues through February as college basketball teams push towards conference titles. The top teams are also positioning themselves for the conference tournaments and invitations to postseason play, including the NCAA Tournament. Those suffering through mediocre or sub-.500 seasons are still playing for postseason tournament invitations and improved play with an outside chance of upsets in their conference tournaments later this month and into early March.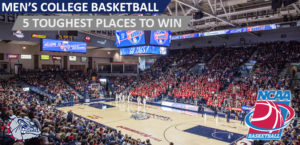 The power of home court continues to play a pivotal role in a team's success. While many teams at the top of the standings remain undefeated at home or have just one or two losses on their home court, the bottom teams remain competitive at home with a many of them having a winning home record.
If you go through the five power conferences plus the Big East and American Athletic (AAC), you'll find every team in the ACC, Big 12 and Big East has a winning home record, and just one team in the Big Ten, Pac-12, SEC and AAC have a losing home record. So out of the 87 schools and teams that make up those seven conferences, or 25% of the most watched and bet on teams in the country, just four of them have a losing home record. Yes, it's tough to win on the road in college basketball. In the Atlantic-10, Conference USA, Colonial, MAC, Missouri Valley, Mountain West, and West Coast Conference, just 12 teams have losing records out of 81 teams making up those seven conferences.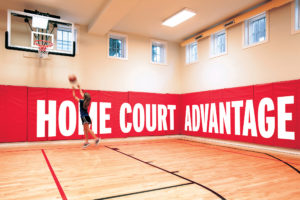 Even in the smaller conference with less fans in attendance, home court plays an important role in a team's success.
While the oddsmaker factors home court into the point spread and use of power ratings, there are teams who still perform much better on their home floor and exceed the linemakers expectations. Such is the case again this season as only three of the 21 teams with an undefeated home record have a losing point spread record in conference home games.
Rule changes in recent seasons, including the reduction to a 30-second shot clock, have provided an added benefit to the more athletic teams who get more possessions. Scoring has increased along with the number of 3-point attempts. So while there continues to be some inflated point spreads down the stretch for these power teams on their strong home courts, you'll still see some teams able to extend margins over inferior foes. Yet as can often be the case, those lines on home teams can also be a bit higher, even against stronger opponents.
In recent days, home favorites on the big board went just 34-38 ATS since Feb. 2. While you must always factor in home court value, it is imperative to look at the point spread to understand and find value, while recognizing a team's motivation, and especially at this time of the season.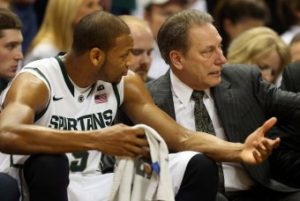 Coaching is most important in college basketball, and we'll have more coverage of teams performances along with other statistical parameters to assist in identifying more winners. It's never easy, even when you have a solid team that is well coached, disciplined and plays strong defense. The variance of 3-point shooting and an off night putting the ball in the basket can result in a loss at any time. Just ask No. 1 seed Virginia in last year's opening round of the NCAA Tournament in their loss to No. 16 seed University of Maryland, Baltimore County (UMBC).
Supporting fans and a comfortable surrounding should only help the home team perform better. Along with good coaching and preparation, players can become more consistent in their play at home along with their performance when having to take to the road in hostile environments. Once teams get to postseason play, you must factor in and handicap a team's home/road performance to deliver more point spread winners and improve their chances to survive and advance.
Bet on NCAA basketball at one of these top rated sportsbooks
Know too that there are many teams that have losing records or weaker home courts in which you can support short road favorites if the situations and stats support a play against these teams. Many of these teams have less supporting fans in the stands as a losing season signifies. Finding teams that lack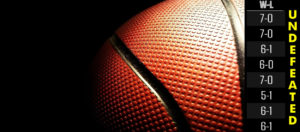 chemistry, coaches on the hot seat and play poorly on the defensive end are often ripe as potential 'towel tossers' down the closing stretch of the season. These teams know they will not achieve a winning record or get invited to a postseason party, and the poor performances will often be more prevalent than the few games with more energy and effort.
Each college basketball season there are approx. 10-15 teams that go undefeated at home for the entire season. Through games on February 4, that list is 22 teams. I've also added the teams with one home loss at the bottom. Along with the information above, the ability to understand scheduling and motivational situations will help you when playing on teams with both strong and weak home courts in the final month of the regular season.
Updates noted:
Feb. 5 – No. 10 Marquette lost to St. John's, 70-69
Feb 7 – Grand Valley lost to Texas Rio Grande Valley, 72-69
Feb 8 – Rider lost to Canisius, 81-80
Feb 9 – No. 3 Virginia lost to No. 2 Duke, 81-71
Feb 9 – Abilene Christian lost to Sam Houston State, 90-85 OT
Feb 9 – Bowling Green lost to Toledo, 78-71
Feb 12 – No. 5 Kentucky lost to No. 19 LSU, 73-71
Feb 19 – Davidson lost to Dayton, 74-73
Feb 23 – Northern Kentucky lost to Cleveland State, 83-77
Feb 23 – Hofstra lost to James Madison, 104-99
Feb 23 – Yale lost to Harvard, 88-86
Feb 24 – Michigan lost to Michigan State, 77-70
Feb 28 – Louisiana Tech lost to Marshall, 90-79
March 2 – Houston lost to Central Florida, 69-64
March 9 – Washington lost to Oregon, 55-47
Team – record
SU Home
Conf ATS Home
Conference
Key Remaining
Abilene Christian (18-4)
11–0
1–4
Southland
Sam Houston
Bowling Green (15-6)
11–0
4–0
MAC
Toledo, Akron, Kent St, @ Buffalo
Buffalo (19-3)
9–0
3–1
MAC
CMU, @ Toledo, Kent St, Bowling Green
Davidson (16-5)
10–0
2–2
Atlantic 10
Dayton
Gardner Webb

Gonzaga (21-2)

9–0

13-0

1–3

2–2

Big South

West Coast

Winthrop

San Fran, St. Mary's, BYU

Grand Canyon (14-7)
9–0
4–0
WAC
New Mexico St, CS Bakersfield
Hofstra (19-4)
12–0
4–1
Colonial
at Charleston
Houston (21-1)
16-0
3–2
AAC
Cincinnati, @ UCF
Kansas (17-5)
12–0
2–3
Big 12
Kansas State, Baylor
Kentucky (19-3)
12–0
2–2
SEC
LSU, Tennessee, @ Tennessee
Louisiana Tech (15-9)
12–0
5–0
Conference USA
UTSA
Marquette (19-3)
14-0
3–2
Big East
Villanova, @ Villanova

Michigan

(21-2)
14-0
5–1
Big Ten
Wisconsin, Maryland, Michigan St, @MSU
Nevada (21-1)
11–0
4–1
Mountain West
New Mexico, Fresno St, @ Utah St, SDSU
Northern Kentucky (18-6)
13-0
3–2
Horizon
Oakland, @ Wright State
Purdue (16-6)
11–0
4–2
Big Ten
at Maryland
Rider (12-10)
7–0
0–4
MAAC
Canisius, Siena, Monmouth-NJ, @ Quinnipiac
Tennessee (20-1)
12–0
2–1
SEC
SC, Kentucky, LSU, @ Kentucky
Virginia (20-1)
11–0
3–1
ACC
Duke, @ NC,  @ LOU, @ Syracuse, Louisville
Washington (18-4)
12–0
5–0
Pac 12
at Arizona, @ ASU, Oregon State
Yale (13-4)
6–0
1–0
Ivy
Princeton, Harvard, Cornell, @ Princeton
1-home loss teams through Feb. 4.
Akron, Auburn, Austin Peay, Belmont, Brown, Cal State Bakersfield, Central Florida (UCF), Charleston, Cincinnati, Colgate, Duke, East Tennessee State, Florida State, Furman, Georgia State, Harvard, Iowa State, Jacksonville State, Kansas State, Liberty, Lipscomb, Louisiana Monroe, LSU, Loyola Marymount, Memphis, Michigan State, Minnesota, Mississippi State, Montana, Murray State, New Mexico State, New Orleans, North Alabama, NC Greensboro, North Dakota State, North Texas, Old Dominion, Sam Houston State, San Francisco, San Diego, South Dakota State, TCU, Texas Tech, Toledo, Utah State, Utah Valley, UC Santa Barbara, VCU, Virginia Tech, Wofford.
Article posted at osga.com.
FairwayJay is a leading national sports and betting analyst providing insight and information you can bet on for nearly two decades from Las Vegas. His work, writing and content is provided to various sites and leading sources. Follow him on Twitter: @FairwayJay