U.S. Open Preview and Projections
Betting the U.S. Open at Shinnecock Hills
Over the years, the U.S. Open has been my toughest tournament to make birdies and turn a betting profit. Whether it's the changing venues or the difficulty of the course and conditions, it's been tougher to navigate. This year we'll shoot for par at Shinnecock Hills, as the Open returns to a classic venue and tough tournament test.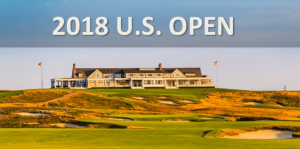 Last year however, we hit the green and made birdie at the U.S. Open at Erin Hills, as we not only had Brooks Koepka as a solid long shot winner, but also hit both our match-up plays posted in our U.S. Open player profile and picks article. This year we've been solid tee-to-green and making birdies with our match-up plays. With a record handle at the Masters, we had one of our best tournaments ever this year and more match-up winners in our Masters player profiles, props and predictions article.  Our run of birdies continued on our Players Championship preview and picks article with another match-up winner.
So tournament match-up betting remains the focus as we move forward with more major championship previews and predictions. We'll chip in some thoughts on potential props and winners, contenders and top-50 players of interest.
Course Preview, Changes and Setup
Shinnecock Hills is going to be drastically different than it was 14 years ago, when it hosted the Open in 2004. The course and greens then were ridiculous, and winner Retief Goosen (-4) put on one of the most incredible putting performances while ranking no. 1 in scrambling in victory over runner-up Phil Mickelson; the only two players to break par. All players in the field managed to hit just 51%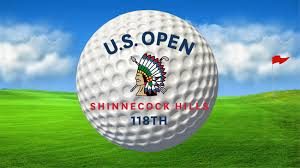 of both fairways and greens in 2004 at Shinnecock, and now the course will play more than 450 yards longer to greater than 7,440 yards at par 70.
Many trees have been removed and the underbrush has been cut back. The course replaced some of its rough with fescue that will be more challenging for players and give the course a feeling of being tighter. It's a sand-based course than plays like a links course, but dry. The green complexes at Shinnecock are still one of its great defenses when it gets firm, and the poa annua greens can get a little bumpy and provide more frustration and require greater patience. The USGA can make pin placements more difficult, demanding even more precision, and patience and made mid-range putts from the players.
The U.S. Open is the USGA's right to how the course will play, and course setup has the biggest role. The philosophy of the United States Golf Association (USGA) is to make the U.S. Open the most rigorous, yet fair examination of golf skills while testing all forms of shot-making. It's an examination of strategy and course management, and it's a test and strategy of nerves. So, the USGA likes to set up the golf course to not only test the top player's skill level with difficult course conditions, but also test players' mental makeup and survival skills. Efficiency, endurance and energy no doubt play a large part in a player's ability to excel and execute in a pressure-packed environment.
Video Flyover of Shinnecock Hills and Hole-by-Hole Preview
At Shinnecock Hills Gold Club, near the luxurious Hamptons, total focus and execution will be demanded by the players. The wind may also be a most determining factor in restoring order and scoring. In 2016, Dustin Johnson (-4) won the U.S. Open and just four players broke par. Last year, the wind did not blow as expected at Erin Hills, and the best players in the world ate the course for lunch with Brooks Koepka winning at 16-under par and seven players posting 10-under or better. That's unusual for a U.S. Open, and you can be sure the USGA won't let that happen again, although the fairways will be firmer and are wider averaging approx. 35 yards wide. All reports are that big hitters will have a definitive advantage, and still be able to advance the ball to the greens if hitting the first wave of fescue rough off the tee. Missing fairways by more into the second cut will be a definite penalty as it should be, and recovery will be difficult. Remember big hitters like Dustin Johnson, Jon Rahm, Adam Scott, Justin Rose, Charl Schwartzel and Bubba Watson all missed the cut at last year's U.S. Open as they struggled to keep the ball in play.
Temperatures are projected in the 70's with winds all four days from 12-16 MPH. But with more trees removed from the course, the wind should blow more and become a bigger factor with the course setup making it the ultimate test of survival, shot-making and saving par.
Key Stats
– Strokes Gained Off-the-Tee – The per round average of the number of strokes based on the number of fairways and distance hit.
– Strokes Gained Approach-the-Green – Takes into account the number of greens and the proximity to the hole in the interest of interest of saving shots.
– Strokes Gained Around-the-Green – Number of strokes gained from shots around the green, much of it is scrambling and bunker play.
– Strokes Gained-Putting – The number of strokes gained in putting.
Since 2011, there has not been a major championship winner lower in the world rankings than no. 48. So while we like to consider long shots and also find players to fade in the match-ups, it's not likely that a surprise player emerges to win this week. Nearly half the 156 players went through qualifying to earn their way into the U.S. Open field, and a record 23 amateurs are playing at Shinnecock.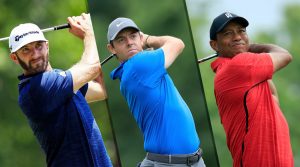 All of the players can expect a supreme test of not only shot-making and having to use every club in their bag, but precision putting, creative scrambling and perhaps of most importance patience. The U.S. Open is the ultimate mental challenge, and if you're not prepared to deal with mistakes, playing from the rough, missed putts and making bogeys, then you'll be gone by the weekend and struggle even if you survive.
Since the 2000 PGA season, the U.S. Open has ranked as the toughest tournament in golf with a scoring average near 74. Last year's results at Erin Hills were unusual, but this year players lacking in power, patience, experience and putting have no chance to win and little chance to contend or survive.
U.S. Open Picks and Predictions
Leading Favorites
At the leading online sportsbooks, Dustin Johnson has become the favorite this week at odds of 9-1 at BookMaker.
The next wave of players are from 12-1 to 25-1.
– Justin Rose, Rory McIllroy, Justin Thomas, Jason Day, Ricky Fowler, Jordan Spieth and Jon Rahm, Brooks Koepka, Tiger Woods.
Nine of those players rank top-10 in the World Rankings. Tiger Woods ranks no. 80, yet remains a huge influence in the betting market. As always, shop for the best lines and odds at the leading sportsbooks when wagering.
From that group, I prefer Jason Day and Justin Thomas as top contenders, with Rory McIllroy also in the mix. All three are bigger hitters (top-15 on Tour driving distance), proven players and major champions. Day has finished top-10 in five of his seven U.S. Open appearances with a pair of runner-up finishes. He's a former no. 1 player in the world who has won twice this year with elite putting and around the green play. His lone weakness statistically this season has been Strokes Gained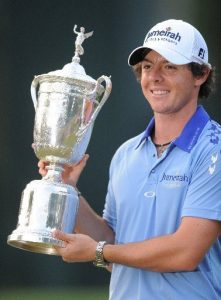 Approach-the-Green. McIllroy won the 2011 U.S. Open and is a 4-time major champion. He won in March in the Arnold Palmer Invitational and was 2nd recently in the BMW PGA Championship at Wentworth and 8th at Jack Nicklaus' Memorial Tournament. Of significance, the supremely talented McIllroy is perhaps the best driver of the golf ball when at his best, and he worked extensively on his driving with his swing coach Michael Bannon prior to the BMW PGA and it has really paid off since. Justin Thomas took over as the no. 1 player in the world until Dustin Johnson regained it last week following his win. Thomas' stat profile is superb, as are his results recently and earlier this year winning the Honda Classic. Both Day and Thomas are PGA Championship winners and ready to fire and contend at the U.S. Open.
Fairway Fades include Jordan Spieth, whose putting has been problematic this year and other parts of his game went bad at the recent Memorial tournament where he missed the cut. Not the kind of form or confidence to be questioning heading into the most rigorous test in golf at the U.S. Open. Very surprised if he contends this week. Same fade of Sergio Garcia, a name player off his game with four missed cuts in his last five PGA Tour events since April, and returning to his disappointing ways. Better consideration for Sergio at Carnoustie next month at the Open Championship, but not on a most demanding test on U.S. soil at Shinnecock.

Longer shots to consider and bet to win, 3-way, higher finishes and match-ups
Paul Casey, Branden Grace, Charles Howell, Marc Leishman, Phil Mickelson, Louis Oosthuizen, Henrik Stenson
Only Howell (59) is ranked outside the top 50 in this group, but at 250-1 odds, he's superior value in the betting market compared to many other capable contenders.
Tournament Match-ups
Justin Thomas (+100) over Rickie Fowler
Fowler continues to play well this year while searching for his first major. He has nine top-10 finishes in 33 major championship starts and has made seven straight cuts in the majors. Yet I'm not sure why Fowler is favored over Justin Thomas in a tournament match-up. Fowler's stats are solid, but he's giving away 15 yards or more off the tee to Thomas, whose stats and play are superb, especially in Strokes Gained Off-the-Tee and Strokes Gained Approach-the-Green. Some similar arguments for Jason Day at slightly bigger underdog price against Fowler.
For our Fairway match-up play of this tournament we'll lean to our long shot to carry us to the cash.
Charles Howell (-135) over Kevin Chappell
Howell has not performed well in the majors during his career, and in fact he returns to a major championship for the first time since the 2015 PGA Championship. But CH3 is playing well this year with supporting stats and is vastly underrated in the market. For this tournament match-up, we get Howell against Chappell, who struggles mightily on and around the green, where he ranks outside the top-150 on Tour in Strokes Gained-Putting and Strokes Gained Around-the-Green. Chappell has missed five of six cuts since the Masters this year, and has posted one round under 70 in those six events. He also struggled and missed the cut on another classic course and tough test at Oakmont in 2016. Chappell can hit it long, but the rest of his stats are sub-par or poor, including his sand-save percentage where he's likely going to be playing from more often this week. While the media and even handicappers focus on the bigger names and marquee match-ups this week, we step in with Charles Howell, an under-rated consistent and quality pro who has made 10-straight cuts on Tour against a struggling player likely to miss the cut again. Laying 1.5 strokes with Howell at +110 (BookMaker) is also a bargain if Chappell struggles as much as we expect.
Best wishes as you watch and wager on the U.S. Open and enjoy the most grueling test of golf this season.
Article posted at osga.com.
FairwayJay is a leading national sports analyst and is recognized as one of the sports industry's most insightful handicappers and professionals. Follow him on Twitter: @FairwayJay