The 2019 Masters Betting Preview – Players, Projections, Profiles and Odds
The Masters – A Tradition Unlike Any Other
I provided a Masters preview with profiles, projections and betting odds at Forbes.
Rory McIlroy heads the Fairway favorites of interest.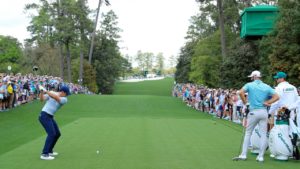 Jon Rahm over Tiger Woods leads the match-ups list. Last year we had one of our best ever Masters in match-up wagers, going 4-0 for members plus 5-0 on additional chip-in opinions. The 2018 Masters set a record handle in Las Vegas, and the SuperBook expects another record-breaking year on Masters betting.
This year we fade 2018 Masters champion Patrick Reed who is struggling, and also  whack Jordan Spieth out of our foursome for not playing well enough to make the grade. I outline more in my article at TheLines as to why bettors are throwing away money betting on Spieth to win the Masters.
FairwayJay is a leading national sports analyst and is recognized as one of the sports industry's most insightful handicappers and professionals. Follow him on Twitter: @FairwayJay