Super Bowl LIII MVP Odds – Any Value Picks Outside Of Favored Quarterbacks?
Sports betting brings out the biggest stories and prop bet offerings during the week leading towards the Super Bowl. Props bets will make up 40-50% of the handle for many leading sportsbooks, including the Westgate SuperBook in Las Vegas, which released more than 1,000 Super Bowl prop bets on Jan. 24. Super Bowl MVP odds draw some interest despite being a less than favorable bet.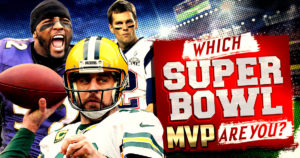 I provided a recent piece for TheLines outlining Super Bowl MVP odds, historical winners and potential value on players other than the quarterbacks. Seven of the last nine Super Bowl MVP winners were quarterbacks, and 29 of the 52 Super Bowl MVP winners have been quarterbacks.
I wouldn't bet QB Tom Brady, but many will despite his ridiculous low MVP odds. Nor will I be betting on the Patriots. So if you are in agreement, you can start formulating other potential MVP winners and determine how the game may play out to assist you in player prop betting as well.
You can see the importance of shopping best MVP odds and prop bets numbers from the MVP odds chart below. These are MVP odds taken from the Las Vegas SuperBook and the new sportsbooks in New Jersey, one of eight states now offering legal sports betting in the U.S.
Check out the rest of the Super Bowl MVP article and some of the insight on additional players.
| | | | | |
| --- | --- | --- | --- | --- |
| Player | DraftKings | BetStars | FanDuel | SuperBook |
| NE QB Brady | +110 | -105 | +115 | +100 |
| LA QB Goff | +235 | +200 | +180 | +200 |
| NE RB Michel | +2000 | +1800 | +2000 | +1600 |
| LA RB Gurley | +1400 | +1600 | +2000 | +1600 |
| NE RB White | +2800 | +2000 | +2500 | +4000 |
| LA RB Anderson | +2200 | +1600 | +2500 | +2000 |
| LA DT Donald | +1900 | +1800 | +2500 | +2500 |
| NE RB Burkhead | +5000 | +6000 | +5000 | +1000 |
| LA WR Cooks | +3300 | +4000 | +5000 | +3000 |
| LA WR Woods | +3300 | +4000 | +5000 | +3000 |
| NE WR Edelman | +2200 | +4000 | +5000 | +3000 |
| NE TE Gronkowski | +3300 | +5000 | +5000 | +4000 |
| LA LB Fowler | +8000 | +6600 | +7000 | +1200 field |
| LA WR Reynolds | +6000 | +6000 | +7000 | +6000 |
| LA DT Suh | +5000 | +6000 | +7000 | +1200 field |
| NE LB Hightower | +15000 | +15000 | +1000 | +1200 field |
| NE FB Develin | +20000 | +1000 | +1000 | +1200 field |
| NE LB Van Noy | +10000 | +1000 | +1000 | +1000 |
| LA K Zuerlein | +8000 | +1000 | — | +1000 |
| NE K Gostkowski | +1000 | +1000 | +1000 | +1000 |
FairwayJay is a leading national sports analyst and is recognized as one of the sports industry's most insightful handicappers and professionals. Follow him on Twitter: @FairwayJay