Stanley Cup Odds: Vegas Golden Knights Favorite Into March
Betting on Vegas And The Stanley Cup Favorite Golden Knights
Just five weeks remain in the NHL regular season, and the push for the playoffs and positioning is in full stride. The Vegas Golden Knights are now the favorite to win the Stanley Cup, and +450 in Las Vegas at William Hill Sportsbook as they try to do one
better than their Valiant victory and emotional record-breaking inaugural season in 2017-18 when they went to the Stanley Cup finals.
My recent update at Forbes includes Stanley Cup odds on teams in the playoff chase, my night on press row and in the Golden Knights locker room following a 3-0 win over the Edmonton Oilers. Plus trade information updates on the Golden Knights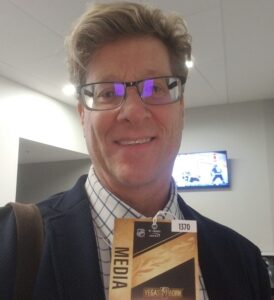 and Edmonton Oilers, and other odds and information you can bet on.
The Golden Knights extended their winning streak to eight games with a 4-2 home win over the Buffalo Sabres Feb. 28, but then lost 4-1 as a -330 favorite to the LA Kings in Vegas March 1. The winning streak included seven home wins over playoff teams – Blues, Islanders, Capitals, Lightning, Panthers, Oilers and Sabres.
I updated more on the Golden Knights, situational handicapping plus Stanley Cup odds at some leading online sportsbooks in my article at Offshore Gaming Association.
Vegas was in 5th place in the Pacific division and out of the playoff picture (9th in points) in the West on Jan. 15 before making their move to the top of the division and now sit 36-23 for 80 points (8 OT/shootout losses). That's just in front of Edmonton (78 points), Calgary (75) and Vancouver (74).
The Knights still have a pair of difficult Western Canada road trips ahead over the final month of the season. We'll be looking towards the Oilers in a redemption rematch in Edmonton against the Knights on March 9.
The defending Stanley Cup champion St. Louis Blues (88 points), Colorado Avalanche (87) and Dallas Stars (81 points) still have more points than the Golden Knights in the push for the playoffs and top positioning.
The Golden Knights will also conclude the regular season the end of March and early April with the tough Western Canada road trip at Winnipeg, Edmonton, Calgary and Vancouver, so there are some tough games and scheduling situations ahead.
Stanley Cup odds for playoff contenders as of February 27, 2020
| | | |
| --- | --- | --- |
| Team | FanDuel | William Hill |
| Tampa Bay | +500 | +500 |
| Boston | +700 | +700 |
| Vegas | +1000 | +450 |
| Colorado | +1000 | +900 |
| Pittsburgh | +1000 | +1000 |
| St. Louis | +1100 | +800 |
| Washington | +1100 | +800 |
| Dallas | +1400 | +1200 |
| Philadelphia | +2100 | +2500 |
| NY Islanders | +2200 | +3500 |
| Edmonton | +2300 | +2000 |
| Carolina | +2300 | +3500 |
| Vancouver | +2600 | +2000 |
| Toronto | +2700 | +1700 |
| Calgary | +3500 | +5000 |
| Nashville | +3800 | +3000 |
| Arizona | +4000 | +4000 |
| NY Rangers | +4000 | +7500 |
| Florida | +4800 | +7500 |
| Winnipeg | +4800 | +6000 |
| Columbus | +5000 | +5000 |
| Minnesota | +5500 | +12500 |
FairwayJay is a leading national sports analyst and is recognized as one of the sports industry's most insightful handicappers and professionals. Follow him on Twitter: @FairwayJay