SportsBooks React To Raiders WR Antonio Brown Suspension News
The drama and mercurial behavior continues for Oakland Raiders wide receiver Antonio Brown. The recent news that the Raiders are planning to suspend Brown has caused more issues within the organization. And as I covered in this article at TheLines, the sportsbooks have reacted swiftly.
Monday's Week 1 home opener now finds the Raiders a 2.5-point underdog to the Denver Broncos. The sportsbooks had the game at Pick 'em prior to the news, and the Westgate SuperBook opened the Raiders a 3-point favorite back in April. Las Vegas sportsbooks also reduced the Super Bowl odds on the Raiders to 40-1 with so much betting on the popular Raiders in Las Vegas. Oakland is at least 80-1 and even as high as 220-1 at other sportsbooks to win the 2020 Super Bowl.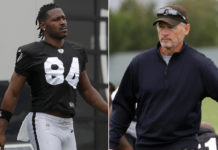 The Raiders have not formally suspended Brown, but the bumbling behavior of the Raiders expensive offseason acquisition is becoming more costly, and the star receiver is clearly affecting the chemistry within the team and organization. Recall last season the Raiders traded away WR Amari Cooper, and even superstar LB Khalil Mack. Hopefully, these troubled times for the Raiders will fade before the team moves to Las Vegas and into its new nearly $2 Billion Allegiant Stadium in in 2020. Will the Raiders cave in to Brown again and not suspend him? The organization has plenty of money and  the Raiders have a valuation of $2.9 billion thanks to its new stadium and move to Las Vegas. That's double the teams value from 2015 and moves the Raiders to No. 12 most valuable team in the NFL.
Read more about Browns issues, potential suspension, fines and argument with GM Mike Maylock at TheLines. A Week 1 loss to Denver will likely see the Week 2 lookahead lines go higher on the Chiefs (-6.5) when they visit Oakland with the Raiders playing on a short week and potentially without Brown.
FairwayJay is a leading national sports analyst and is recognized as one of the sports industry's most insightful handicappers and professionals. Follow him on Twitter: @FairwayJay