Seahawks No Shot At Super Bowl After Loss To 49ers
The Seattle Seahawks came up less than a foot short of victory Sunday night against San Francisco (-3) in a 26-21 defeat. But the chances of a run to the Super Bowl are more than 100 yards long following defeat.
I wasn't high on Seattle down the stretch as they continued to over-achieve. But give Seattle and coach Pete Carroll credit for resiliency and battling through so many close games to get wins this season. However, injuries are taking their toll, which is the case for many teams. The combined energy and effort over the final weeks and especially against the 49ers will take its toll on the Seahawks even with Russell Wilson guiding them so well into the playoffs.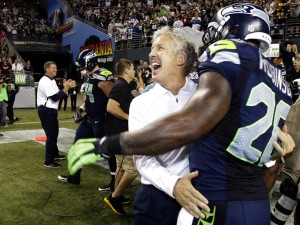 As I noted in my weekend article at Forbes – Why the Seahawks are a Bad Bet to Win the Super Bowl – I expected the 49ers to win (and cover) against the Seahawks in Week 17. The Seahawks nearly rallied from 12 points down with less than six minutes remaining to pull out the improbable comeback. But this team is out of gas and I didn't see the Seahawks as a threat to make a Super Bowl run or win the title this year with a sub-par defense that is not coached or coordinated too well on the defensive side.
Seattle's odds were 15-1 to win the Super Bowl prior to Week 17 and even ridiculous odds of 7-1 at Caesars properties. Following the defeat to San Francisco, the Seahawks Super Bowl odds are now 25-1 but still just 9-1 at Caesars. Sportsbooks can have different liabilities on teams in the futures market, thus shopping and betting best lines is always advised.
Time will tell as the playoffs begin and Seattle travels to Philadelphia for the wild card round against the weakest entrant in the NFC. The Seahawks (-1) are a slight road favorite on the opening lines. If you're betting futures to win the Super Bowl at this time, I wouldn't waste money on the Seahawks. But if you're tempted, you'll get a much better return making a moneyline bet on the Seahawks each game and hoping they can win four straight to capture Super Bowl LIV – the 54th Super Bowl Feb. 2, 2020 at Hard Rock Stadium in Miami Gardens, FL.
Saturday, Jan. 4
Buffalo at Houston (-3) Total 41.5
Tennessee at New England (-5.5) Total 43.5
Sunday, Jan. 5
Minnesota at New Orleans (-8) Total 47
Seattle (-1) at Philadelphia – Total 46
Bye
#1 Baltimore
#2 Kansas City
#1 San Francisco
#2 Green Bay
Real time odds and lines from Las Vegas sportsbooks, and betting data and percentages on teams and contests from Sports Insights – consensus from seven leading online sportsbooks.
FairwayJay is a leading national sports and betting analyst providing insight and information you can bet on for nearly two decades from Las Vegas. His work, writing and content is provided to various sites and leading sources. Follow him on Twitter: @FairwayJay