Profitable NBA Profile Wins Again
Here is a profitable NBA situation that I provided in my article and analysis at Offshore Gaming Association. The Wizards win over the Knicks on Dec. 3 improved the situational profile to 10-0 ATS since last season, and 5-0 ATS this season.
Play against a home underdog that is a losing team (sub-.500), and won their most recent game at home by 3 points or less.
SU:
57-171 (-7.61, 25.0%)
ATS:
83-145-0 (-2.53, 36.4%)
These teams have won the game just 25% of the time and covered the spread just 36% of the time following the NY Nets loss Monday.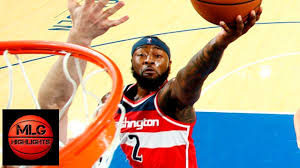 Something to watch for as the season progresses.
The Wizards won their 9th straight game at New York against the Knicks. Washington (-2) trailed by 9 points at halftime before completely controlling the second half and building a 15-point lead with less than 4 minutes remaining in the 110-107 win.
"That second half, that defense in the third quarter, we were good," said head coach Scott Brooks. "We were swarming the basketball, and that's what we've wanted to do. We've changed our defense the last three or four games. Our bigs are doing a good job and our guards are pursuing. We just have to continue to do it."
The Wizards last four games have all gone under the total by at least 10 points per game.
FairwayJay is a leading national sports analyst and is recognized as one of the sports industry's most insightful handicappers and professionals. Follow him on Twitter: @FairwayJay