No Slowing Down Auburn And Purdue In Music City Bowl Shootout
Betting the Total in Expected Music City Bowl Shootout
The layoff from the regular season finale and a team's bowl game can curtail momentum and potentially timing, but the passing potential in this Music City Bowl match-up still strikes a sweet tune. Rather than breaking down the stats, match-ups and motivation to determine which team will win, let's score by taking a shot in evaluating how the game will play out and make money at the sportsbooks by betting on the total points scored.
2018 Music City Bowl
Auburn Tigers (7-5) vs. Purdue Boilermakers (6-6)
Friday, December 28th – Nashville, TN 1:30pm ET (ESPN)
Betting Line: Auburn -3 (55)
This total may rise as more than 75% of the bets made so far are OVER the total. That's from a consensus of seven of the sports betting industry's leading sportsbooks as monitored by Sports Insights. That includes industry-leading BookMaker.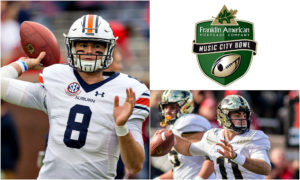 Both teams have skilled quarterbacks that should have success in this match-up. Purdue senior QB David Blough completed 66% of his passes for 3,521 yards at 8.3 yards per pass with 25 touchdowns. After taking over as starter in Week 3, Blough was consistently throwing for big yardage, passing for at least 295 yards in eight games. Fabulous freshman Rondale Moore broke on the scene in Week 1 and never slowed down catching 103 passes for 1,164 yards and 12 touchdowns. He's an elusive bolt of lightning for the Boilermakers who led the nation in receptions and earned All-American honors.
Auburn quarterback Jarrett Stidham has declared early for the NFL draft, but he'll play with his teammates in this bowl game. That's refreshing, and he'll be rewarded with a big day through the air as Purdue's pass defense is deficient allowing a nation-high 23.8 receptions per game. The Boilers allowed 280 passing yards per game versus FBS opponents this season to rank No. 127 in the country. Like the Auburn offense, Stidham was inconsistent and did not reach expectations this season passing for 2,421 yards and 60% completions. A closer inspection of the schedule and opponents shows the Tigers played many teams with tough defenses. From the opening week win against Washington to SEC defensive dominators Alabama, Georgia, LSU and Mississippi State, the Tigers managed to score just 16 points per game with a high of 21 points against those teams. But in Auburn's other seven games, the Tigers averaged 32 points per game.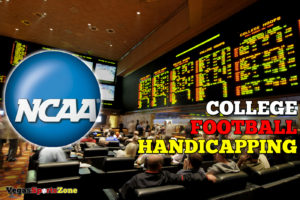 The Auburn offense should balance the attack with Purdue missing defensive tackle Lorenzo Neal, who suffered a torn ACL in the season finale against Indiana. Neal is the defensive leader and captain, and his loss has forced coach Jeff Brohm and his staff to adjust in preparation for the Music City bowl. Lack of depth and deficiencies along the line should result in more success for Stidham connecting on short routes to senior WR Ryan Davis, Auburn's career receptions leader. Senior safety Jacob Thieneman does return for Purdue after missing the last three games with a shoulder injury and infection, but still anticipate the Tigers to move the ball well and score.
Purdue passes the ball 39.2 times per game and averages 6.3 yards per play on offense; both top-15 in the country. Auburn is far more balanced with 31 passes per game and 36 rushing attempts per game, but with Purdue's weakness on defense the Tigers yards per play and passing efficiency should increase. Purdue allowed an average of 264 rushing yards over their last three contests including 47 points to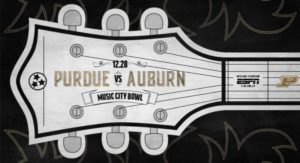 Wisconsin and 41 points to Minnesota. That was with Neal in the lineup, and he'll now miss this bowl game. Auburn's balance will open up the passing game for Stidham to have more success in his final game and he'll surely want to impress.
Auburn did not play a team that passes the ball as much as Purdue, but in the Iron Bowl, Alabama piled up 500 yards offense including 324 passing and 5 touchdown passes in a 52-21 win. Pass-heavy Ole Miss managed just 16 points against Auburn in a 31-16 Tigers win, but Ole Miss had 447 yards offense which included 324 passing yards. Tennessee was the other team to pass for more than 300 yards against Auburn, and the Vols one-dimensional attack with 400 yards total offense pulled the upset at Auburn 30-24.
Only the potential of light rain in the forecast or turnovers in scoring territory to stall drives should keep this game from having the scoring anticipated. Purdue coach Jeff Brohm revived the career of senior QB Blough, and along with Auburn coach Gus Malzahn, these are two excellent offensive minds and coaches. We bet the time to prepare allows these quarterbacks and offenses to rise up and score more in a Music City Bowl battle worth watching.
Music City Bowl Pick – OVER 55
FairwayJay is a leading national sports and betting analyst providing insight and information you can bet on for nearly two decades from Las Vegas. His work, writing and content is provided to various sites and leading sources. Follow him on Twitter: @FairwayJay