NFL Handicapping – Wild Card Betting
7-1 Weekend of Wild Card Betting
We had a great weekend in the wild card betting round going 7-1 providing members a side and total play or opinion on every game. That included 4-1 on rated plays and 4-0 on the four NFL sides.
My early week analysis of each game is provided below in the links, and note our only loser was on the Bengals/Steelers total where I indicated the advance weather issue potential, and it did rain throughout the contest. The Bengals managed to absolutely bungle and blow the game late in a stunning 18-16 loss to the Steelers, but we did have a Top Play winner on the Bengals as 'Dog in defeat.
For those that follow along on social media, I did tweet some info regarding various historical situations and technical parameters, including that home underdogs with the better straight up record were 9-3 ATS in the wild card round, and both the Vikings and Bengals fit those profiles and covered in devastating defeats. A rare occurrence in the wild card round also saw all four road teams win.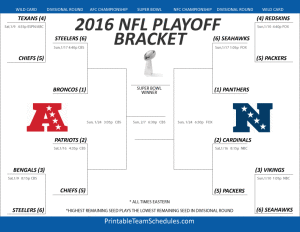 Kansas City 30
Houston 0
Pittsburgh 18
Cincinnati 16
Seattle 10
Minnesota 9
Green Bay 35
Washington 18
In 2002, the NFL expanded to 32 teams with eight divisions. Since that time, teams with a higher Strength of Schedule (SOS) using Sagarin's Ratings were 37-15 SU and 37-14-1 ATS (73% winners) regardless of price and playoff location. Underdogs with the stronger strength of schedule went 19-6 ATS. Clearly lines move and sometimes even from favorite to underdog; such was the case in this year's playoffs with the Redskins and Packers game. There are some additional tighteners to the strength of schedule situation when using it for betting purposes.
In this year's wild card round, the Chiefs, Steelers, Vikings and Packers had the stronger SOS, and those teams went 3-1 SU and 3-1 ATS (noting the Steelers moved to -2 in places at kickoff, but we're grading +3 or even +2.5 as available to game day). So add those records to the records above and reference for future seasons.
As you evaluate the divisional round of the playoffs, know that all four underdogs have the stronger strength of schedule over the favored home teams, so follow along and see if the Chiefs, Packers, Seahawks and Steelers can continue the strong trend using SOS as a powerful betting tool.
FairwayJay is a leading national sports analyst and is recognized as one of the sports industry's most insightful handicappers and professionals. Follow him on Twitter: @FairwayJay