NFL Betting Podcast Week 7 with @FairwayJay
Each week on the NFL betting and handicapping podcast, FairwayJay will analyze the upcoming Sunday games and also provide his insight on the Thursday night contest. A brief recap of the previous week's games will be analyzed and the results will be incorporated into the analysis and handicap of the current week's games.  If something happened over the weekend that has betting ramifications you can bet it's being handicapped and covered by FairwayJay each week on the Vegas Sports Zone NFL betting podcast.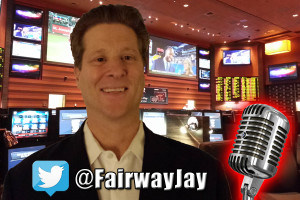 The NFL Betting Podcast Week 7 with professional sports handicapper FairwayJay includes an opening segment and recap of the previous week's games and impact of point spread results. FairwayJay went 5-2 on his official client selections including 3-0 on totals in week 6!  Top Play Club members went 2-1 despite a top-play loser on the Green Bay Packers. That was a tough one to take after Green Bay controlled the game throughout, along with the meaningful stats, before Baltimore's 4th and 21 completion over the top with 2 minutes to go in the game followed by a TD pass for the 1/2-point backdoor cover, 19-17.
FairwayJay digs into the week 7 match-ups and provides ATS betting situations surrounding the teams and games on the week 7 card.  Some match-ups show a disparity at the point of attack, and FairwayJay discusses which teams project to have success running the ball and stopping the run.   Note that through week 6 games, teams that run the ball an average of 20 times or less per game are a combined 5-32 ATS this season.  Three teams in Week 6 ran the ball exactly 21 times and went 0-3 SU/ATS.  However, week 6 was the worst week YTD for rushing teams, an actual rare losing week, as teams that had a meaningful rushing yards advantage did not produce profit overall.  The teams that average 20 rushing attempts per game or less this season are:  NY Giants, Dolphins, Steelers, Falcons and Cowboys.  The teams that run the ball at least 30 times per game on average are the: Bills, Seahawks, Eagles, Panthers, Bengals.
FairwayJay provides insight, analysis and opinions on sides to support along with totals of interest. There are 6 division games on the Week 7 card highlighted by the first place showdown in the NFC East between the Eagles and Cowboys (both teams 3-3).  Home underdogs went 3-2 ATS in week 6 with the Chargers Monday night victory the only outright winner. Five more home underdogs are on the Week 7 card: Cardinals (Thurs), NY Jets, Jaguars, Titans and Colts.
Tune into the Vegas Sports Zone NFL betting podcast this week and let FairwayJay guide you to the green as he provides insight and analysis with information you can bet on.
FairwayJay is a leading national sports analyst and is recognized as one of the sports industry's most insightful handicappers and professionals. Follow him on Twitter: @FairwayJay