NFL Betting Podcast Week 10 with @FairwayJay
Listen to the NFL Betting Podcast Week 10 with FairwayJay as he breaks down the games and provides his thoughts, analysis and insight on this week's contests.  If something happened over the weekend that has betting ramifications you can bet it's being handicapped and covered by FairwayJay each week on the Vegas Sports Zone NFL betting podcast.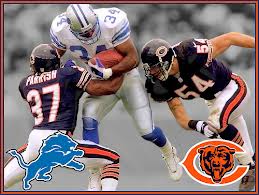 The NFL Betting Podcast Week 10 features four division games including the first place showdown with Detroit at Chicago.  Last week FairwayJay nailed his AFC Underdog Game of the Year in a division game when the Cleveland Browns went wire-to-wire in a 24-18 win over the Baltimore Ravens.  Additional division games and conference clashes this week with meaningful results towards teams' pursuit of the playoffs and division titles include Cincinnati at Baltimore, Carolina at San Francisco, Denver at San Diego and Sunday Night Dallas at New Orleans.
This week's bye teams are the Browns, Chiefs, Patriots and NY Jets.  Pay attention to teams playing this week that had a bye last week – Cardinals, Broncos, Lions, Jaguars, NY Giants and SF 49ers.
FairwayJay provides some early week thoughts, analysis and ATS information and betting situations on the NFL betting podcast week 10.   Injuries are a big part of each week's games, and FairwayJay provides insight and daily articles on match-ups to provide you information to make more informed betting decisions. Note last week's additional wagering opportunity adding the Cleveland Browns to your teaser play portfolio in a detailed article and analysis on the Browns vs. Ravens game.   Each week FairwayJay analyzes and discusses point of attack play as part of his handicapping of games, and points out proven profiles on teams that have success running the ball and stopping the run.   Note that through week 9 games, teams that run the ball 20 times or less in a game are a combined 9-52 ATS this season, including 1-5 ATS in week 9. Conversely, teams that run the ball at least 30 times per game are 61-15 ATS this season.
FairwayJay provides insight, analysis and opinions on sides to support along with totals of interest on the NFL Betting Podcast Week 10.  Listen to this week's Podcast and get involved with weekly or monthly membership at reduced rates, and Top Play members join each week for just $39 – all inclusive NFL, CFB, NBA and CBB top plays each week!  Last week FairwayJay went 2-0 on his 20* Top Play Big Bertha plays with CFB winner on Iowa/Wisconsin 'under' the total as his College Football Totals GOY and Cleveland Browns outright as his AFC Underdog GOY. Top Play Club members enjoyed a winning week overall and are off to a winning start this week with a Top Play Club winner in NBA action on Monday.  Make it a November to Remember and start your Pursuit of Profit here.
Tune into the Vegas Sports Zone NFL Betting Podcast Week 10 this week and let FairwayJay guide you to the green as he provides insight and analysis with information you can bet on.
Vegas Sports Zone is home to professional sports analyst FairwayJay. The Vegas Sports Zone team of content creators and analysts provide articles, insight and analysis to engage and inform the avid sports and gaming enthusiast,