NCAA Basketball National Championship Betting Preview – Virginia vs. Texas Tech
Virginia Cavaliers and Texas Tech Red Raiders to Display Defensive Dominance in National Championship
The college basketball national championship has arrived, and the No. 1 seed Virginia Cavaliers (34-3) and No. 3 seed Texas Tech Red Raiders (31-6) are set to deliver another defensive duel. Virginia is a 1-point favorite and the over/under of 118 is the lowest posted total in NCAA Championship history. A consensus of seven leading online sportsbooks which includes BookMakerand 5Dimes shows 57% of the bets on Texas Tech (+1) and 53% of the wagers playing OVER the total as game day arrives Monday.
Since 2005, in NCAA Tournament games with an over/under of 120 or less, the over is 17-11-1.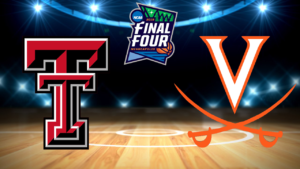 However, in all Final Four and National Championship games since 2005, the under is 7-2 when the over/under is set at 130 points or fewer.
Both Virginia and Texas Tech's defenses are determined and dominant, and that includes top-10 perimeter defenses.
In-game and halftime bettors may like this Texas Tech tidbit: Under head coach Chris Beard, Texas Tech is 9-0 against the second half spread in the NCAA Tournament, covering by 7.9 points per game.
The Red Raiders are also 24-4 ATS in second halves vs. non-conference opponents on the road or neutral courts under Beard.
Virginia's NCAA Tournament games have gone UNDER in four of five games during this year's tournament. A slow down slugfest looks most likely between these two defensive dominators with each team forcing long possessions and contested shots.
I provided a Nationlal Championship preview at Forbes with some historical data, and also details on the remarkable rise of Texas Tech under head coach Chris Beard. For those of us in Las Vegas than enjoy Runnin' Rebels baskeball, recall Beard accepted the UNLV head coaching position in 2016 only to back out weeks later when the Texas Tech job opened.
The Red Raiders had suffered five losing seasons in the six years prior to Beard's arrival as head coach, as Tubby Smith couldn't stop the losing ways in Lubbock. Recall Beard was an assistant coach under Bobby Knight at Texas Tech after bouncing around the lower level college ranks for years.
Now Texas Tech has won a Big 12 title while snapping Kansas' 14-year hold as regular season champs, and Beard has taken Texas Tech to back-to-back NCAA appearances and the Elite Eight. Now after the first-ever Final Four for Texas Tech, the Red Raiders are on the doorstep of a national championship.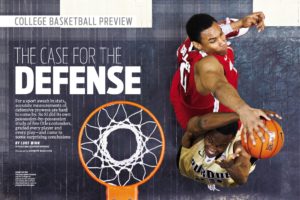 Perhaps it's ironic that Tech will go against the nation's premier defensive team in recent seasons. Tony Bennett has been a Fairway favorite since he took Washington State to the NCAA Tournament prior to accepting the Virginia job in 2009. I provided a Countdown to the NCAA Tournament preview of the top-4 seeds, and you can review the No. 1 and No. 3 seeds, and the overview I provided about Virginia and Texas Tech below.
While Virginia has miraculously escaped with victories over Purdue and Auburn in the last two rounds to get to the championship game, they are still deserving and clearly one of this year's elite teams.
The Cavaliers allowed a nation-low 55.1 points per game this season and have continued that defensive dominance through the NCAA Tournament other than against Purdue. The Cavaliers rank No. 5 in KenPom's adjusted defensive efficiency rankings. Virginia also ranks No. 3 in adjusted offensive efficieny and the Cavaliers are one of the top shooting 3-point teams in the country hitting better than 40% from behind the arc.
Texas Tech ranks No. 1 in adjusted defensive efficiency and have allowed 58.1 PPG this season including the NCAA Tournament, where the Red Raiders have held Northern Kentucky (57), Buffal0 (58), Michigan (44), Gonzaga (69) and Michigan State (51) all at least 19 points below their season scoring average. The Red Raiders are No. 28 in offensive efficiency, but have shown they can score and create shots inside and out through the latter part of the season and NCAA Tournament.
The Red Raiders may reward some long shot bettors who took a shot on Texas Tech in late February at 75-1 odds to win the National Championship. Any anyone that has Texas Tech in their brackets will likely be a winner if the Red Raiders win it all. But Virginia is such a strong opponent and tournament team, and it's just a tough call to suggest any major wager with confidence with the UNDER looking more likely despite such a low total.
NCAA Basketball #NationalChampionship:
Virginia (-1) vs Texas Tech –
One More Win Red Raiders! 75-1 in late February on Big 12 champs #4to1 #Futures #NCAAB #MarchMadness #FinalFour #WreckEm https://t.co/asxRMPveG3 pic.twitter.com/ey3C47t8ti

— Fairway Jay (@FairwayJay) April 7, 2019
Enjoy the defensive display and exceptional coaching of both teams, and a review of our keys to NCAA Tournament success and pre-tournament previews shows we were high on both Virginia and Texas Tech. Both are in our multiple brackets to win the National Championship, and Texas Tech provides a bigger payoff with the added Fairway Forecast in the NCAA Championship futures market.
Virginia Cavaliers
Key wins: North Carolina, Florida State, Louisville (2x), Virginia Tech (2x), Syracuse, VCU, Wisconsin, Maryland
Season ATS: 23-9
National Title Odds: 6-1
Twitter: @UVAMensHoops
Overall Record
29-3
ACC Record
16-2
Head Coach
Tony Bennett
NET
1
KenPom Score
1
Adj Off Efficiency
2
Adj Def Efficiency
5
Overview: Year after year since taking over Virginia's basketball program in 2009, Tony Bennett has proven his elite status in the coaching ranks. Bennett doesn't get the elite talent or McDonald All-American's like the blue blood programs, but he molds his teams into cohesive units and his program and personality represents class. Even in the face of the devastating defeat last year becoming the first-ever No. 1 seed to lose to a No. 16 seed in the NCAA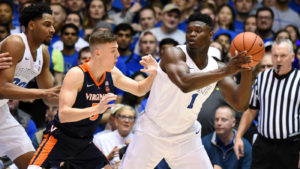 Tournament, there was Bennett using the situation and surrounding events as a learning experience for his players and program. Yet the Cavaliers are back again as the ACC regular season champs. Virginia is so fundamentally sound and the players work tirelessly on both ends of the court. Going through the ACC is tough enough, but perhaps Bennett's teams are worn down towards tournament time with their intensity and status as a defensive dominatorthroughout the season. That's why losing in a major conference tournament should not be seen as a downer for top or elite level teams, as they avoid more back-to-back games and any potential fatigue factor for the big dance. Virginia lost in the ACC tournament semifinals, but no concerns. Virginia's stats are elite, top 5 in adjusted offensive and defensive efficiency, and more balance and scoring with stronger shooters. And the Cavs take care of the basketball, joining Michigan as the top two teams in the country with fewest turnovers per game (9.0). Guard Kyle Guy (15.6 PPG) led the ACC in made 3-pointers and tied for league-best long range shooting at better than 46%. De'Andre Hunter (15.1 PPG) is a potential pro and joins Guy as a 3rd team All-American. Point guard Ty Jerome (13.0 PPG) averaged an ACC-best 5.4 assists per game and has one of the best assist-to-turnover ratios in the country as he continues his improvement as a NBA prospect. Virginia is a team to pull for, and has the players and parts in place to reach the Final Four in Minneapolis and let the chips fall where they may against teams seen as more talented.
Texas Tech Red Raiders
Key wins: Kansas, Iowa State, Kansas State, Oklahoma (2x), Texas (2x), TCU (2x), Baylor
Season ATS: 15-16-1
National Title Odds: 20-1
Twitter: @TexasTechMBB
Overall Record
26-6
Big 12 Record
14-4
Head Coach
Chris Beard
NET
9
KenPom Score
9
Adj Off Efficiency
35
Adj Def Efficiency
1
Overview: This is the #3 seed I like best, and I picked up the Red Raiders at 75-1 to win the NCAA Tournament just prior to March. Few futures for me, but this one had great value and projection, as Texas Tech is a defensive dominator and No. 1 in KenPom's adjusted defensive efficiency rankings. Three years ago coach Chris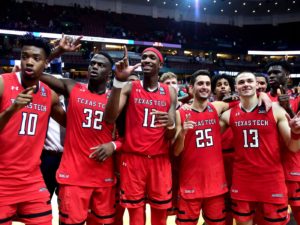 Beard took over at Texas Tech. He'll take the Red Raiders to their second-straight NCAA Tournament, and have a dangerous sleeper that has balance on offense and the nation's No. 1 efficiency defense according to Kenpom. Last year TT went to the Elite Eight, but was without their top player when they lost to eventual National Champion Villanova. The co-Big 12 champs lost in this year's conference tourney in the quarterfinals. That matters very little as the Red Raiders will only be more rested and ready for the big dance. Texas Tech won the Big 12 regular season as co-champs, and were the league's No. 2 shooting team behind another sleeper Iowa State. The Red Raiders have the Big 12's No. 2 scorer in Jarrett Culver and No. 1 3-point shooter in fellow guard Davide Moretti, an game icer at the free throw line to close out games hitting 93% FT in league play. Very well-coached and so many positive stat profiles for Tech, including steals and shot blocking with Tariq Owens inside. Texas Tech finished the regular season playing their best ball on a 9-0 SU/8-1 ATS run while scoring at least 80 points six times. Impressive for a team that does not play fast and features a dominant defense.
Article posted at osga.com.
FairwayJay is a leading national sports analyst and is recognized as one of the sports industry's most insightful handicappers and professionals. Follow him on Twitter: @FairwayJay