NBA Playoff Betting: Game 4 Cavaliers vs Raptors
Will Raptors Avoid the Sweep in Cleveland?
The Raptors are the Eastern Conference's No. 1 seed. They are running out of time to avoid a complete embarrassment in Round 2. DeMar DeRozen had one of his worst games of the season in Game 3, as the Raptors guard and leading scorer was just 3-12 from the field and scored 8 points. Yet Toronto rallied from 14 points down to start the fourth quarter and had the game tied in the closing seconds before LeBron hit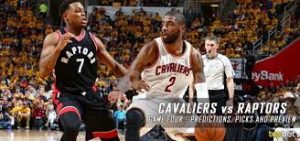 the buzzer-beater fall away jumper.
Cleveland has been out-scored by nearly 2 PPT in their 7 playoff wins, and just one of the Cavs victories was by more than 4 points. The Raptors rally in Game 3 did get us the cover, but their opening two losses as home favorite cost the bankroll a few units. The Cavs go for the sweep in Game 4 at home, and most 'experts' believe the Raptors will roll over.  We're willing to give them another chance.
Many leading online sports books show the Cavaliers a 5-point favorite while most of the Las Vegas sports books have Cleveland a 5.5- point favorite with a posted total of 214.
Toronto +5.5
Cleveland -5.5
Money Line:
Cavaliers -230
Raptors +190
Total 214
What the experts may not realize is that the Cavs are 1-7 ATS in their last 8 playoff games as a favorite, including 0-5 ATS this year. The Cavaliers have still been out-shot (from inside and outside the arc), out-rebounded and out-scored overall with both the Raptors and Pacers combining for more assists in their series' against Cleveland.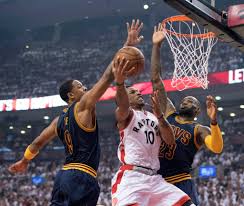 The Raptors turnover troubles have been a real problem in this series totaling 41 to just 18 for the Cavaliers. That despite Cleveland averaging more than 13 TO's per game this season and the Raptors ranking top-6 in fewest turnovers. The Raptors defense has been surprisingly bad this series after being among the top-5 in defensive efficiency with Cleveland ranking at the bottom just ahead of the Suns.
So while LeBron continues to shine, we'll still support our numbers and the betting line knowing too that during all Cavs playoff games with James in the lineup, Cleveland is 23-8 SU but just 10-21 ATS when favored in the competitive price point from -4.5 to-10.5. The Raptors have instilled little confidence in bettors with their turnover troubles and sub-par shooting in two of the three games against Cleveland, but we'll try Toronto again in Game 4 and also play a smaller percentage on the money line as the Raptors try to avoid the sweep.
FairwayJay is a leading national sports analyst and is recognized as one of the sports industry's most insightful handicappers and professionals. Follow him on Twitter: @FairwayJay