NBA Finals Preview And Betting Insight
Raptors Rolling Towards First NBA Championship While Warriors Shoot For 3-Peat
My NBA Finals preview and odds at Forbes.
The odds say the Golden State Warriors should roll over the Toronto Raptors and win their third-straight NBA title. And the experts who follow the NBA agree…read more.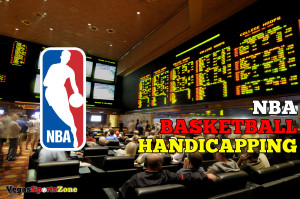 Series odds:
Golden State -270 (bet $270 to win $100)
Toronto +230 (bet $100 to win $230)
Game by game updates and lines posted here from Las Vegas sportsbooks.
Game 1
Raptors (-1) Total 213
Betting activity from Sports Insights, which monitors seven leading online sportsbooks.
Fivethirtyeight.com provides positives for the underdog Raptors.
Raptors Roll In Game 1 Victory, But Toronto Still NBA Finals Underdog
My NBA finals Game 1 recap and update at Forbes.
Game 2 – Sunday, June 2
Raptors (-1.5) Total 215.5
Series adjusted odds: Warriors -150, Raptors +140
After dropping Game 2 in Toronto 109-104, the Raptors went to Golden State and beat the champs in Game 3, 123-109. The money came in on the Warriors in Game 4 as a 5-point favorite to even the series, but the Raptors won again 105-92 to take a 3-1 series lead back to Toronto.
The adjusted series price had Toronto -700 and Golden State +500. But when news came out that Kevin Durant was practicing and likely to play in Game 6, the Warriors series odds dropped to +425 and the Game 5 line fell from Toronto -3 to -2. When Durant was officially announced as playing, the line dropped to PK 'em and even Warriors -1 at tipoff. The timing of bets was important, as Golden State won Game 5 late 106-105 after giving up the lead and trailing by 6 points with less than 3 minutes to play.
Back to Golden State for Game 6 and the final game ever at Oracle Arena.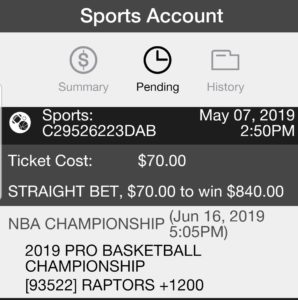 Golden State was made a 3-point favorite and bet down to -2.5 with the Warriors trailing the series 3-2 and needed a win to force Game 7.
But Toronto won their third straight NBA Finals game on the road to take down the 2-time defending champions 114-110. The Raptors won their first-ever NBA Championship and rewarded Toronto betting backers again in the series and the futures market.
The Raptors were 12-1 to win the NBA title in early May during their playoff run against Philadelphia, then went up to 14-1 and as high as 18-1 after losing the first two games of the Eastern Conference finals to Milwaukee before beating the Bucks four straight games to make the NBA Finals.
The rest is history for the Raptors!
Author: FairwayJay
is a leading national sports betting analyst, writer, handicapper and sports betting insider providing insight and information you can bet on for nearly two decades from Las Vegas. He chips in additional sports betting coverage and reporting on industry news and events for leading media and sports betting sites and companies. Follow him on X (Twitter): @FairwayJay