March Madness Cancellation: How It Affects Sportsbooks And Bettors
March Madness Impact On SportsBooks And Bettors
The coronavirus (COVID-19) pandemic is creating chaos across the county and in the sports world. Our county, personal health and well being should be the focus as we transition through this turbulent time. But sports is something we can count on in times of despair, and the NCAA Tournament is something millions of American's and fans look forward to with great anticipation and expectation of enjoyment.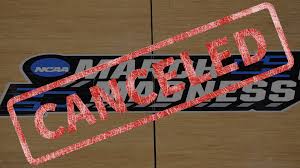 Unfortunately, this year's tournament cancellation has turned into "March Sadness". Fans are feeling the loss, but bookmakers and sportsbook operators are taking a huge financial loss.
In my latest update and article at Forbes, I cover the the betting impact and hard financial hit on the sportsbooks with the cancellation of March Madness.
Last year I reported how sports betting was exploding with March Madness and new states able to take bets on the NCAA Tournament for the first time.
Nearly $350 million was wagered in Nevada on last year's NCAA Tournament. Silver State sportsbooks took in revenue of $36.5 million on March Madness according to the Nevada Gaming Control Board.
William Hill US CEO Joe Asher weighed in on the impact of no betting on the NCAA Tournament and other major sports during the hiatus with FOX Business Network.
https://video.foxbusiness.com/v/6141416348001/
Asher state the "first three days of March Madness equate to Super Bowl Sunday" in terms of betting activity and volume in Nevada. How much is that? A total of $154.7 million was wagered on Super Bowl LIV in Nevada this year.
Unfortunately, we won't be seeing any fantastic finishes or shots like this that sent Utah State to the 2020 NCAA Tournament.
No NCAA Tournament is having a big impact on fans, bettors and sportsbooks. And now Nevada gaming and hotel employees with the shutdown of MGM properties in Las Vegas.
(Banner Photo Credit: Offshore Gaming Association)
FairwayJay is a leading national sports and betting analyst providing insight and information you can bet on for nearly two decades from Las Vegas. His work, writing and content is provided to various sites and leading sources. Follow him on Twitter: @FairwayJay