Kentucky Derby Future Wager Pool 3
Bolt d' Oro a Co-Favorite with the Field in Pool 3 of KDFW
A big weekend of Kentucky Derby prep races are scheduled for Saturday, March 10, and Pool 3 of the Kentucky Derby Future Wager (KDFW) opens it's 3-day run March 9-11.
The Kentucky Derby Future Wager has been a Kentucky Derby tradition since 1999. The KDFW Pool 3, which enables bettors to wager on 23 possible Kentucky Derby contenders plus a pari-mutuel field eight weeks in advance of the May 5 Kentucky Derby, will open Friday at noon (all times Eastern) and close Sunday at 6 p.m.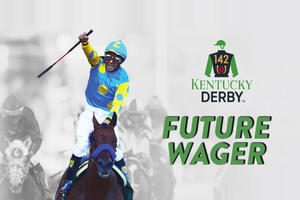 The Derby Future Wager Pool 3 will run concurrently with the lone pool of the 2018 Kentucky Oaks Future Wager. In addition to Win and Exacta betting, an Oaks/Derby Future Double has been added to the Future Wager betting menu for the first time.
Bolt d' Oro is the 6-1 co-favorite in Pool 3 with the pari-mutuel field of "All Other 3-Year-Olds". Bolt d' Oro was 10-1 back in November for Pool 1 of the KDFW, and the wagering interest and handle increased sharply in Pool 2 Feb. 9-11 as interest in the KDFW soared to $521,649, a 58 percent increase from the corresponding Pool 2 in 2017.
Bolt d' Oro is a 3-time winner in four starts and makes his 2018 debut Saturday, March 10 in the San Felipe (G2) at Santa Anita. Betting interest in that race should be strong, as Bolt d' Oro faces McKinzie, who is 8-1 in the KDFW Pool 3. The Gotham (G3) at Aqueduct headlined by Free Drop Billy and Tampa Bay Derby (G2) featuring Derby hopefuls Flameaway, Enticed and Tiz Mischief are also Derby preps running on March 10.
Recent Derby prep winners Audible (8-1) and Promises Fulfilled (8-1) complete the single-digit favorites in the Pool 3 entries listed below. "All Other 3-Year-Olds" has closed as the KDFW Pool 3 betting favorite in 12 of the last 15 years.
Wagering on the KDFW's 24 betting interests will be available at Churchill Downs and racetracks and satellite wagering outlets across North American and online via TwinSpires.com the official betting partner of the Kentucky Derby and Breeders' Cup World Championships, and other online wagering platforms.
The year's fourth and final pool is set for April 6-8. No scratches or refunds are permitted in the Kentucky Derby Future Wager.
As you review the Pool 3 entries in search of a long shot or potential Kentucky Derby winner, recall that last year's Kentucky Derby winner Always Dreaming was offered at 50-1 in Pool 3 and closed at 42-1. Following his victory in the Florida Derby, he was listed at 6-1 in Pool 4 and closed as the slight 9-2 favorite in the Kentucky Derby.
Real-time odds and other information on the Kentucky Derby Future Wager is available at the official Kentucky Derby event web site at www.KentuckyDerby.com/FutureWager.
Pool 3 field
| | | |
| --- | --- | --- |
| No. | Horse | M/L Odds |
| 1 | Audible | 8–1 |
| 2 | Avery Island | 30-1 |
| 3 | Bolt d' Oro | 6–1 |
| 4 | Bravazo | 30-1 |
| 5 | Catholic Boy | 30-1 |
| 6 | Combatant | 50-1 |
| 7 | Flameaway | 30-1 |
| 8 | Free Drop Billy | 15-1 |
| 9 | Gold Town | 30-1 |
| 10 | Good Magic | 15-1 |
| 11 | Instilled Regard | 30-1 |
| 12 | Justify | 15-1 |
| 13 | Kanthaka | 20-1 |
| 14 | Magnum Moon | 30-1 |
| 15 | McKinzie | 8–1 |
| 16 | Mendelssohn | 30-1 |
| 17 | My Boy Jack | 30-1 |
| 18 | Noble Indy | 50-1 |
| 19 | Promises Fulfilled | 8–1 |
| 20 | Solomini | 15-1 |
| 21 | Sporting Chance | 30-1 |
| 22 | Strike Power | 15-1 |
| 23 | Vino Rosso | 50-1 |
| 24 | All Others | 6–1 |
Vegas Sports Zone is home to professional sports analyst FairwayJay. The Vegas Sports Zone team of content creators and analysts provide articles, insight and analysis to engage and inform the avid sports and gaming enthusiast,