Kentucky Derby Betting Guide
Betting Tips and Information for the Kentucky Derby
The Kentucky Derby is the most popular betting race in the United States. It's the Super Bowl of horse racing and creates considerable media attention and interest from casual sports fans and bettors along with industry insiders and horsemen. Known as "The most exciting two minutes in sports," the Kentucky Derby generates huge betting action as America's most wagered-on horse race. The Sport of Kings has clearly generated an interest from the casual fan when it comes to the Kentucky Derby, as wagering records, live attendance and Derby telecast viewership are at all-time highs.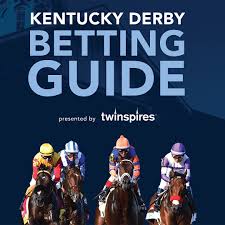 The 143rd Kentucky Derby in 2017 set an all-sources wagering record with $139.2 million bet on the Derby alone, and another record of $209.2 million wagered on the entire Kentucky Derby day card (12 races). Attendance annually reaches near 160,000 at Churchill Downs on Derby day, and the 2017 Kentucky Derby generated numerous viewership milestones with a Total Audience Delivery (TAD) average of 16.5 million viewers across NBC and NBC Sports Digital platforms, marking the largest Kentucky Derby audience since 1989. NBC's Kentucky Derby coverage has averaged more than 14 million viewers each of the last 10 years since 2008.
The 144th Kentucky Derby is set for Saturday, May 5, 2018. Here is more information and tips on betting the Kentucky Derby, and how you can watch and wager on the biggest race of the year.
Date: Saturday, May 5, 2018
Time: 6:46 p.m. ET
TV: NBC
Tablet, Online, Mobile: NBC Sports App and streamed live on NBCsports.com/live
Track & Location: Churchill Downs in Louisville, Kentucky
Distance: 1 ¼ miles (10 furlongs)
Surface: Dirt
Horses: 3-Year-Old Thoroughbreds
Track Record: Secretariat – 1:59.40 in 1973
Types of wagers and bets
In addition to the traditional "straight" wagers (Win, Place, Show), fans can also attempt to cash big in the various "exotic" pools. Exacta (first two), Trifecta (first three), Superfecta (first four), and Super High Five (first five) wagering are all offered, and cashing a ticket in any of these pools can produce a bigger payday.
Win: Bet on the horse you think you will win the Kentucky Derby.
Place: Get paid the place price if your horse finishes first or second.
Show: A show bet pays the least, but you win and get paid the show price if your horse finishes first, second or third.
Exacta: Predict the first two horses in the correct order.
Trifecta: Predict the first three horses in the correct order.
Superfecta: Predict the first four horses in the correct order.
Super High Five: Predict the first five horses in the correct order.
In 2017, Always Dreaming was the fifth consecutive favorite to win the race. He closed at 9-2 odds and paid $11.40 on a $2 win wager. When a 33-1 longshot finished 2nd, it triggered a big $2 exacta payoff of $336. However, a 40-1 longshot finished 3rd to trigger a huge trifecta payoff of $16,594 and the $2 superfecta was a life-changing payout of $151,949.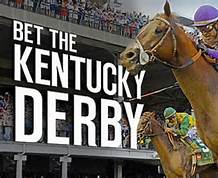 Many racetracks, online sites and race and sports books accept less than $2 bets on the exotic pools, so you can risk less. For example, you can place $1 exacta bets or .50 cent trifecta or even .10 cent superfecta bets at some locations. This allows you more betting options while including more horses at a lesser cost or risk.
An additional bet of interest is the Kentucky Oaks – Derby double in which you pick the winner of Friday's $1 million Kentucky Oaks (for 3-year-old fillies) and Saturday's $2 million Kentucky Derby. Those are the guaranteed purses for each race and in 2017 the winner of the Kentucky Derby received $1,635,000, 2nd place $400,000, 3rd place $200,000, 4th place $100,000 and 5th place $60,000.
Where to Bet on the Kentucky Derby
So how do you bet on the Kentucky Derby and get involved in the exciting action? Fans can wager legally at racetracks, simulcast centers such as Off Track Betting (OTB) Centers, and on advanced deposit wagering platforms such as TwinSpires.com, the official betting site and partner of the Kentucky Derby and owned by Churchill Downs, Inc. People who bet online at Twinspires wagered $20.1 million on the 2017 Kentucky Derby. You can also wager on horse racing legally in the state of Nevada at the hundreds of casinos with race and sportsbooks.
Picking a Kentucky Derby winner
Betting on horse racing has never been easier, but selecting a winner and predicting the puzzle in the exotic pools in search of a big payoff takes a little more time, skill and some racing luck. The 20 horses running in the Kentucky Derby is the largest field of any American race, and while the payouts are larger, it can be more difficult to handicap and determine the winner with so many factors to consider including each horse running 1 ¼ miles for the first time in their racing careers.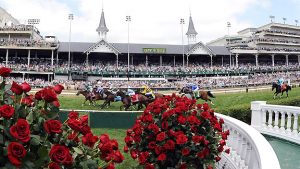 The Kentucky Derby has up to a maximum of 20 horses in the field, and those horses have qualified through 36 Kentucky Derby prep races in the United States and another seven races in Europe and three races in Japan.
There are many ways to handicap a horse race, and there is no shortage of opinions or angles when it comes to the handicapping the Kentucky Derby and the numerous prep races leading up to the Run for the Roses. From a beginners betting guide to the most sophisticated tools for informed handicappers, there are many pieces of information and betting guides to assist you in identifying a potential Kentucky Derby winner and narrowing the list of top contenders.
Handicapping horses and the races takes much time, research and intuition. Beyond studying past performance charts and horse stats, speed figures, class ratings, tracks and bias, jockey and trainer stats, horse pedigree and even post position (Kentucky Derby Draw is Tuesday, May 1), a handicapper has to have insight and ability to find various ways to identify horses that are ready to win. You may not have time to study race videos, tracks, surfaces or find horses that had troubled trips in recent races. But it's important to distill information that can help you identify horses that may offer some value next time out or others in good form or improving that can provide value wagering opportunities.
Races and horses should be backed based on positive attributes and not as a result of who's the best of the worst. As you study some of the betting guides and training tools, you'll become better prepared and equipped to analyze races in a more meaningful way. That includes the Kentucky Derby and the prep races leading up to the Derby. Understanding 'how' a horse has run leading up to a race versus the far less important 'where' the horse finishes and 'what' time he/she completed their recent races will help you become more proficient.
2018 Kentucky Derby odds and recent results
Here is the list of horses that are running in the 2018 Kentucky Derby, along with the odds from the Westgate SuperBook in Las Vegas the weeks leading up to the race. Included is each horse's last race, where they finished and career record leading into the Kentucky Derby. This should assist you and provide a small sample to guide you towards the winners circle.
| | | | |
| --- | --- | --- | --- |
| Horse | Odds 4/17 | Odds 4/30 | Last Race & Record (Win-Place-Show) |
| Justify | 5-2 | 3-1 | 1st Santa Anita Derby, 3 starts 3-0-0 |
| Magnum Moon | 6-1 | 7-1 | 1st Arkansas Derby, 4 starts 4-0-0 |
| Audible | 7-1 | 8-1 | 1st Florida Derby, 5 starts 4-0-1 |
| Good Magic | 8-1 | 5-1 | 1st Blue Grass, 5 starts 2-2-1 |
| Bolt d' Oro | 10-1 | 8-1 | 2nd Santa Anita Derby, 6 starts 4-1-1 |
| Mendelssohn | 12-1 | 6-1 | 1st UAE Derby, 7 starts 4-1-0 |
| Enticed | 15-1 | 20-1 | 2nd Wood Memorial, 6 starts 3-1-1 |
| Vino Rosso | 20-1 | 12-1 | 1st Wood Memorial, 5 starts 3-0-1 |
| My Boy Jack | 20-1 | 30-1 | 1st Lexington, 10 starts 3-3-2 |
| Solomini | 25-1 | 50-1 | 3rd Arkansas Derby, 6 starts, 1-3-2 |
| Noble Indy | 25-1 | 40-1 | 1st Louisiana Derby, 4 starts 3-0-1 |
| Hofburg | 30-1 | 60-1 | 2nd Florida Derby, 3 starts 1-1-0 |
| Combatant | 50-1 | 60-1 | 4th Arkansas Derby, 7 starts 1-3-1 |
| Free Drop Billy | 50-1 | 40-1 | 3rd Blue Grass, 8 starts 2-3-2 |
| Bravazo | 60-1 | 100-1 | 8th Louisiana Derby, 8 starts 3-1-1 |
| Flameaway | 60-1 | 40-1 | 2nd Blue Grass, 9 starts 5-2-0 |
| Promises Fulfilled | 80-1 | 100-1 | 9th Florida Derby, 5 starts 3-0-1 |
| Lone Sailor | 80-1 | 40-1 | 2nd Louisiana Derby, 8 starts 1-3-1 |
| Firenze Fire | 100-1 | 200-1 | 4th Wood Memorial, 9 starts 4-1-0 |
| Instilled Regard | N/A | 80-1 | 4th Santa Anita Derby, 7 starts 2-2-1 |
Follow each horse and their workouts at Churchill Downs leading into the race, and know many of the top favorites with lower odds will take the most betting action. Since all the money wagered at the racetracks and online is pooled through a pari-mutuel system, the odds on each horse will change on the day of the race. It's up to you to find value and pick the winner and top finishers, and to also wager within your budget and limits. Regardless of the race results, have fun and enjoy the Kentucky Derby as one of the great sporting events of the year.
Article posted at TheLines.com.
Vegas Sports Zone is home to professional sports analyst FairwayJay. The Vegas Sports Zone team of content creators and analysts provide articles, insight and analysis to engage and inform the avid sports and gaming enthusiast,