Kansas State Looks to Reverse Rivalry Trend over Kansas
Sunflower Showdown More Meaningful Than Most with 1st-Place on the Line
Monday's marquee match-up is in the Big 12, where Kansas (17-4) travels to Manhattan to take on little brother Kansas State (16-5). While the Jayhawks (6-2) are in their annual position perched atop the Big 12, it's the Wildcats (5-3) who are now looming just one-game behind tied with Texas Tech, West Virginia and Oklahoma for 2nd place in the nation's top conference this season. All those mentioned above were ranked in the top-15 in last week's AP Poll, except Kansas State, who figures to be in the top-25 when the rankings are released Monday afternoon. The Wildcats beat Baylor on the road last week 90-83 and then shut down Georgia at home 56-51 for their 4th straight win and can move up further in the standings and rankings with a win over Kansas.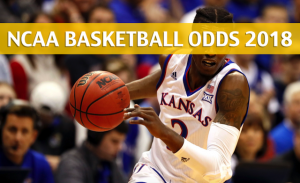 Some of the leading offshore sports books have Kansas a 1.5-point road favorite, but both BookMaker and leading reduced juice shop 5 Dimes  is showing Kansas -2 Monday morning. Many Las Vegas sports books show the game lined at Kansas -2.
Kansas -2
Kansas State +2
Total 147
Tipoff at 9:00 ET on ESPN
Since the start of last season, Kansas has played 18 Big 12 games that were decided by seven points or fewer. Kansas is 16-2 in those games. Another close contest is expected Monday on the road at Kansas State. The Wildcats are 11-1 on their home court at Bramlage Coliseum, and 78-18 at Bramlage since coach Bruce Weber took over at Kansas State in 2012-13. Weber will have his players ready to fire after a close loss to their rival in Lawrence Jan. 13. In that 73-72 Jayhawks win, both teams shot 49% FG on limited possessions, and Kansas State covered the 12-point spread from the opening tip. Jayhawks star senior guard Devonte Graham had a game-high 23 points. The Wildcats led 67-64 with 3 minutes left, and there was five lead changes in the closing 2 ½ minutes with Kansas State missing a 3-pointer for the win at the buzzer.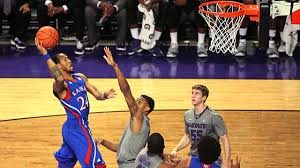 Following the difficult defeat, Kansas State coach Bruce Weber was not pleased with one specific late call by the officials.
Weber took umbrage with Diarra's late technical for trash-talking, and he said several other calls were questionable. But asked for specifics, he replied: "I want to keep my job. I don't want to get fined. I've worked too hard for it."
In that recent rivalry game, Kansas State played without junior point guard Kamau Stokes, the Wildcats third-leading scorer who was out with a foot injury for the second-straight game. He'll miss the rematch, but the Wildcats have gone 5-1 SU and ATS in his absence.
Stats
Both teams average 78 points per game (PPG) in eight Big 12 contests and each team ranks top-20 in the country in adjusted offensive efficiency. Kansas prefers to play up-tempo while Kansas State will try to slow the pace, and if the Wildcats get more favorable calls from officials in this key rivalry rematch, then Kansas State will likely capitalize as they shoot a strong 75% from the free throw line while Kansas is last in the league at 67% from the charity stripe. The Jayhawks defense is significantly down from recent years, allowing 78 PPG and nearly 44% field goal shooting. But the Wildcats rank last in the Big 12 allowing better than 47% shooting against Big 12 opponents, yet are strong defending the perimeter allowing just 31% from the arc to rank No. 2 behind the Jayhawks.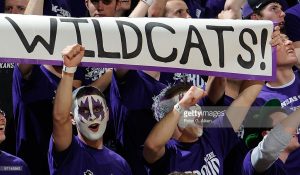 That stat is key, as Kansas takes the most 3-point shots in the league, and hits 39% with 10 made 3-point shots per game. Kansas State hits a league-best 42% from the arc and takes the fewest 3-point attempts. Handicapping 3-point shooting and the variance that often is associated with long-range shooting is often the most difficult to predict and can be most frustrating when looking at final box scores and point spread results. Both teams have a positive turnover margin and the Wildcats lead the league in steals with more than eight per game.
While the Jayhawks defense is more of a sore spot for coach Self this season, the most glaring statistic is that Kansas is at the bottom tied with Kansas State in rebounding margin. Each team is being out-rebounding by Big 12 opponents by more than 7 boards per game.
Players to watch
Kansas State's Dean Wade is averaging 20 PPG in league play to rank No. 3 in the Big 12. He's scored at least 20 points in the last three meetings with Kansas, and the 6-10 junior is hitting 60% FG in the rugged Big 12 and has also stepped outside to hit 15/28 attempts from the 3-point line. He scored 22 against Kansas Jan. 13. Freshman guard Cartier Diarra has filled in at the point and provided an electric spark for the Wildcats. He's shooting 58% from the field and is 12/20 from the arc for a league-best 60% in Big 12 play. He had 18 points against Kansas in the first meeting playing the point. But it's leading scorer Barry Brown who is pouring in 22 PPG as the league's No. 2 scorer, and he leads the Big 12 in shot attempts while hitting a solid 52% from the floor. Brown is also a quick cat, ranking No. 2 in the league in steals. He had an off-shooting night against Kansas in the first meeting hitting 5/14 FG for 12 points.
Kansas guard Devonte Graham is have a superb senior season scoring 19 PPG, and is top-4 in a trio of categories, assists, steals and assist/turnover ratio. Graham is the go-to guy in the clutch and can be the difference in close contests as an 84% foul shooter. The other Kansas scorer to watch and defend is Svi Mykhailluk, who scores 16 PPG and leads the league in 3-point attempts while hitting a strong 50% from long range. The slender 6-8 senior makes 4 triples per game and has scored 24 points in each of the Jayhawks last two games. Kansas sophomore center Udoka Azubuike is the top rebounder on the floor with more than 7 per game.
Series history
Kansas has won the last six meetings over Kansas State, and the Jayhawks dominance is 55-5 over the Wildcats since 1994. Since the point spread is near the pick 'em range, you can see that Kansas is not as strong this season and the rest of the league at the top has made improvement including Kansas State.
Fairway's Forecast
We played Oklahoma in the Sooners home win over Kansas last week, and the Sooners snapped KU's eight-game road winning streak with key crunch-time plays to win 85-80 at this same 2-point spread. That was the Jayhawks fourth straight game that went under the total. This should be another tight, lower-possession game, and only a significant number of free throws gets this one over the total. Seven of Kansas' eight conference games have been decided by 6-points or less, and this looks like another close finish. K-State has held an opponent under 60 points seven times this season, and are 58-7 under Weber when they hold teams to less than 60 points. That will be difficult against Kansas, and while four of Kansas State's five losses have come against teams that were ranked in the top-15, we believe the Wildcats can claw out a win over top-10 Kansas in this rivalry rematch.
FairwayJay is a leading national sports analyst and is recognized as one of the sports industry's most insightful handicappers and professionals. Follow him on Twitter: @FairwayJay